Press release and images on 43rd Alumni of the Dilmah School of Tea visit the MJF Centre for Dignified and Sustainable Empowerment from Dilmah
Menu
Dilmah Food Service
Integrity & Ethics
Dilmah Tea Inspired
Leisure and Hospitality
Knowledge & Training
Online Shop
43rd Alumni of the Dilmah School of Tea visit the MJF Centre for Dignified and Sustainable Empowerment
43rd Alumni of the Dilmah School of Tea visit the MJF Centre for Dignified and Sustainable Empowerment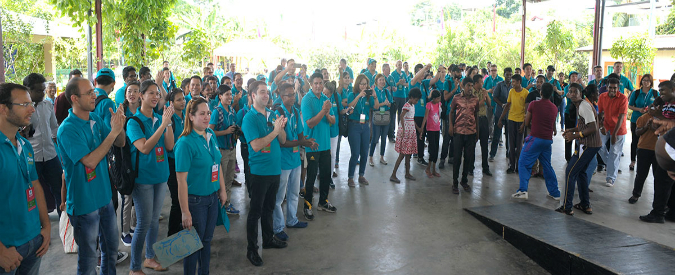 The 43rd Alumni of the Dilmah School of Tea (SOT) visited the Merrill J. Fernando Charitable Foundation to spend time with the MJF kids and to see the charitable work that goes on there. Being a weekday morning the children were involved in their day to day activities, in which the SOT participants took part. A natural bonding happened as these differently-abled kids stole hearts with their natural charm and positive attitudes.

One of the highlights of the morning was the children performing a dance from their concert Celebrating Differences. Their obvious pride in performing was heartwarming to watch and did not fail to enthrall the SOT participants as they joined in on the fun at the end of the performance.

The day also included visits to the newly opened Swashakthi Tea Room and Bakery, which means 'inner strength' in Sinhala and Tamil that is located on the premises of the MJF Charitable Foundation. Offering food prepared by the students of the Culinary Centre the concept behind the Bakery is to offer affordable organic food. A modern concept, the mobile Bakery is made from the combining of two containers to create a sleek and modern interior that is both comfortable and functional. The outdoor sitting area is also cool and inviting.

Besides culinary training on how to cook healthy, the students of the Culinary Centre are to be trained in management, operations and accounts so that at graduation they will be able to manage their own Swashakthi outlet. The aim of this program is to promote the concept of the Swashakthi Tea Room and Bakery across Sri Lanka, promoting healthy food and providing the less privileged with a means to a sustainable income.

The impressive state of the art Culinary Centre is also fitted with a special work station for students in wheelchairs. Students from underprivileged families are given the opportunity to learn under some of the best chefs in the industry.

Other activities of the day included the SOT participants helping the kids prepare Vesak lanterns in preparation for the Buddhist religious festival Vesak that falls in May, celebrating the birth, enlightenment and death of Lord Buddha. During festival time the country is lit up by these beautifully decorated lanterns and extravagantly done up Pandols that tell a religious story.

The Merrill J. Fernando Charitable Foundation helps the differently abled, empowers marginalized communities through education and the Small Entrepreneur Program, helps the plantation sector workers enjoy a better quality of life and conducts Women Development Programs. By the end of 2015, the Foundation has directly or indirectly benefited the lives of over 100,000 underprivileged Sri Lankans.
Disclaimer Notice
These images are copyright protected and can only be used for Dilmah articles with due credit given.