Press release and images on 12 physically-disabled entrepreneurs receive grants from the MJF Charitable Foundation from Dilmah
Menu
Dilmah Food Service
Integrity & Ethics
Dilmah Tea Inspired
Leisure and Hospitality
Knowledge & Training
Online Shop
12 physically-disabled entrepreneurs receive grants from the MJF Charitable Foundation
12 physically-disabled entrepreneurs receive grants from the MJF Charitable Foundation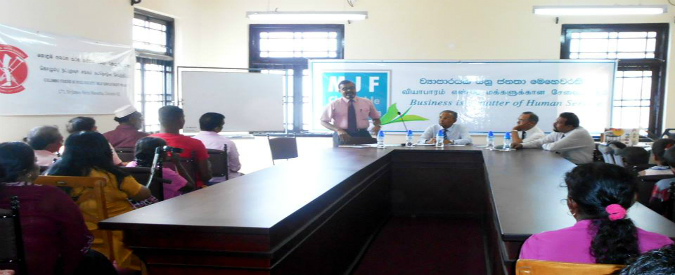 Twelve physically-disabled entrepreneurs were given grants by the Merrill J. Fernando Charitable Foundation, at a ceremony held at the Colombo Friends In Need (CFINS) head office recently. Based on the recommendation of the CFINS, these entrepreneurs were given grants to help develop their businesses. CFINS is the oldest charity in Sri Lanka.

The MJF Charitable Foundation's Small Entrepreneur Program (SEP) is an effective self-help program as it helps build on an individual's talents and assists them towards living independent and productive lives. It is part of the MJF Foundation's aim to empower the less privileged. Besides the grants, the physically-disabled recipients were also given equipment and supplies depending on the nature of their business.

The CFINS also annually recommends 50 physically-disabled students for educational grants through the MJF Charitable Foundation. They are given a monthly allowance for 12 months, to be used for education purposes.

One such recipient is nine year old Sasindu Indeewara who was born with a short leg. He has been assisted by the CFINS with an artificial limb. He was recently fitted with a new one as he had outgrown his previous one. His mother Wasanthi Ganga said that as Sasindu had no father she has to do everything alone to ensure that he gets a good education. She was grateful for the grant as it helped ease her burden.

Another recipient, fifteen year old Shafa Akeel has no arm and is studying for her GCE O/L which she is to sit for next year. For her too, the education grant helps ease the burden of her educational needs.

Dilmah has also since 2003 sponsored the AIDEX (Aid to the Ex-Abled) Annual Sportsmeet organized by the Colombo Friends in Need Society. It provides a platform for the differently-abled to realize their potential and encourages them to challenge themselves to live non-dependent lives with dignity. AIDEX has produced athletes that have gone on to shine at International Para events.

Chairman of the AIDEX Organizing Committee and former President of the CFINS, Prof. A. H. Sheriffdeen said that he hoped that people would use the opportunities given to achieve something for themselves and become productive individuals.

The MJF Charitable Foundation has always worked towards countering the discrimination towards the differently-abled. In a bid to counter this discrimination, the MJF Charitable Foundation has implemented wide-ranging programs to provide better care for differently-abled individuals as well as assisting them towards becoming productive citizens.
Disclaimer Notice
These images are copyright protected and can only be used for Dilmah articles with due credit given.