Press release and images on Wisdom in the Leaf: Sri Lanka's new tea-making bible from Dilmah
Menu
Dilmah Food Service
Integrity & Ethics
Dilmah Tea Inspired
Leisure and Hospitality
Knowledge & Training
Online Shop
Wisdom in the Leaf: Sri Lanka's new tea-making bible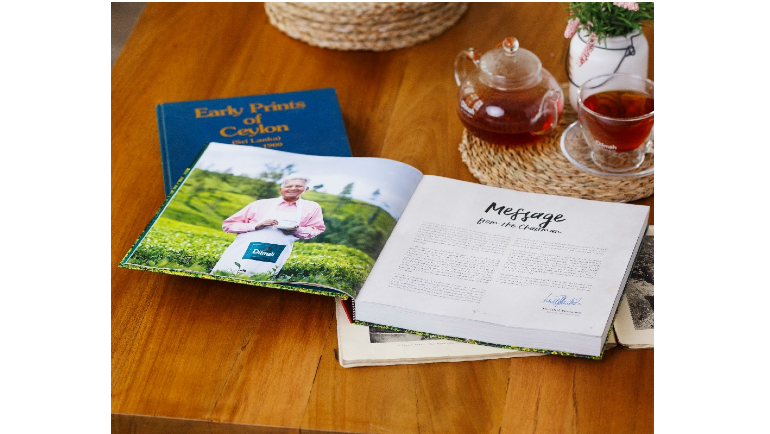 Tea is one of Sri Lanka's most prolific industries. Ceylon Tea is sought the world over, and though Sri Lanka's tea industry is only 150 years old, we simply cannot picture a world without our tea.
17 March will see the official launch of Wisdom in the Leaf, a landmark book on Ceylon tea. An initiative by the "History of Ceylon Tea" project by Dilmah, Wisdom in the Leaf is published by Dilmah Tea and marks not just 150 years of Ceylon Tea, but also Dilmah Tea Founder Merrill J. Fernando's 70-year career in the tea trade.
The "History of Ceylon Tea" project is a tribute to Sri Lanka's tea industry and the courageous men who pioneered it, and follows the history of the tea trade, from the first planters to today. Sri Lanka's tea industry is one of its lifeblood industries, providing direct employment to over 500,000 people, and producing for the world a beverage that is healthy, refreshing, and delicious.
Like with all illustrious industries, it's important to remember the past while looking to the future, and the "History of Ceylon Tea" project looks to create a repository of information on the past, collecting ancient and often unique publications that continue to suffer the ravages of time and are improperly stored in various state departments, as well as indexing, repairing, and properly housing them. Publications where copyright is thought to have lapsed will be made available through their website, and will contribute to the preservation of one of the world's greatest industries.
In a personal message laid out in Wisdom in the Leaf, Fernando writes that Wisdom in the Leaf marks a commitment made to "sharing my success with the wider community, and I am as insistent today on honouring that pledge, as I am on maintaining my uncompromising commitment to the founding principles of quality and integrity, expressed in the taste, goodness, and purpose that my Dilmah Tea represents. This book is a part of that commitment. It complements a formidable effort that started nearly 20 years ago with the 'History of Ceylon Tea' project, an initiative that we embarked upon to preserve the heritage of our Ceylon Tea Industry for the benefit of planters and tea drinkers today and in the future."
Dilmah History of Ceylon Tea Project Editor David Colin-Thome, who plays the role of Editor-In-Chief of Wisdom in the Leaf, shared: "In a nutshell, Wisdom in the Leaf is a tea planting manual. It provides an A-Z on tea planting, from the time the planter becomes a creeper and all covering all the different steps, agricultural elements, and every related aspect of tea planting."
Wisdom in the Leaf is written in collaboration with 20 veteran tea planters and four eminent scientists, combining all the authors' experiences to create a book that can become a point of reference to aspiring and established teamakers alike.
Colin-Thome and his publication committee team have structured Wisdom in the Leaf into 12 broad sections along the lines of Personal Development, Human Resources, Agricultural Practices, Factory and Manufacturing Practices, Forestry and Conservation, Water Resource Management, Diversification, Buildings and Housing, Financial Accounting and Control Transport, Climate Change Adaptation, and From the World of Science.
While many books have been written on the tea industry both here and abroad, most of these books have focused on the technical and scientific side of tea. Wisdom in the Leaf, while covering this, goes further, focusing on the Sri Lankan tea industry from a local perspective, and recognising the role of people involved in the tea industry.
Speaking on some of the usual topics covered in Wisdom in the Leaf, Colin-Thome explained that the book "also encompasses a lot of the modern phenomena the industry is facing, like climate change, land conservation and stuff like that".
Emphasising Wisdom in the Leaf's capability to bridge techniques of old with the modern times in which we live, Dilmah Tea CEO Dilhan C. Fernando writes in his foreword to Wisdom in the Leaf that "the role of the Ceylon Tea industry is fundamentally different in the new, post Covid-19 norm, and it has a more critical function now than ever before. Ceylon Tea has always held great promise, constrained only by feeble management and a lack of vision. This book offers rare insight into an industry that achieved global renown, and which is pregnant with possibility for the future".
Wisdom in the Leaf is available at Dilmah t-Lounges, Barefoot Gallery, Sarasavi Book Stores, Vijitha Yapa Book Stores in Sri Lanka, and through the Dilmah online store.
This article was taken from
The Morning
Disclaimer Notice
These images are copyright protected and can only be used for Dilmah articles with due credit given.