Press release and images on WISDOM IN THE LEAF from Dilmah
Menu
Dilmah Food Service
Integrity & Ethics
Dilmah Tea Inspired
Leisure and Hospitality
Knowledge & Training
Online Shop
WISDOM IN THE LEAF
A Generation of Tea Inspired Knowledge From Dilmah Tea & Its History of Ceylon Tea Initiative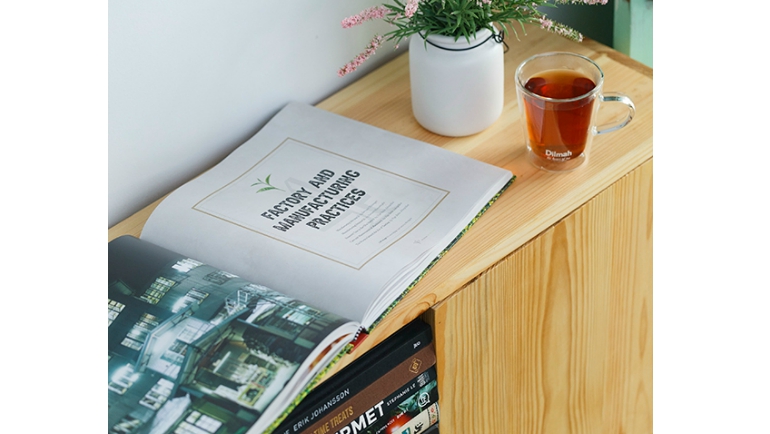 Teamaking is an ancient art, framed in science, yet equally demanding of passion and expertise. The Wisdom in the Leaf is a publication that aims to harness the art, science, and knowledge that will inspire tea drinkers and guide Teamakers, through a unique collaboration with the men and women whose passion is a significant component in the reputation of Ceylon Tea. The project was initiated as a tribute to Sri Lanka's global 'Teamaker', Merrill J. Fernando, and to the tea planters who make Ceylon Tea. It is published by Dilmah Tea in celebration of its Founder's 70th year in tea.
Curated by a committee of tea industry veterans and scientists, 'Wisdom in the Leaf' captures the tacit knowledge that is only acquired through experience. The contributors each share their expertise in a seminal work that is an invaluable resource for tea planters of the present and future.
The History of Ceylon Tea project was launched in August 2003 with the objective of sharing 'One of the greatest stories that has ever been told.' Dilmah Founder Merrill J. Fernando explained his family's vision in undertaking the project, "'Dilmah gained consumer recognition globally on the strength of the finest Ceylon Tea, and it is only logical therefore that we should reciprocate, by giving future generations of Sri Lankans the opportunity to study and understand the heritage of one of the world's greatest plantation industries. The Sri Lanka Tea Industry is today the lifeblood of this nation and Sri Lanka is best known in many countries for 'Ceylon Tea'."
Received with great acclaim by scientists and authors including Dr. S. D. G. Jayawardena (former Chairman of the Tea Research Institute), Jane Pettigrew (tea historian and author of 17 books on tea), Dr Nalini C. Gnanapragasam Sivapalan (former Deputy Director Research at the TRI) amongst others, Wisdom in the Leaf is the most comprehensive compendium of knowledge of Ceylon Tea that has been produced in the past five decades.
20 veteran planters with a collective experience of more than 500 years, contributed their knowledge while eminent scientists including Dr. Tanuja Ariyananda, Dr. Rohan Pethiyagoda, Dr. Tissa Amarakoon, and Daya Wickramatunga add critical scientific context.
The content spans agricultural, factory and manufacturing practices, the fundamentals of plantation management and important sustainability themes including rainwater harvesting, climate change and the environment. These topics are presented in an engaging style to make the book as readable for tea drinkers with an interest in the provenance of their cuppa, as for researchers and tea planters.
Topics covered include Personnel Development, Human Resources, Forestry and Conservation, Water Resource Management, Diversification, Buildings and Housing, Financial Accounting and Control, Transport, and Climate Change Adaptation.
The final chapter – "From the World of Science" – comprises contributions from reputed names in the scientific community, and cover topics such as Climate Change and Tea, Rainwater Harvesting, Mechanised Harvesting, Biochar, and the Health Benefits of Tea.
The concept for this publication was conceived by Dilhan C. Fernando, CEO of Dilmah Tea, and with his father Merrill J. Fernando's blessing, this idea evolved into a tribute to tea planters and workers, the stewards of Ceylon Tea. The entire proceeds from the sale of each book will go to the MJF Foundation's Vocational Training Scholarships for Plantation Youth.
The publication is a by-product of Dilmah's History of Ceylon Tea (HOCT) project, whose Editor David Colin-Thomé was the Project Leader and Editor-in-Chief of 'Wisdom of the Leaf'. The 336-page, hard-cover book is a mix of easy-to-read information interspersed with technical data and contemporary and historical photography. The latter includes a selection of never-before published historical images received from private family collections.
The Publication Committee comprised Jayantissa Ratwatte, Vernon Tissera, Bhatiya Jayaratne, Jivaka Atapattu, Kavi Seneviratne, Anura Gunasekera, and Monte Holsinger as the Technical Editor, with David Colin-Thomé as Editor-in-Chief. The contributors are Monte Holsinger, Vige Bede-Johnpillai, Dyan Seneviratne, Vernon Tissera, Jivaka Atapattu, Bhatiya Jayaratne, S.K. Seneviratne, Ernie Daniels, Bernard Holsinger, Saman Munasinghe, Jayantha Jayawardene, Anura Gunasekera, Malin Goonetileke, Sarath Imbuldeniya, Russell Tennekoon, Ryle Perera, Steve Morrell and Nimal Amerasekera. From the world of science, the contributors are Dr. Tanuja Ariyananda Ph.D, Dr. Rohan Pethiyagoda B.Sc, Dr. Tissa Amarakoon Ph.D, and Daya Wickramatunga M.Sc.
"I am confident that this book is destined to become the Bible of the future planters, University students and many others."
Dr. S.D.G. Jayawardena – Former Chairman Tea Research Institute (2006 to 2015) and former Director General, Department of Agriculture.
"I was pleased to see the names of veteran planters, many of whom I have had a close association with at some time or other during the time I was at the Tea Research Institute of Sri Lanka. Who else other than such experienced men are suited to write a compendium of this sort? Interacting with men of such calibre and imbibing their practical knowledge had helped many of us scientists in designing our field experiments to suit different agro-climatic zones."
Dr Nalini C. Gnanapragasam Sivapalan – Agricultural Consultant & Research Adviser and former Deputy Director, Research at the Tea Research Institute of Sri Lanka
"What is truly remarkable is that information which might appear rather dry and academic in an ordinary textbook is brought to life on these pages through the clever use of typeface, page layout, the division of the text into manageable paragraphs, and illustrations that bring the story to life."
Jane Pettigrew – Tea specialist, historian, writer and consultant. Since 1983, she has been working in the UK and around the world to explain and share the fascinating world of tea.
This article was taken from
The Island
This article was also published in
Daily News
Disclaimer Notice
These images are copyright protected and can only be used for Dilmah articles with due credit given.