Press release and images on What to eat with different types of tea from Dilmah
Menu
Dilmah Food Service
Integrity & Ethics
Dilmah Tea Inspired
Leisure and Hospitality
Knowledge & Training
Online Shop
What to eat with different types of tea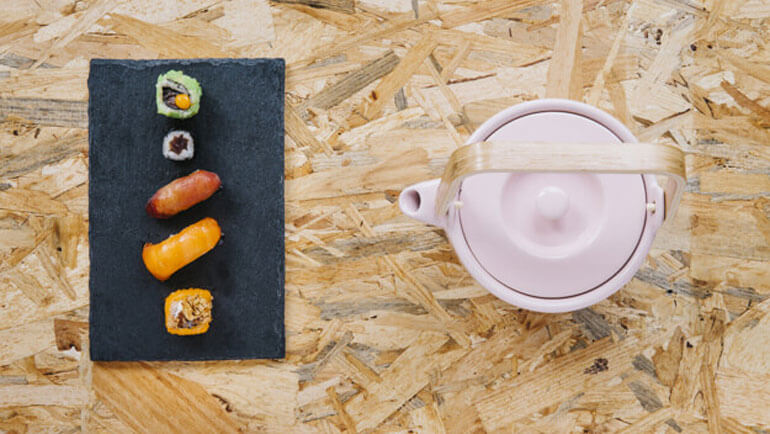 1. Sencha Green Tea and Sushi - Yes, it's kind of a no-brainer here. Also goes well with sashimi.
What to eat when enjoying premium tea? Find the perfect tea pairings here.
In the culinary world, beverage and food pairings are a common practice. Chefs determine which food goes well with which drink to make the experience as satisfying as possible. Wine pairings and coffee pairings are popular with the foodie set, allowing them to try different dishes with different beverage flavours. However, tea pairings can be a bit tricky for the casual tea-drinker due to its milder taste. To help tea-drinkers enjoy their food better while sipping on the beverage, Dilmah Tea has shared a few tea pairings that would work well with some of their popular teas.
2. Moroccan Mint Green Tea and Chocolate - Did you know that Morrocan mint green tea actually goes well with any chocolate-based dessert? Well, we didn't and we're glad that we do now. Combining one of our favourite tea with one of our favourite desserts might just make tea-time our new favourite meal of the day.
3. English Breakfast Tea and Nasi Lemak - Next time you're savouring our national breakfast dish, have it with some English Breakfast Tea for slightly less caloric intake.
4. White Tea and Banana Leaf Rice - You can have white tea with banana leaf rice for lunch, drink it as an appetizer to enhance the dish's flavours.
Please click here to View the Original Article.
Disclaimer Notice
These images are copyright protected and can only be used for Dilmah articles with due credit given.