Press release and images on Vintage Ceylon from Dilmah
Menu
Dilmah Food Service
Integrity & Ethics
Dilmah Tea Inspired
Leisure and Hospitality
Knowledge & Training
Online Shop
Vintage Ceylon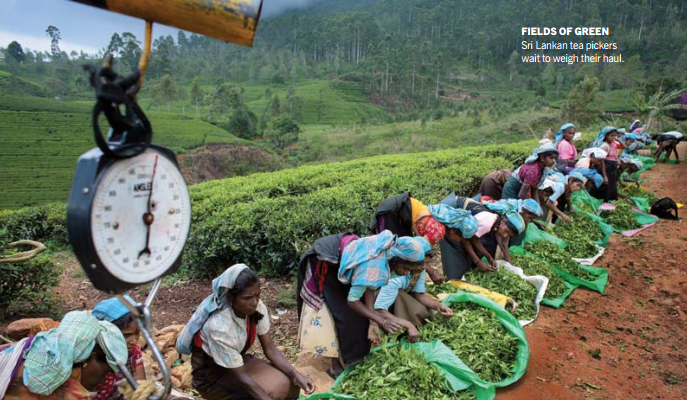 DILHAN FERNANDO gathers a fistful of earth and surveys his family's sprawling estate. "What's grown on that field," he says, pointing to a lush cultivation on a distant misty hill, "will differ dramatically from what's grown over here." He lets the dirt sift through his fingers, as if for emphasis. "And they will both be superb drinking."
No, this is not France or Northern California, and the drink isn't a cherished chardonnay. We're in the verdant highlands of war-torn Sri Lanka, where the terrain is sculpted with waist-high tea bushes, and a marketing makeover for the humble cup of tea is underway.
Heirs to one of Sri Lanka's biggest businesses, a 0 million empire with sales in 93 countries, Dilhan, 40, and his brother Malik, 41, are trying to claw back some of the billion global hot-beverage market conceded to coffee by making tea fashionable. The world might drink more than a billion cups of tea a day, but big producers have struggled to add value to the brew, while Starbucks and other coffee brands have prospered. So the Dilmah Group—the name is taken from the first syllables of the brothers' names—has positioned itself like fine wine. Its elegant packaging is heavy with wine iconography: descriptive labels equating a robust black tea to a shiraz, or a fine white leaf to champagne. The aim is to present the tea as the purest in the world while also playing to consumers' health concerns and rising enviro-consciousness. Unlike the blends in an average tea bag, which can contain leaves processed from several supplier countries, Dilmah says its teas are from a single origin. "You have to regard tea in the same way as you would an immaculate vintage," says the brothers' 77-year-old father, group patriarch Merrill Fernando. "People need to know what they are drinking."
That's an attractive pitch, but it doesn't wash with Dilmah's main competitors, beverage majors like Unilever, whose Lipton brand is world leader with 15% of the global market, and Associated British Foods, second globally with Twinings at 6%. "The wine analogy is fairly ridiculous in big wine-drinking countries, which also tend to be tea drinkers," says John Cornish, Twinings' international marketing director.
Please click here to View Full Article
Disclaimer Notice
These images are copyright protected and can only be used for Dilmah articles with due credit given.