Press release and images on Two Sri Lankan chefs at culinary competition in France from Dilmah
Menu
Dilmah Food Service
Integrity & Ethics
Dilmah Tea Inspired
Leisure and Hospitality
Knowledge & Training
Online Shop
Two Sri Lankan chefs at culinary competition in France
Plan to present innovative local dishes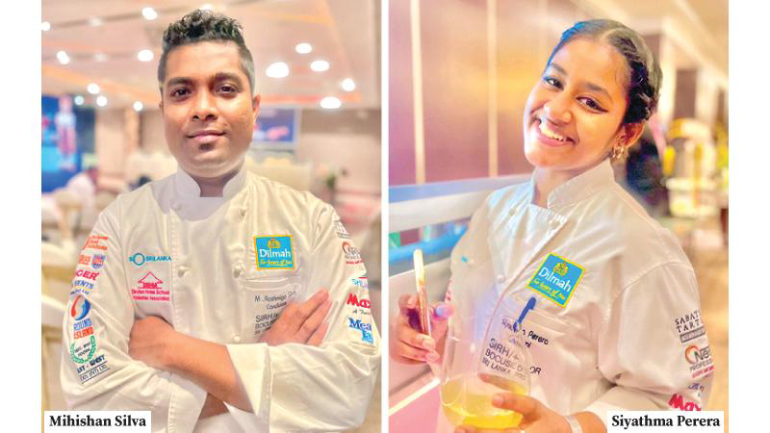 Two young Sri Lankan chefs Mihishan Silva (of Hilton Residencies) and Siyathma Perera (of Waters Edge) will take the diverse flavours of Sri Lanka with innovative dishes in their quest to win an award at the 'Bocuse d'Or' the culinary competition in Lyon, France on January 22, and the platter theme has just been unveiled.

Sri Lanka is among the 24 countries selected to take part in the competition. Sri Lanka has been participating continuously since 2011. The competition is reputed as the world's biggest cooking competition and the most rigorous culinary competition in the world, held every two years in Lyon. 24 countries are selected to compete and each country's team comprises one chef and one commis assistant.

At a media briefing, President, Bocuse d'Or Sri Lanka and CEO Waters Edge, Rohan Fernadopulle said, "We believe that this is a great occasion to position Sri Lanka on the global map promoting the country as a tourist destination and are excited to portray the skills and talent of our young chefs."

He also said it is an opportunity to groom young and upcoming chefs to take on the challenging field of food and beverages.

Minister of Tourism and Lands Harin Fernando, in a message stated that the level of culinary craft being present in Sri Lanka is a great asset to the Island nation and it will surely boost to drive our tourism in the global market showcasing our culinary talents and its unique taste.

The team accompanying the competing chefs are: Rohan Fernandopulle, (leader) Alan Palmer (coach), Priyantha Weerasinghe, Kapila Jayasinghe and Priyal Perera.
Disclaimer Notice
These images are copyright protected and can only be used for Dilmah articles with due credit given.