Press release and images on There's never a dull moment at this centre from Dilmah
Menu
Dilmah Food Service
Integrity & Ethics
Dilmah Tea Inspired
Leisure and Hospitality
Knowledge & Training
Online Shop
There's never a dull moment at this centre
The National Centre for Children with Cerebral Palsy and Other Developmental Disorders is changing the lives of children in more ways than one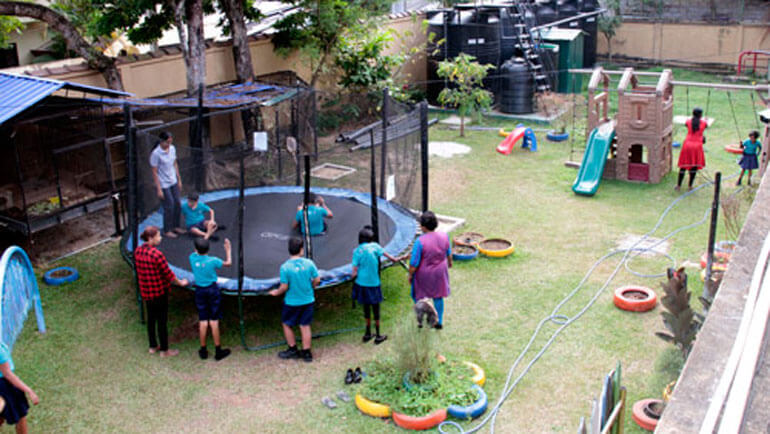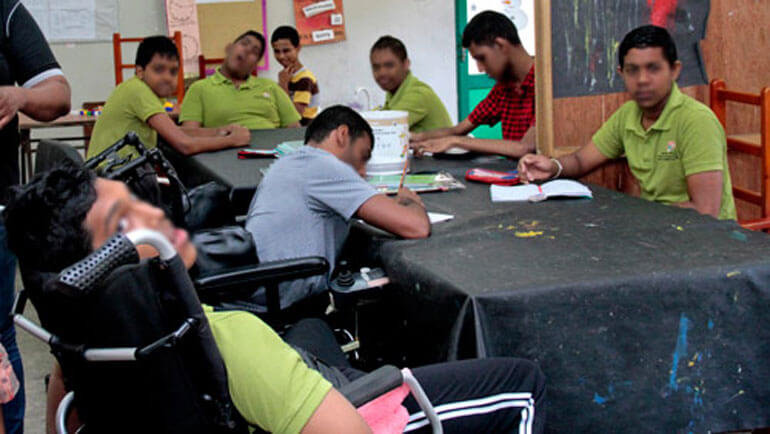 A day packed to the brim with lessons, activity, recreation, therapy and vocational training.
Just before a bell announces the start of the timetable, we too are at the National Centre for Children with Cerebral Palsy and Other Developmental Disorders (NCCCPDD) in Kalapaluwawe, Rajagiriya to see the day taking shape, making major changes in the lives of a group of children who had nowhere to go to or no one to turn to earlier. Their parents had to accept their lot with stoic resignation. But that is the past now.
The NCCCPDD – a joint venture of the Cerebral Palsy Lanka Foundation and Dilmah's Merrill J. Fernando Charitable Trust – saw the light of day in September 2016 after numerous 'wheelchair camps' to assess the needs and prevalence of cerebral palsy (CP) in all 25 districts of Sri Lanka.
The camps were an eye-opener, with a high prevalence of CP being found in Kandy, Jaffna and Kurunegala cities and the realization that while there is value in the roll-out of national policies and standards for disability, local transport and the lack of disability access across the country require localised services for regular therapy, resources for families and caregivers and training for children, caregivers and medical professionals.
The NCCCPDD, dedicated to the promotion, research, rehabilitation and support of children and families with CP, Down Syndrome, Autism and other developmental disabilities, which opened its doors to 32 children, has seen the numbers swell to nearly 130 and the children and youth (ranging in age from 0 to 23 years) who are following vocational training have made immense strides. Building on this successful model, a centre has now been set up in Kandy, while two more are on the cards this year for Jaffna and Kurunegala.
We are shown around by NCCCPDD's Manager Dilani Gopi and the Head of Rehabilitation Services Gopi Kitnasamy whose determination to give of their best to their son, Danush, living with CP led to their paths converging with the Merrill J. Fernando Charitable Trust. The rest, of course, is recent history and Danush is now in the vocational training unit learning to be independent.
Those enrolled at the NCCCPDD all in green uniforms, have been grouped, depending on their ability and academic performance, into Levels going up to 4, with the latter with normal IQ for their age following the national syllabus.
Whether going round and round on the roundabout which has been modified for wheelchairs to be fitted to it; see-sawing up and down, being on the swing flying not too high, jumping on the trampoline or wheeling around in the garden where plants stimulate all the senses and huge 'musical instruments' of pipes etc aid the therapy, the NCCCPDD is all about inclusivity.
Children engage in yoga along with their mothers, for better breathing, digestion and also to help limb movement; go along a sensory pathway comprising grass, chips of pol-mudu, stones and sand; take a dip in the pool for a little hydrotherapy; or learn their lessons seated in custom-made chairs to which their bodies fit perfectly.
We see the 31 staff members including special education teachers, their assistants, physiotherapists, speech therapists, occupational therapist and psychologist all engaged in this labour of love.
The NCCCPDD and Kandy centre follow a hybrid model – they are registered health centres offering the latest international therapies and equipment with trained professionals to enable children with CP and other developmental disorders to maximise their potential. The local alternative also reduces the strain on the children and their caregivers in terms of access which then increases the frequency of attendance.
These one-stop centres offer physiotherapy, speech and language therapy, gait analysis, occupational therapy, life-skills and psychological assessments, with parents trained in follow-up techniques to be carried out with the children at home. There are also parent-teacher meetings and even teachers visiting the homes of the children.
The NCCCPDD has also trained more than 1,500 professionals, midwives and caregivers through workshops led by renowned international and national practitioners. In October last year, the centre launched a national campaign focusing on the importance of early intervention to mitigate the effects of CP.
Amazement, meanwhile, is the reaction when we see the activities the parents have been engaged in – furniture in all their variety from cardboard and paper (appropriate paper-based technology), jewellery-making, tailoring and knitting, all products which have drawn many buyers at major exhibitions.
Most poignantly, many of the custom-made chairs that the children at the NCCCPDD use are a gift from the heart of these parents.
Rukshan reaches out with his tenth concert
The 'Rukshan Perera Live in Concert 10' will be held in aid of the affiliate Cerebral Palsy Centres of the NCCCPDD to be opened in Jaffna and Kurunegala this year.
The concert to mark the 10th anniversary of popular singer Rukshan's return to Sri Lanka from America will be held at the Bishop's College Auditorium on February 16 (Sunday) at 7 p.m.
Featuring guest artistes the De Lanerolle Brothers, Clifford Richards and Jananath Warakagoda and the Colombo Brass Ensemble and Choro Calibre, tickets priced at Rs. 5,000, 3,000 and 2,000 (reserved) and Rs. 1,000 (free seating) are available at AIS, t-Lounge Independence Arcade and the Bishop's College Auditorium.
Disclaimer Notice
These images are copyright protected and can only be used for Dilmah articles with due credit given.