Press release and images on The most prestigious culinary competition in the world from Dilmah
Menu
Dilmah Food Service
Integrity & Ethics
Dilmah Tea Inspired
Leisure and Hospitality
Knowledge & Training
Online Shop
The most prestigious culinary competition in the world
Bocuse d'Or Sri Lanka and Dilmah are creating culinary ambassadors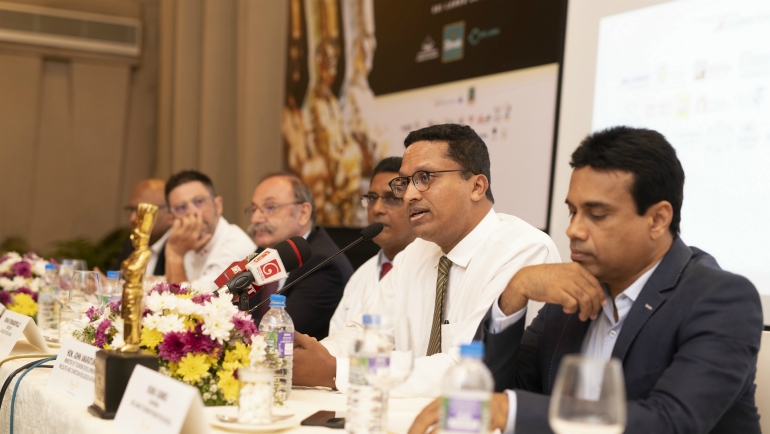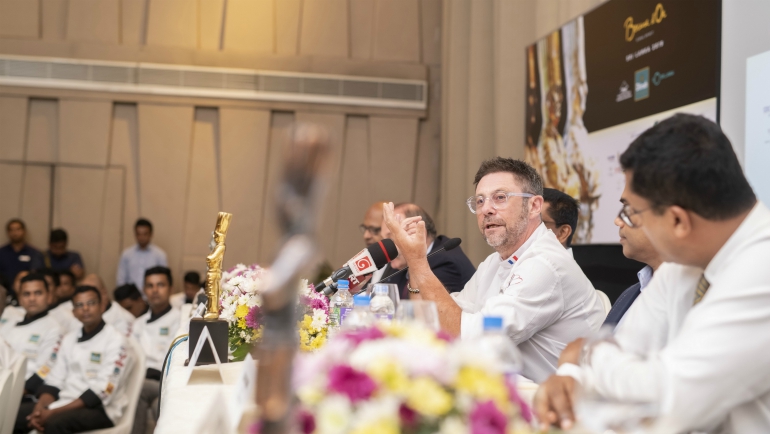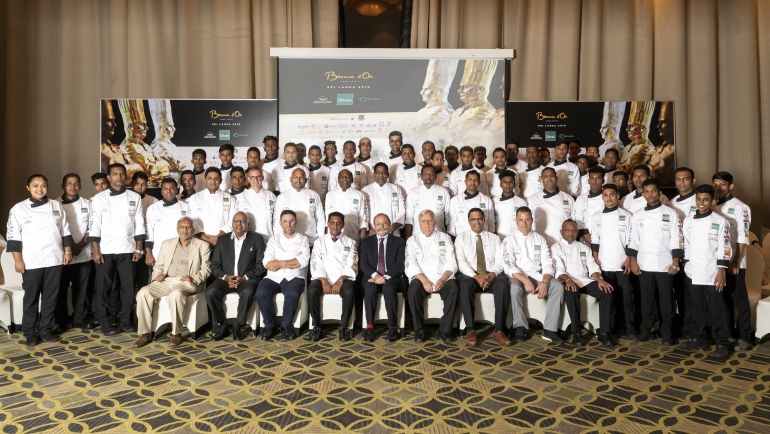 Bocuse d'Or Sri Lanka, an organisation dedicated to fine cuisine and chefs, is committed to uplifting the culinary standards of Sri Lanka. Participating chefs have received extensive preparation under the guidance of World Class Chefs, and today the finalists of Bocuse d'Or Sri Lanka 2019 have been announced. A Master Class by Former Three Michelin Star Chef, Bruno Menard was held for all finalists. These competitors will now be required to battle it out on November 12th 2019, for the coveted opportunity to represent our island nation at the Bocuse d'Or Asia Finals which will be held next year. Success in the Asian competition will see them head to the birthplace of the final competition, Lyon in France.
The press conference announcing the finalists and details of the competition was held under the patronage of Minister of Tourism and Christian Development Affairs Hon.John Amarathunga at "The Blue" Hilton, Colombo. The event was also attended by Chairman of the SLTPB Kishu Gomes, CEO of Dilmah Tea - Dilhan Fernando, Johanne Jayaratne – Chairman of SLTDA, Dilip De Silva – Chairman of SLITHM, Trevin Gomes – Representative of CHSGA, HE. Eric Lavertu – French Ambassador, former 3 Michelin Star Chef Bruno Menard and President of Bocuse d'Or Sri Lanka Rohan Fernandopulle.
Inaugurating the press conference, culinary maestro Fernandopulle noted, "This year we have had the privilege of hosting world-renowned chefs to train our young competitors and we are very excited to see the outcome of three master classes and months of preparation by these young culinary stars. None of this would have been possible if not for the support of Sri Lanka Tourism, our principal sponsors Dilmah and the valued sponsors from various sectors who have stepped in to support this initiative."
Chef Bruno Menard, has over 35 years of experience in some of world's top restaurants. He was also one of the judges of Master Chef Asia in 2015, the same year that he created the Bocuse d'Or Academy Singapore. L'Osier, a restaurant opened by cosmetics maker Shiseido in Tokyo, won 3 Michelin stars under his watch. At today's master class he flavoured Salmon with Dilmah's Ceylon Souchong tea, admired for its strong, smoky character, and plated Beef Rossini, Foie Grass, Potato Palet and Porcini.
This year the winning duo will also walk away with a Gift Certificate that was handed over by HE. Eric Lavertu (French Ambassador) on behalf of Le Corden Bleu Paris to Rohan Fernandopulle to take part in an Advance Culinary Technique Program at Le Cordon Bleu Paris that will last 4 days and be conducted by some of the most renowned chefs in the world.
Bocuse d'Or Sri Lanka has garnered the support of Dilmah, Sri Lanka Tourism, CHSGA, SLITHM, Sri Lankan Airlines, CDC Events, Queens Work Wear, Pragmatic, US Meat Export Federation, East-West Foods (Pvt) Ltd, Chewy Cinnamon, Nestle, Fonterra Brands, Round Island, TNL Radio, Upfield, Nehemiah Consultants, Flipit, Singer, Rougie, Laugfs, Ariane, Wine World, and Le Cordon Bleu to ensure the best of the best in the culinary spectrum represent our island nation. For more information please contact the Bocuse d'Or Sri Lanka office on 071 455 3133.
Disclaimer Notice
These images are copyright protected and can only be used for Dilmah articles with due credit given.