Press release and images on The Life short film competition from Dilmah
Menu
Dilmah Food Service
Integrity & Ethics
Dilmah Tea Inspired
Leisure and Hospitality
Knowledge & Training
Online Shop
The Life short film competition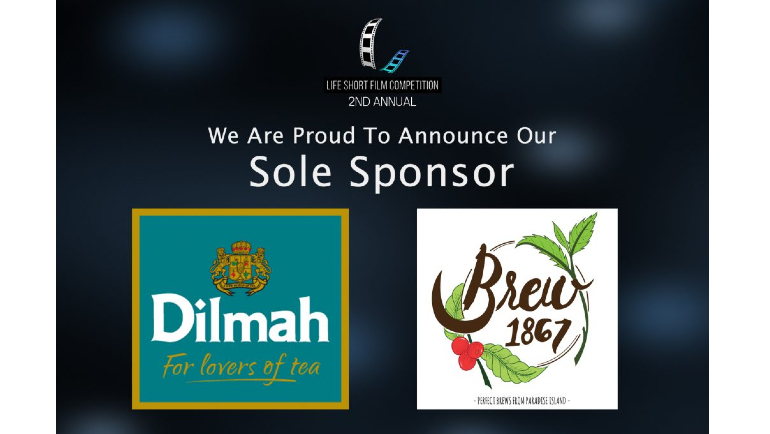 A platform for young filmmakers
Being a filmmaker is something akin to being a magician (I mean this figuratively, in actuality, it is a lot of hard work that no one ever comprehends when they see the final film). It's working with one of the most powerful mediums of storytelling to do just that: tell a story, be it long or short.
As a young filmmaker, however, it can be very hard to get your work seen, and one way many filmmakers get their work out there is through awards and competitions. While Sri Lanka does have its platforms to showcase and honour filmmakers, both up-and-coming and established, one young filmmaker saw the potential for a very special platform that could give any young filmmaker, regardless of education or experience the chance to show how they can create film and tell a story.
The birth of the Life short film competition
The Life Short Film Competition (LSFC) was created by young filmmaker and Life Broadcasting Productions Director Rajeev Colton to do just this. Inspired in part by a competition Rajeev had taken part in while studying film as an undergraduate in the US, the LSFC, solely sponsored by Dilmah Tea and Brew 1867 by Dilmah, is a competition that gives applicants the chance to create a five-minute short film that is reviewed and commended by a panel of international judges from the filmmaking industry. "It's an idea I've had for a while," Rajeev said when speaking with Brunch, "I've loved film since I was six years old, and while I was studying for my undergrad degree, there was a very similar short film competition that my professor introduced me to. It was a mad rush, and it was one of my greatest weekends as a filmmaker."
With the uncertainty and unpredictability that came with Covid-19 and last year's three-month lockdown, Rajeev was inspired to create a competition for young filmmakers that could serve to encourage filmmakers to use the time they had to create something that they could show to the world. Sending feelers out, he found that there was a lot of interest, and this led to the forming of the Life Short Film Competition, which took place for the first time in 2020.
The 2021 edition
With the LFSC 2021, teams of young filmmakers apply to produce a five-minute short film over the course of six days to a specific theme Solutions. "Last year, with the pandemic, the theme was Connect, and this year it is Solutions," Rajeev explained, "this can be taken to mean anything from coming up with a solution to open a jar of jam to something more complex like mending a friendship. We've tried to keep it as open as possible so that they're not all creating the same film but there is an overlying theme."
The judges for the LSFC 2021 include an eminent panel of film directors, cinematographers and producers including Ed Lavelle, Gabriel Mays, Jeremy Parsons, and Oscar nominees Alexandra Rose and Colin Campbell. Rajeev shared that the LSFC seeks out international judges because they have found that for some filmmakers, Hollywood and the Western film industry has played a huge role in how they experience and create film, and is also an industry many filmmakers want to break into.
With Sri Lanka's third wave of Covid-19 wreaking havoc through Sri Lanka, the LSFC 2021 took place virtually as it did last year. While there were plans for the competition to take place physically, this just didn't work out given the country's situation.
This year, with 11 teams signing up to be part of the LSFC, the competition has taken place across two virtual screenings for each team's work to be seen by the public and the judging panel. The second screening has just concluded with voting now open for the LSFC Audience Choice award, an audience-voted award that selects the most popular film online.
The other awards being recognised in the LSFC are best writing, best cinematography, best sound design, best editing, best actor, best actress, best director, best film, best production design, best adapted score, and, should there be more than four contenders that qualify, the award for best original score as well as best adapted score to recognise filmmakers who use royalty-free music to create something unique for their productions.
On creating a platform for local talent
Rajeev shared that the whole LSFC journey has been something of a rollercoaster, from putting together the first edition in 2020, more or less on his own, it has now progressed to a small team with where dedicated knowledge can be put towards tech, logistics, and the other little (and not so little) things it takes to put together an international-level competition.
The growth of the competition is also something that inspires Rajeev. "From the teams who took part last year, only four have returned to compete, the rest have moved on to newer things, and in many cases, teams have been able to find new projects through the competition which is very rewarding. We have nine new teams taking part this year, our Facebook page and community has grown to become a network of amateur filmmakers who want to work together and create new things. It's been a lot of work and has been exhausting, but overall, it has also been very rewarding to get to know people in the same line of work and know that they are passionate about the same things."
To watch the short films put forward by this year's teams and to vote for the Life Short Film Competition Audience Choice Award, please visit the Life Short Film Competition's Facebook and Instagram Page. The Life Short Film Competition Film Awards will take place on 30 July at 7 p.m. through their Facebook page.
This article was taken from
The Morning
Disclaimer Notice
These images are copyright protected and can only be used for Dilmah articles with due credit given.