Press release and images on The joy and challenge of purveying better products and better lives from Dilmah
Menu
Dilmah Food Service
Integrity & Ethics
Dilmah Tea Inspired
Leisure and Hospitality
Knowledge & Training
Online Shop
The joy and challenge of purveying better products and better lives
Interview with Dilhan Fernando, CEO Dilmah Tea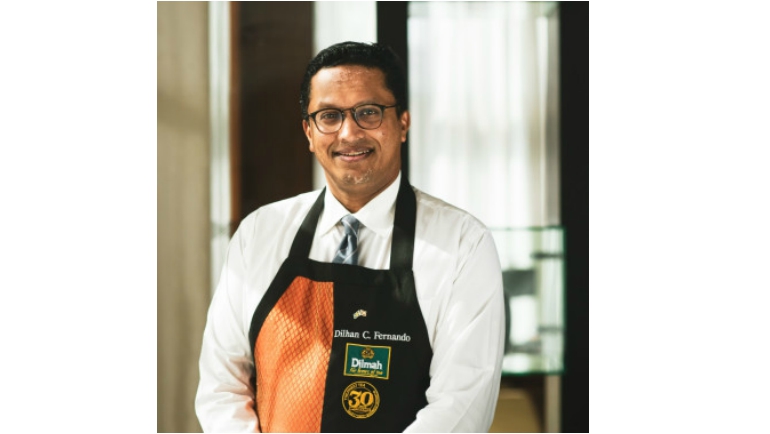 Dilhan Fernando is the CEO of Dilmah Ceylon Tea Company which carries part of his name. For when his father founded the company in 1988, he blended the first names of his two sons – Dilhan and Malik – to give it its name.
This anecdote reflects one of the romantic dimensions of the companies creation story. The ones we will focus on in our interview with Dilhan focuses on Dilmah as a pioneer. A pioneer when it comes to fighting for fairer trade practices, implementing sustainable operating processes, educating consumers and to being founded on the belief that purveying a superior product needs to go hand-in-hand with helping to create a better socio-economical and natural environment.
If you think that this all sounds like what we have come to expect from a progressive start-up but also to wonder if a company can truly deliver, then consider this: This company and mission started to take shape in the mind of a Sri-Lankan tea taster – said Merrill Fernando – as early as the late fifties. Merill's dream was shaped by a burning desire to do away with what he experienced to be a colonial hold-over. A tea-making value chain that left local workers with only a tiny fraction of the value created for Western tea houses and that left Western drinkers with bland blends and stale tasting teas. In other words, this company was conceptualized and built by a local tea professional with insights into global trade, over decades – from the plantation up, so to speak.
But even with all the local insight, expertise and commitment, it has not been easy to compete with the big packaged-goods multi-nationals, to sell through mass retail and to obtain even a modest premium for a better, fairer, more sustainably produced product, as you will hear. This is where ways to connect more directly with consumers – including via hospitality, virtual tools and e-commerce – has enabled Dilmah to manifest the experience of enjoying its teas in new ways. Ways, that elevate the brand* and go beyond the 'bag and boiling water'.
FURTHER READING:
Roam the very informative
Dilmah Tea website
and explore its rich content from how the tea is made to how to best enjoy it. You can sign up for tea-totaling classes at the
School of Tea
, learn about Dilmah's
many initiatives
to
run operations sustainably
help the
people
and
environment
of Sri Lanka. You can even
book a staycation in the plantations
to make your tea experience up, close and personal.
Here is an
article by The New York Times
from 2010 and article by
Fortune
from 2007, which tell the Dilmah creation story and progress up through the time when Merrill started to hand over leadership of the companies to his sons.
And here is a 2020
article by Dilhan on the difficulty to fund a fair and sustainable distribution of wealth
in the face of a crisis like COVID-19 laid on top of a discount-driven packaged food culture.
This article was taken from
Ueber-Brands
Disclaimer Notice
These images are copyright protected and can only be used for Dilmah articles with due credit given.