Press release and images on THE GOODNESS IN YOUR CUPPA – DILMAH LAUNCHES MOST COMPREHENSIVE GUIDE TO THE UNIQUE HEALTH BENEFITS IN TEA from Dilmah
Menu
Dilmah Food Service
Integrity & Ethics
Dilmah Tea Inspired
Leisure and Hospitality
Knowledge & Training
Online Shop
THE GOODNESS IN YOUR CUPPA – DILMAH LAUNCHES MOST COMPREHENSIVE GUIDE TO THE UNIQUE HEALTH BENEFITS IN TEA
The goodness in your cuppa – Dilmah launches most comprehensive guide to the unique health benefits in tea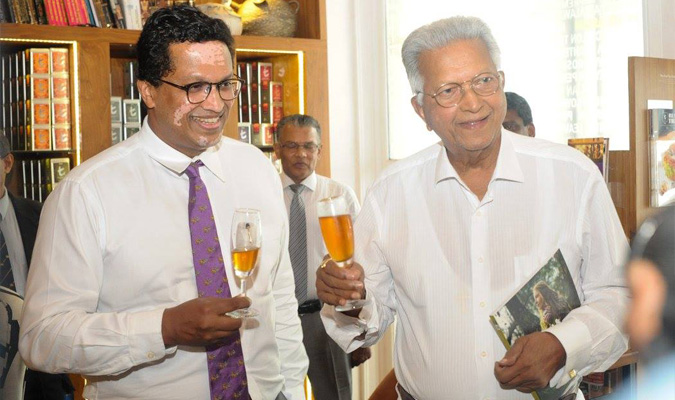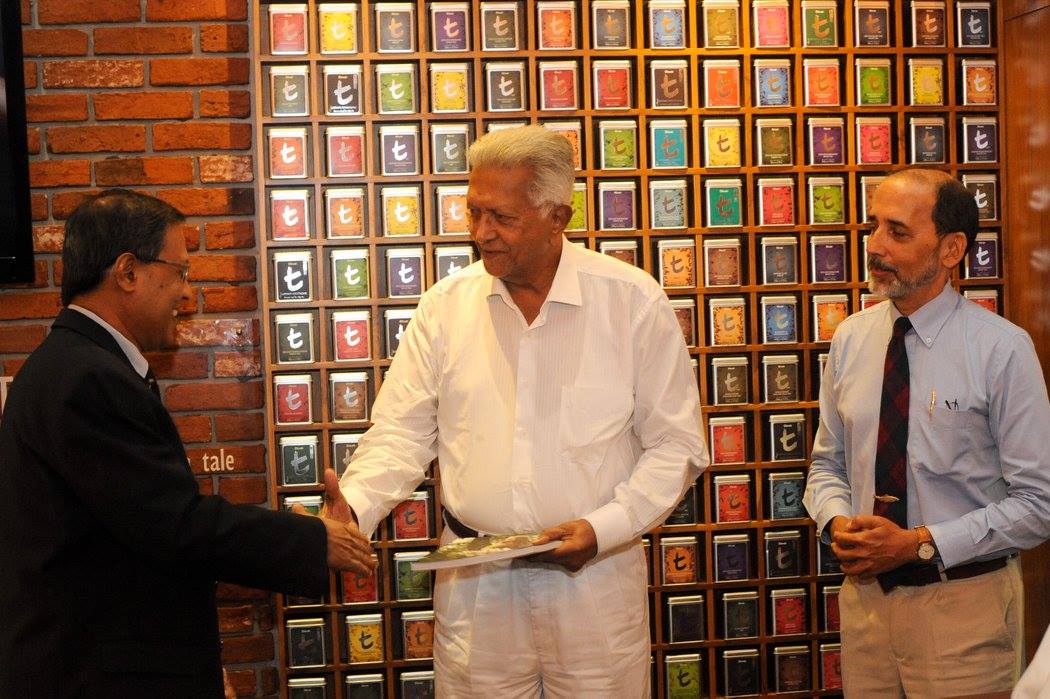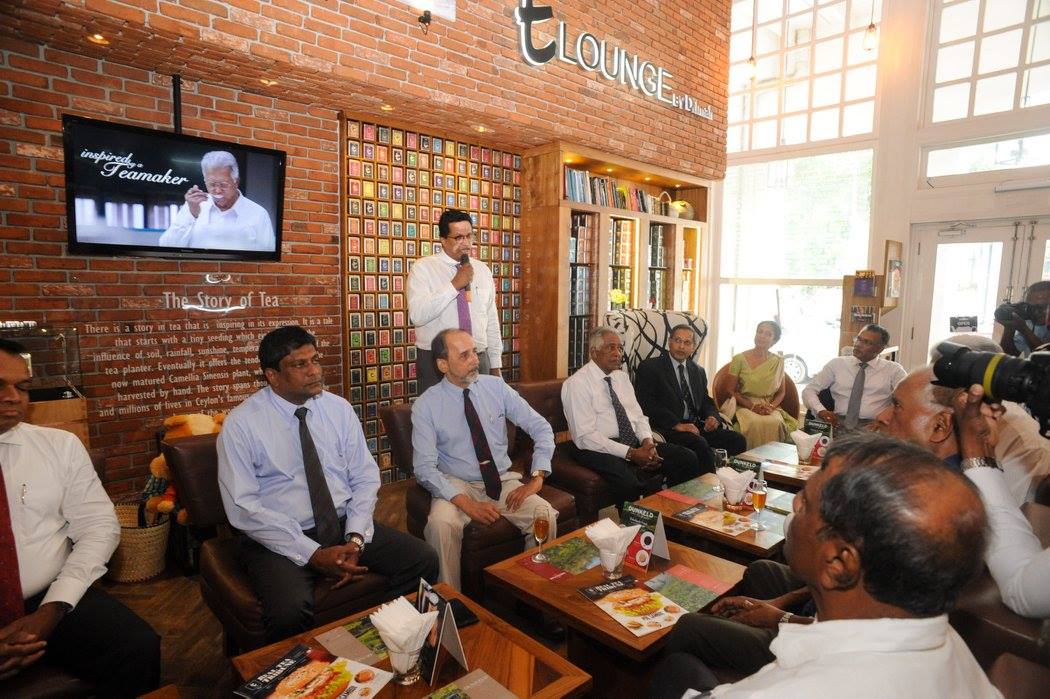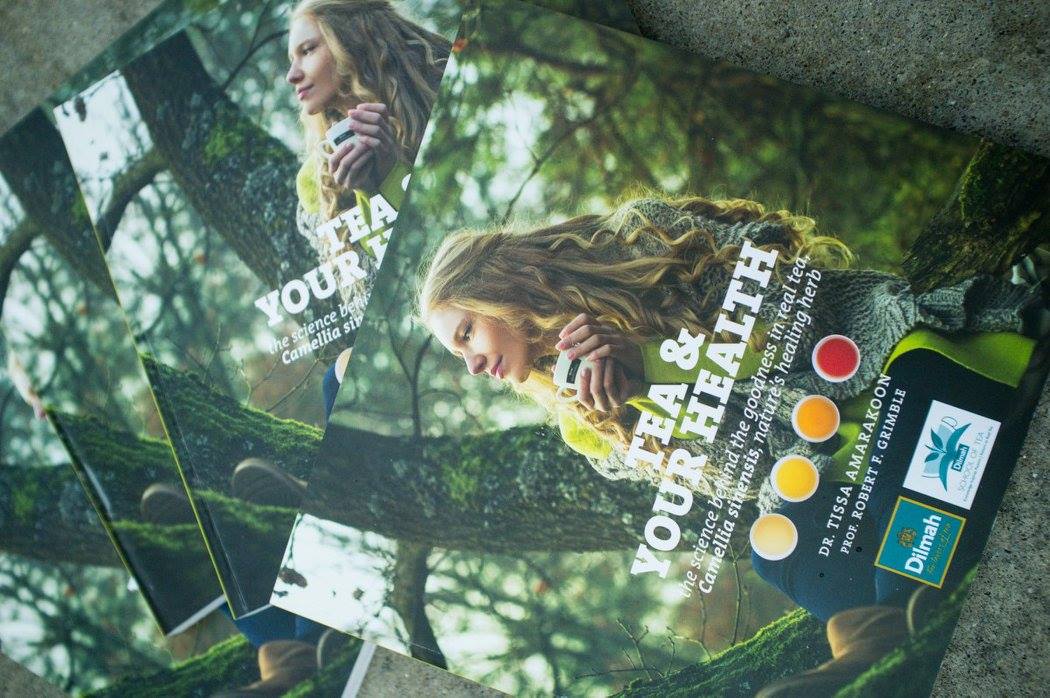 In every session of the Dilmah School of Tea, the 'Dilmah family' proudly proclaim that there is no beverage that is more relevant to a 21st Century lifestyle than tea. Now they have invited Dr. Tissa Amarakoon, a member of the faculty of the School, to document the many reasons why that is true. In the tea inspired of their t-Lounge, Dilmah launched 
'Tea & Your Health'
, a comprehensive overview of the science behind the goodness in real tea. 
Dr. Tissa Amarakoon was supported by Prof. Robert F. Grimble, and an editorial team that included tea industry veterans Daya Wickramatunge and Anura Gunasekera and scientist Dr. Anudini Liyanage. The purpose of the publication is to explain the unique potency of tea for wellness, and to address many of the myths about tea. 
Tea & Your Health
touches on the history of tea and its medicinal origins, whilst explaining in detail how science has proven what ancient physicians knew - that tea is good for mind, body and soul. 
The book addresses questions about tea that often confuse tea drinkers, explaining caffeine in tea, it's influence on mood and many other frequently asked questions. 
Tea & Your Health
 adds to several features of Dilmah's celebration of 150 years of Ceylon Tea. The family company that has maintained uncompromising belief in quality Ceylon Tea, will also launch its History of Ceylon Tea project, and several teas as a part of their celebration of the heritage of Ceylon Tea. 
Dilmah Tea was launched by its Founder Merrill J Fernando, often known as 'The Teamaker', whose faith in tea that is made in the traditional, artisanal style, and packed at source, garden fresh and unblended, is legendary. 
Tea & Your Health
 reaffirms Merrill J. Fernando and his sons' commitment to quality and integrity - founding principles of their Dilmah Tea - at a time when the tea industry, including many in Sri Lanka are choosing a different direction. 
"I devoted my life to Tea, and carry this message to every tea drinker; there is no beverage quite like tea. Fresh Tea is rich in natural anti-oxidants and when made in the traditional orthodox style- the only way to make tea - it is both uniquely healthy and deliciously pleasing," says Dilmah Founder Merrill J. Fernando. 
"As we celebrate 150 years of Ceylon Tea and approach the 30th anniversary of Dilmah Tea, I reaffirm my nearly 70 year commitment to nature's healing herb-both in sharing the pleasure in real tea and in sharing the benefits of my life in tea through the philosophy - of making business a matter of human service. There is no beverage in existence that can offer the same combination of pleasure and therapeutic effect as tea. The world is experiencing a renaissance in tea as a new generation discovers that tea is naturally good for human health, and in this book, we hope to convey the extent of that goodness," he adds. 
In the average tea drinker's universe, the common conception of tea is as a beverage, habitually consumed at various times of the day, but either with minimal awareness of its health benefits, or the manner in which the selection of the type of tea and the preparation of the brew could be made, to enhance both its taste and goodness. Apart from the customary accompaniment of tea with food at various times of the day, tea is also consumed to dispel hunger, thirst, tiredness, as a re-energizer and even to combat depression. It is recognised universally as a "pick-me-up", but little or nothing is understood of the reasons which underpin its goodness. 
The book addresses this knowledge gap with regard to the health benefits of the beverage in the world, most commonly drunk next to water, and explains how its goodness has now been validated by scientific research and empirical data. 
It leads the reader from the wide ranging variability of climate, weather, elevation, soil, type of plant, methods of cultivation, the process and style of manufacture- all factors combining to give tea its fascinating diversity of aroma, taste and appearance to the different types of tea available to the consumer, both the average drinker and the connoisseur. In a few short chapters, it opens a window in to the wonderful richness of the world of tea, unarguably unmatched by any other beverage. 
Tea and Health educates the reader on the chemical composition of both the green tea leaf- the raw material - and the black tea, which lend to the brew all its beneficial characteristics. It examines, with commendable scientific objectivity, the health benefits of tea in relation to various common diseases and largely self-induced health problems, now prevalent in most societies and that which have assumed the proportions of serious, national health problems in many countries. 
The book tells consumers how to derive the best benefit from a brew that they have been consuming habitually for a life-time, cherished simply for its delicious taste, and suggests to the uninitiated, why it would be prudent to become a consumer. It will enable the reader to distinguish between 'Real Tea' and its less beneficial substitutes, derivatives and impostors. 
Tea and Your Health will answer the questions of those who seek to merge pleasure with goodness, and goes on to affirm the proposition that there is no realistic substitute to fresh tea- prepared in the orthodox, traditional fashion- as a healthy beverage. 
The content is illustrated with charming, carefully selected images and the production, in its totality, is a pleasing synthesis of refinement and simplicity and consistent with the standards of excellence customarily associated with Dilmah. 
It is a book for both the average reader, the tea producer and the scientist. 
ABOUT DILMAH
Sri Lankan family tea company Dilmah, founded by Merrill J. Fernando, today the world's most experienced teamaker, has championed quality, authenticity and variety in tea. Dilmah pioneered the concept of Single Origin Tea in 1988 when the family company went against industry trends to declare its commitment to authenticity. Garden fresh, unblended tea is a hallmark of Dilmah and offers a unique taste of unblended Ceylon tea packed at source - where it is grown. 
Dilmah takes the lead in bringing innovation to a global tea category that has suffered decline as a result of commoditisation. Signature events such as the Chefs & the Teamaker and Real High Tea are innovations that seek to educate and inspire hospitality professionals to offer their guests a completely new tea experience. The events foster greater respect for this healthy, natural and versatile beverage. 
The Dilmah School of Tea seeks to inspire passion in tea through knowledge of the artisanal aspects of tea amongst hospitality professionals, tea aficionados and consumers. The emphasis is on the importance of Real Tea and the versatility of this natural herb in Tea Gastronomy, food pairing and Tea Mixology. www.schooloftea.org 
Dilmah is Ethical Tea, in that all packaging profits are retained in Sri Lanka and fund the MJF Charitable Foundation and Dilmah Conservation. We believe that Business is a Matter of Human Service. 
www.mjffoundation.org
www.dilmahtea.com
www.Schooloftea.org
www.facebook.com
twitter.com/dilmah
www.instagram.com/dilmahceylontea
Disclaimer Notice
These images are copyright protected and can only be used for Dilmah articles with due credit given.