Press release and images on Ten Guitars kicks off the Art Deco weekend from Dilmah
Menu
Dilmah Food Service
Integrity & Ethics
Dilmah Tea Inspired
Leisure and Hospitality
Knowledge & Training
Online Shop
Ten Guitars kicks off the Art Deco weekend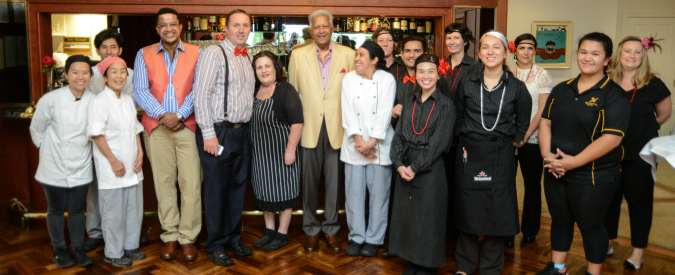 Three guys from Flaxmere with white tee-shirts and their name printed on the back stole the show in an all-to-brief Art Deco debut as Napier's 29th flamboyant annual celebration of it's 1930s architectural heritage kicked-in last night.
The trio from Project Prima Volta needed just three numbers to transform their stardom from festival opera Carmen to the smaller stage of the Art Deco Festival's Sileni Estate Opening Soiree - a wee set opened in the MTG foyer with Engelbert Humperdinck's 1960s-era Ten Guitars.
There was no sign of any garters being flung, but L.J.Crichton, Emmanuel Fuimaono and Jordan Fuimaono were still taken aback to near speechlessness by the spontaneous applause, and the approach of a newfound fan moments later with the modern-day Bravo.
"It was awesome," she said.
About 150 had gathered in the foyer for the weekend opening by Mayor of Napier Bill Dalton, as the crowd grew outside in the streets closed to vehicular traffic, apart from the steam traction engine, and the growing fleet of vintage cars, pride of place to a 1948 Pontiac Toledo bought from the US by new owner Bert Dove, from Bay of Plenty.
The soiree was a time to pay tribute to the volunteers, and a list of sponsors verbally-scrolled by new Art Deco Trust general manager Shane Gorst, which included some of the now-usual suspects including deco character Bertie and Dilmah Tea founder Merrill J Fernando, who had apparently before it all started confirmed he'd be back again next year, to continue the relationship as Art Deco ambassador, to which he was appointed in 2014.
The guys from Flaxmere weren't the only stars of the night. There were also three Art Deco Dancers from the Born to Move Dance Group, who cut a sparkling bevy of belles. Hardly a cellphone in sight to capture the action, but there would be other opportunities.
They would be dancing for free throughout the weekend, said soiree MC Simon Tremain. Very busily apparently. Within seconds, the dames had gone, to their next gig. No one, not even the boys from the Navy (HMS Wellington and HMS Taupo), got their names. No one got their numbers.
Please click here to view the Article in Hawkes Bay Today
Disclaimer Notice
These images are copyright protected and can only be used for Dilmah articles with due credit given.