Press release and images on Team Sri Lanka take on the Bocuse d'Or competition in France from Dilmah
Menu
Dilmah Food Service
Integrity & Ethics
Dilmah Tea Inspired
Leisure and Hospitality
Knowledge & Training
Online Shop
Team Sri Lanka take on the Bocuse d'Or competition in France
SL qualifies for final round for second time in event's history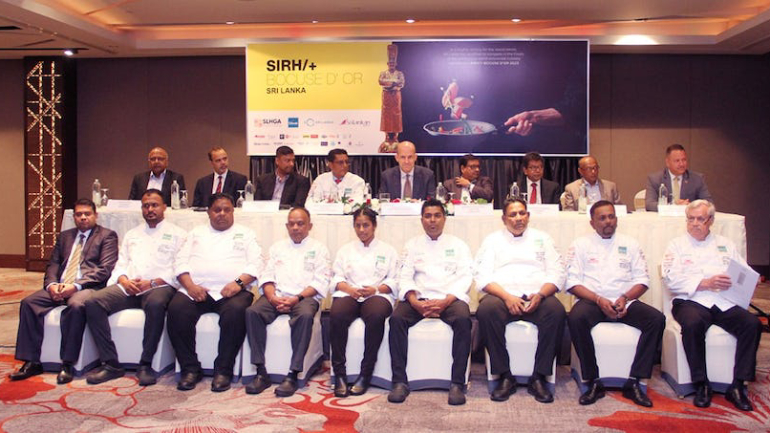 Get ready for a culinary showdown of epic proportions as Team Sri Lanka, coached by Mövenpick Executive Chef Priyantha Weerasinghe, takes on the world in the highly coveted Bocuse d'Or competition!
Bocuse d'Or, named after legendary chef Paul Bocuse, has been taking place biennially in Lyon, France since 1987. After rigorous competition and training under industry pioneers, Sri Lanka has qualified for the grand finals in Lyon, France on 23 January. Chef Mihishan Silva of Hilton Residences together with Commis Chef Siyathma Perera of Waters Edge, have qualified to take on international waters, battling for the coveted trophy with 23 other countries.
According to Bocuse d'Or, Sri Lanka, along with Estonia, have qualified under the wild card category, while the finalists from Europe are Belgium, Denmark, Finland, France, Hungary, Iceland, Norway, Sweden, Switzerland, and the United Kingdom. Australia, China, Japan, New Zealand and South Korea are the Asia Pacific contestants, Morocco and Mauritius are the African contestants, and Canada, Chile, Colombia, Mexico, and the US are the contestants from the Americas.
A press conference to felicitate and wish the contestants luck was organised by Bocuse d'Or Sri Lanka at the Hilton Colombo Residencies last week, with Ambassador of France to Sri Lanka and the Maldives Jean-François Pactet as guest of honour.
Sharing information about this prestigious competition, Bocuse d'Or Sri Lanka President Rohan Fernandopulle explained that this event is always eagerly anticipated by the hospitality industry, as the Bocuse d'Or event extracts the very best of young men and women with a penchant to benchmark their culinary skills globally.
"Sri Lanka has participated in the competition since 2011 with the intention of grooming young and upcoming chefs to take on the challenging field of food and beverage," he stated, adding that he is excitedly looking forward to the finals.
This marks the second time in the event's history that Sri Lanka has made it to the final round, and the chefs are determined to make a splash with their unique, innovative dishes representing the diverse flavours of Ceylon.
"With 24 nations competing, the competition will be fierce, but Team Sri Lanka, who will be flown to France by SriLankan Airlines, is ready to take on the challenge," added Fernandopulle.
Sri Lanka Hospitality Graduates Association Past President Trevin Gomez noted that this was indeed a proud and honourable moment. "The two individuals are representing not only Team Sri Lanka but the entire Sri Lankan culinary community and the nation as a whole."
He pointed out that this event is one of the most coveted competitions in this line of field, and, addressing the two chefs, stated that it is a great honour to qualify for the Grand Final against some top-notch contestants.
Adding to this, Fernandopulle affirmed that he is of the belief this competition is a great opportunity to position Sri Lanka on the global map, promoting the country as a tourist destination, saying that this "is why we are so excited to portray the skills and talents of our young chefs".
Speaking on their partnership and why they were quick to jump aboard this operation, Dilmah Tea Director Roshan Tissaaratchy explained: "Dilmah has supported Bocuse d'Or Sri Lanka as part of the brand's commitment to innovation and tea gastronomy."
Although not present at the event, Minister of Tourism and Lands Harin Fernando shared with the organisers that the recent achievement of Team Sri Lanka in qualifying for the grand finals of the esteemed Bocuse d'Or competition was a testament to the exceptional culinary craft present in our nation.
"It serves as a valuable asset that can greatly contribute to the promotion of tourism in Sri Lanka. The team's ability to showcase the diverse culinary talents available on the island to the world is a true representation of the wide range of offerings Sri Lanka has to offer as a tourist destination," he observed. In this regard, he pointed out that such an achievement also further solidifies our nation's position as a unique and special destination for culinary enthusiasts.
The opportunity for Sri Lankan chefs and their apprentices to participate in the prestigious Bocuse d'Or competition is a true honour and a significant step forward in elevating the culinary standards within our nation. Participation in this global contest not only highlights the exceptional talent and skills of our chefs but also serves as a catalyst for the growth and development of the hospitality industry in Sri Lanka.
Tissaaratchy concluded: "It opens doors for Sri Lankans to pursue a career in this field and provides a platform for them to showcase their abilities to the world. The Bocuse d'Or is not just about winning a competition, but it's about creating opportunities for our chefs and apprentices to excel, and in turn, strengthening the hospitality industry in Sri Lanka."
Team Sri Lanka
Candidate: Mihishan Rashminga Silva
Commis: Kankanige Siyathma Ruwandi Perera
Coach: Priyantha Weerasinghe
Mihishan Rashminga Silva's passion for cooking began with his grandmother. A graduate of the Ceylon Hotel School, Mihishan Rashminga Silva is the current chef de partie of the Hilton Colombo Residence, which he joined straight from school as a trainee. He is no stranger to competitions and has won the gold medal at the 2015 Culinary Arts Competition for Hot Live Cooking, two bronze medals at the Hotel Asia competition as well as the gold medal at the Hilton F&B Master cooking competition.
What was your first culinary shock?
At a competition, I added white chocolate to mashed potato, and the taste was wonderful.
What is the major improvement you expect in the culinary world?
The improvement of molecular gastronomy.
Which chef do you dream of cooking for?
Chef Ferren Adria.
Disclaimer Notice
These images are copyright protected and can only be used for Dilmah articles with due credit given.