Press release and images on Tea Lounge at the Edge-Reviewed from Dilmah
Menu
Dilmah Food Service
Integrity & Ethics
Dilmah Tea Inspired
Leisure and Hospitality
Knowledge & Training
Online Shop
Tea Lounge at the Edge-Reviewed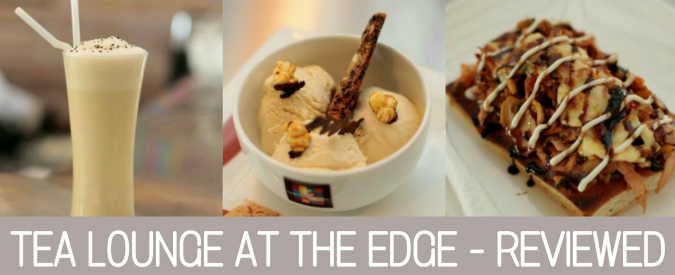 A take on tea we've never seen!
Rating ????
Opening Times 8am - 8pm everyday
Cuisine Tea specialties and snacks
Food ????
Drinks ????
Halal No
BYOB No
Where Water's Edge
Tea is an integral part of Sri Lankan tradition, heritage and pride and Dilmah has sought time and time again to innovate and reposition the true meaning of tea within the borders of Sri Lanka. Tea Lounge at the Edge is Dilmah's latest venture, joining hands with Water's Edge to bring us a line of specialty teas and goodies that are simply put, irresistible.
Tea Lounge at the Edge is the only outlet serving Dilmah's "Exceptional Tea" range and the only place that serves up tea cocktails by Dilmah, so we were pretty pumped. Their menus come displayed on Samsung tabs (which is so high-tech) and their food descriptions are so particular that they'll tell you the number of ice cubes going into your drink! Another great thing is that when you choose your food items, the staff recommends a tea pairing that will go well with the dish - just like a great wine pairing!
Drinks: Gentle Minty Green Iced Tea- Rs. 550, Rose with French Vanilla Syrup- Rs. 550, Queen of T cocktail- Rs. 1,250, Earl Meets Jack cocktail- Rs. 1,000, Earl Grey Tea Shake- Rs. 390, Cardamom KITSCH- Rs. 550
There was such a large variety of drinks to choose from - iced teas, shakes, hot teas, and cocktails! the options were endless! So we decided to dip our hands into each category.
We kicked off our culinary adventure with the iced teas, both of which were very subtle but thoroughly enjoyable. The Mint iced tea was a mixture of Mint Green tea, green tea syrup, sugar syrup and lime. This one was really light on the palette and reminded us a little of Nelli drinks. It was a large glass though and it was very refreshing on a regular Lankan day.
Rose with French Vanilla Syrup was a pleasing combination of tea, vanilla syrup, and sugar syrup. It came garnished with strawberries and was presented quite beautifully. The vanilla syrup really comes through in the drink with the rose flavors being much more subtle. The great thing though, was that you could still distinctly taste the tea flavor in both iced teas and we loved that.
We were really excited about the tea cocktails on the menu and couldn't wait to get our hands on some. Upon recommendation, we tried the Queen of T which was a blend of cognac, baileys, Italian almond tea and sugar syrup. It looked beautiful and creamy and came garnished with nutmeg. The drink itself was very smooth, and though you could taste the almond tea in the concoction. There was also the undertone of alcohol that you could still taste. The flavors blended quite well together and this was a definite favorite from the whole day.
Earl meets Jack was a strangely appetizing combination of earl grey tea, Jack Daniels and honey and every sip of this cocktail was a journey worth reminiscing. The blend of tea and honey in the initial stages of the sip is delicious, and as the sip continuous, the strong punch of alcohol still pulls through in a lovely palatable quantity. You might want to watch how many of these you decide to order because even before you know it, you'd be pretty drunk. The downside of a delicious cocktail.
The tea flavors in the Earl Grey Tea Shake were very subtle with the vanilla ice cream flavors mostly dominating the shake. It came topped with vanilla pod shavings and was a light and tasty drink to have. The portion wasn't overwhelming but quite sufficient for one.
Inspired by the Sri Lankan "yaara thé", directly translating into "yard tea", the KITSCH range focuses on teas that have been mixed in a village shop method, where the tea is infused with spices and poured from one jug to another from a great height. They have spices ranging from cinnamon to cardamom to the regular tea. The cardamom option that we tried was very impressive. It came in a tumbler that kept the tea itself piping hot on the inside, yet cooled down enough on the outside for us to be able to hold the glass in comfort.
The tea itself, in my opinion, could have been a little stronger or could have used a few more minutes to brew, but the spice infusion and the taste that pulled through was classic, homely and more than lovable.
Appetizers: Poached lagoon prawns and avocado- Rs. 1,300, Smoked chicken and mushroom bruschetta- Rs. 950
A completely loaded and pretty hefty portion of smoked chicken and grilled mushroom, the Smoked chicken and mushroom bruschetta is definitely a more pleasing take on the usual bruschetta you get around Sri Lanka. The smokiness of the chicken really pulled through, the elements in the dish made a winning combination and could be had as a main - it was that huge!
Expecting a nice grilled mini platter of prawns, I was a little taken aback when the Poached lagoon prawn was actually just a prawn cocktail. That being said, it was quite tasty. They claimed the balsamic reduction on top and the cocktail sauce was tea infused, which was pretty cool thought we couldn't really taste it. Though Rs. 1,300 was a little over the top for the dish we got, the avocado was fresh and combined well with the prawn and it was an overall good experience.
Mains: Mozzarella, rocket and grilled artichoke wrap- Rs. 950, Braised chicken enchilada- Rs. 1,000, Spicy chicken brockwurst waffles- Rs. 650
Hesitant about the artichoke (because what even is artichoke) yet curious about their vegetarian options, we ordered the Mozzarella, rocket and grilled artichoke wrap with scepticism in our hearts. We were irreversibly turned into believers by first bite. A winning combination of carrot, bell peppers, mushrooms and artichoke, this dish, though fairly small, was one of the winners at Tea Lounge.
The Braised chicken enchilada came in a very interesting little bun stuffed with chicken and a sunny-side-up egg on top. Y'know I thought I knew what an enchilada was until today, but Tea Lounge's take on it was a whole new ball game. It was very new and very cool. The chicken had a more curry feel to it than anything else with Sri Lankan spices pulling through more than Mexican. I wouldn't say this was the best option on their menu, but it's it's pretty interesting.
The Spicy chicken brockwurst waffles was one of my more favourite options on the menu. It was a pretty hefty portion and came with really spicy sausage on top and a slightly sweet waffle for a base. The combination was delicious and I love-loved it. If you're opposed to spice, maybe avoid this, but otherwise it's a pretty mean dish.
Desserts: Iced tea Sundae- Rs. 400, T-misu- Rs. 350
A tea-infused take on the classic Tiramisu, the flavors of the T-misu were gentle and easy on the palette. We unanimously agreed that this was one of the better takes on tiramisu we've tried in the country and would gladly recommend it to a tea or dessert fanatic.
Served really quirky and fun, the iced tea Sundae was a caramel blend ice cream topped with caramel popcorn and a chocolate chip cookie. This item was very milky with subtle hints of tea pulling through and was a fun and tasty way to end the meal. Although not our most favorite item on the menu, it's definitely worth a try.
Service & Ambience
We thoroughly enjoyed our experience at Tea Lounge's really chilled out premises which is perfect for that lazy weekend brunch. The staff is cordial, helpful and very educated so you know you can trust them. Heshan who is at the counter explained everything in detail to us when we asked and was a very cool educator.
Tip: Try their signature tea cocktails, specially the Queen of T!
Have you checked out Tea Lounge yet? What do you think about it? Let us know in the comments below!
Please click here to view in www.pulse.lk
Disclaimer Notice
These images are copyright protected and can only be used for Dilmah articles with due credit given.