Press release and images on Tea inspired trends for the decade from Dilmah
Menu
Dilmah Food Service
Integrity & Ethics
Dilmah Tea Inspired
Leisure and Hospitality
Knowledge & Training
Online Shop
Tea inspired trends for the decade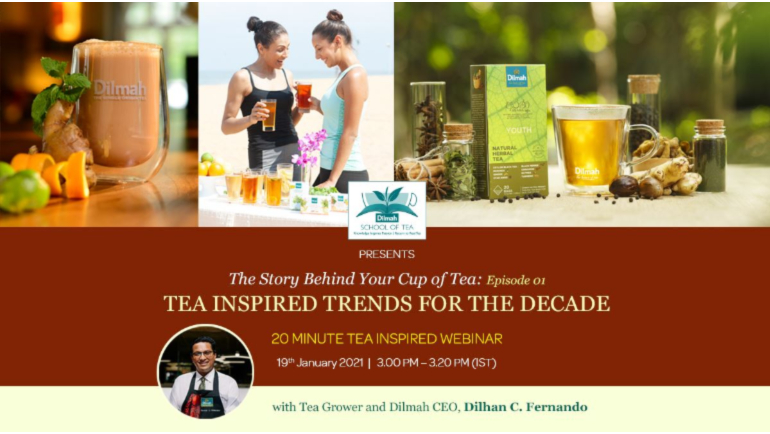 The Dilmah School of Tea Alumni, Dilmah Tea, and Dilmah Tea Gastronomy will be hosting an international webinar, catered towards professionals in the hospitality industry and a non-professional audience with a keen interest in tea.
We spoke to Tea Grower and Dilmah CEO Dilhan C. Fernando on the concept behind the webinar. "We have never done a trend feature before, but the fact is that if you look at consumer trends today, and if you look at what's happening post-Covid, there is a tremendous convergence towards health, wellness, and authenticity. Whether you look at trends in luxury or indulgence – it all comes together around the same attributes that tea has."
The purpose of this webinar is not to try to emulate a trend analysis done by other institutions globally, but rather to define the relevance of tea to consumer lifestyle, health and wellness, food safety, and luxury trends. Fernando commented on how remarkable it is that all these factors align beautifully with what Dilmah has to offer, whether in terms of indulgence or sense adventure. "I know there is a lot of recent trend research and reports out there. This webinar goes to show how closely aligned tea and priorities for human health, lifestyle and aspirations are."
Tea has two dimensions, and the commoditised version is what we often encounter. Commenting on the fact that the number of tea drinkers seem to be dwindling, he said: "For us, as tea growers, it is a tragic irony, because everything we hear from consumers in terms of what they desire is beautifully embodied in what we at Dilmah offer."
Too often, people look at tea as something very mundane and ordinary. Too few people today are reaching for a good cup of tea simply because they lack understanding of its properties and complexities. Fernando added that they wanted to present this concept to highlight the importance of reframing tea and to show what it really offers, as, in terms of different varieties and impact on health, tea is unprecedented. "It is particularly important in Sri Lanka, as it is a growing country; and it is also important because tea as an immune booster is a potent, protective beverage."
Taking a closer look at the social and economic sustainability of the tea industry, Ceylon Tea is aligned with quality, and therefore in a country like Sri Lanka, it is incomprehensible that we don't have sufficient appreciation for what we offer.
Fernando, throwing in a little fun fact about tea, stated that tea has a unique level of antioxidants and goodness that is a hundred times greater than what any parent in a common household would encourage their child to eat. "Our number-one trend would be the health and wellbeing attributes in tea, which I can assure you are not matched by any other beverage in the world."
With this webinar, Fernando and his team at Dilmah hope that the general public understands tea and all its elements before they project it to the world, stating that because tea is so interconnected with our social, economic and cultural histories and our future, it is extremely important that this message is shared.
The webinar will be aired on Dilmah's Facebook page (@SchoolofTea) on 19 January at 3 p.m. Registrations may be made through the brand's
website
.
This article was taken from
The Morning
Disclaimer Notice
These images are copyright protected and can only be used for Dilmah articles with due credit given.