Press release and images on Take a leaf from this book if you ever want to become a tea planter from Dilmah
Menu
Dilmah Food Service
Integrity & Ethics
Dilmah Tea Inspired
Leisure and Hospitality
Knowledge & Training
Online Shop
Take a leaf from this book if you ever want to become a tea planter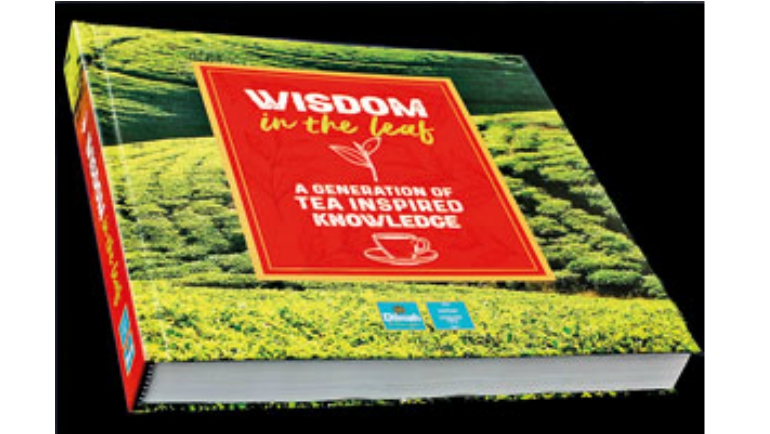 "Wisdom in the Leaf" is an appropriate title for this informative book contributed by well-known, experienced and knowledgeable retired planters and selected tea scientists. The wealth of knowledge surrounding the tea leaves, gathered over the years in Sri Lanka and elsewhere is amazing. However, no amount of knowledge will suffice if there are no experienced and dedicated planters to implement the scientific findings.
When I initially glanced through this book, I was pleased to see the names of veteran planters, many of whom I have had close association during the time I was at the Tea Research Institute of Sri Lanka. Who else other than such experienced men are suited to write a compendium of this sort? Interacting with men of such calibre and imbibing their practical knowledge had helped many of us scientists in designing our field experiments to suit different agro-climatic zones.
This book unfolds the journey of a tea planter throughout his career from the time he joined as a creeper, his lifestyle as a planter, his duties in the field, tea factory and office until the time of his retirement as well as various other aspects of managing tea plantations and their environment, the personnel employed and their lifestyle and welfare etc. The latter chapters include few scientific papers on selected topics.
In one of the chapters, names of nematicide and weedicide have been used which should have been avoided, as such recommendations change with time and the cited ones are not available now or banned from use.
The chapters on personal development are very useful for any young man contemplating a career in tea planting. This will prepare him for the type of duties he is expected to perform and the lifestyle he has to adopt. This is complemented by equally useful chapters on human resources which detail the welfare facilities, worker health, training etc.
Adoption of Good Agricultural Practices (GAP) is mandatory for a healthy growth of tea bushes. Very exhaustive and useful information has been given in the chapters by the authors concerned, covering all aspects of field planting commencing from land selection, nursery management, planting, pruning, shade management, harvesting, nutrient management, weed management etc. This collective information would serve as a useful thesis for young planters to use as a guideline.
The refreshing cup of tea we all enjoy depends on how the harvested tea is transformed to produce the different kinds of brewed tea suited for varying palates. The well written chapters on the manufacturing process amply explain how this is done, making the complex process look simple, so even a layman is able to understand the nitty-gritty of tea manufacture.
The other highlight of this book is the environment where the tea plantations are located. The description of the bungalows, landscapes etc. will tempt outsiders to visit these areas. Although, as the author points out, some of these places have lost their charm, many are still being maintained or have or are being renovated.
Growing alternate crops in marginal tea areas is a useful enterprise which, as the author suggested must be pursued. No doubt it has been a failure in the past and the author himself who was involved in this project has explained the primary causes for such failures. From lessons learned in the past, attempts are now being successfully made to grow pepper and other useful alternate fruit and spice crops in marginal tea areas. Such diversification of unused tea lands will also help improve the micro-climate in the tea environment.
Plants being sessile, have specific mechanisms to survive environmental changes, and respond to complex stress conditions, minimizing damage. However, if such environmental factors causing stress continue for a long time, and the plant is not protected, it can lead to severe damage. These environmental changes may be due to unavoidable changes in climate or be man-made. Various ways of adapting to or mitigating these problems have been addressed by some of the planters and also by the scientists in the last few chapters. Amongst these, the use of biochar is an eye-opener, as it is a very useful substance known to improve soil fertility, C-sequestration and also mitigate climate change.
Last but not least is the important chapter on the health benefits of tea. This brief, but very informative article will enlighten the reader of the many health benefits of consuming tea in ailments such as cancer, heart disease, stroke, high blood pressure, diabetes, impact on oral health, obesity, dementia and Alzheimer's disease. etc.
All in all, this book is very useful and informative to not only those working in the tea industry but to those who are planning to embark on a planting career as well as to anyone interested in learning about all aspects of tea planting and its management.
The book is published by Dilmah Ceylon Tea Company PLC and the Editor-in-Chief of the multi-author publication is David Colin-Thomé, who is the Editor of the History of Ceylon Tea website
(www.historyofceylontea.com)
This article was taken from
The Sunday Times
Disclaimer Notice
These images are copyright protected and can only be used for Dilmah articles with due credit given.