Press release and images on T-Lounge By Dilmah Opens in Dubai!!!! from Dilmah
Menu
Dilmah Food Service
Integrity & Ethics
Dilmah Tea Inspired
Leisure and Hospitality
Knowledge & Training
Online Shop
t-Lounge By Dilmah Opens in Dubai!!!!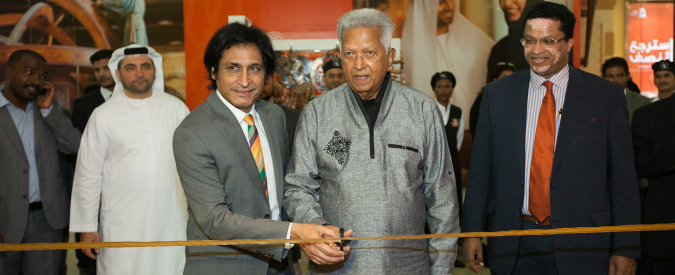 Tea pioneer presents tea with style at the first Dilmah t-lounge in Dubai , the t-lounge offers artisanal teas served hot, chilled, sparkling or pulled & paired with crepes, ice creams & more.Family tea company Dilmah, whose founder Merrill J. Fernando transformed the tea industry with tea picked, perfected and packed at source, launched its exclusive t-Lounge concept in Dubai. The t-Lounge by Dilmah in Ibn Battuta Mall, deliciously expresses the ethical Teamaker's commitment to tea that is handpicked and made in the traditional, artisanal way in an eclectic selection of Dilmah's t-Series designer gourmet teas. The Dilmah t-Lounge was first conceptualized in 2003 and the first ever outlet opened in in Colombo. Mr.Ajay Sethi, Chairman of Channel 2 Group Corporation and former Pakistan cricket team captain, Mr.Rameez Raja are the local partners for this new venture. Dilmah currently supplies its its teas to premium hospitality and retail customers including Emirates Airline. The brand has a presence in over 100 countries, and now aims to present its very special handmade teas to UAE's tea enthusiasts who consume close to 19000 kilograms of tea every day.
Please click here to read the Full Article in theshazworld.com
Disclaimer Notice
These images are copyright protected and can only be used for Dilmah articles with due credit given.