Press release and images on T-Lounge by Dilmah Hosts Sri Lankan Designer Darshi Keerthisena's Latest Collection from Dilmah
Menu
Dilmah Food Service
Integrity & Ethics
Dilmah Tea Inspired
Leisure and Hospitality
Knowledge & Training
Online Shop
t-Lounge by Dilmah Hosts Sri Lankan Designer Darshi Keerthisena's Latest Collection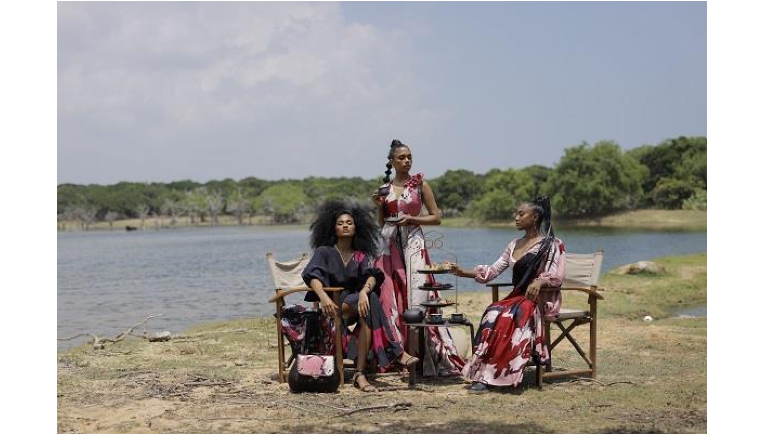 UAE, Dubai: Fashion designer Darshi Keerthisena of Buddhi Batiks is set to debut her latest collection this month highlighting the great diversity of the Sri Lankan wilderness and the need to protect it at t-lounge by Dilmah. Dilmah with its rich history and tea culture has partnered with a Sri Lankan local designer who is essentially keeping the art of batiks dating back centuries alive through her collection. This was a unique collaboration between Darshi and Resplendent Ceylon, a collection of luxury resorts in Sri Lanka, which is also part of the Dilmah group of companies.
The t-Lounge by Dilmah is an upscale, elegant place designed around the enjoyment and appreciation of fine tea; complemented by tea-inspired gastronomy, mixology, and elegant experience. Stocking premium teas, Dilmah t-Series presents a collection of teas that are known around the world only for their excellence. The range presents a vast array of designer gourmet teas including Very Special Rare Tea like the Ceylon Silver Tips and Seasonal Flush.
"We are very thrilled to be showcasing our exclusive collection at the elegant t-Lounge by Dilmah. This collection is very special and close to my heart as it highlights the great diversity of the Sri Lankan wilderness and the need to protect it. Dilmah t-lounge with its rich history and culture would be an ideal host to carry our collections to the audiences while raising awareness." said Darshi Keerthisena, creative director of Buddhi Batiks.
The collection displayed at the pop-up is curated of motifs drawing inspiration from the iconic Sri Lankan leopard, endemic birds, butterflies, moths, together with the beautiful tropical rainforest flora and fauna. They are realised using batik, a craft that combines the illustrative skills of an artist with a wax-resist dyeing technique applied to natural fabrics such as silk, cotton, linen, and so on. Each piece that is produced at Buddhi Batiks is hand-painted in wax by talented artisans, and hand-dyed by experienced dye masters in a seemingly unlimited variety of colours, ranging from the most vibrant of hues to the subtlest, softest pastels and creams. The piece is then boiled, and sun-dried, and the process is repeated over for every additional colour. Each piece is therefore a unique product of several artisans' tender care; each piece is a unique work of batik art.
Mr. Nishan Silva, Cluster General Manager of Majid Al Futtaim – Accor – Shared Services said, "We are proud to host and support the talented designer Darshi Keerthisena to showcase her collection through the 'Pop up Store' at the t-lounge by Dilmah. This collaboration and pop-up is a great fit for us and will add an essential role to the contemporary celebration of tea with style and substance".
Malik Fernando, Managing Director of Resplendent Ceylon said, "As part of the Dilmah family, Resplendent Ceylon provides a circuit of three Relais and Chateaux properties in Sri Lanka, which showcase the tea country, the Yala region, and the Southern Coast. This particular collection is an embodiment of some of the wildlife that is present around Wild Coast Tented Lodge in Yala. This is an inherently Sri Lankan collection, and it brings the incredible patterns of the wild to life. We are glad that we have been able to be part of this collaboration, giving Darshi the opportunity to use our resort as a backdrop, and also showcase the collection at the t-Lounge in Dubai. As the summer season gets underway, we expect to see more interest in Sri Lanka, and this is yet another way for us to showcase the beauty of our paradise island.
This collection was photographed at Wild Coast Tented Lodge, located in Yala, which is home to the highest density of leopards in the world. It was this region and area that was the primary inspiration for the diversity of the patterns that are brought to life in these designs. As a part of the Buddhi Batiks Safari Collection, the designer will be showcasing saris, dresses, skirts, tops, pants, jumpsuits, shawls, clutch bags, wall art, fabric masks, hair ties, men's shirts, t-shirts, and sarongs.
About Dilmah:
Founded by Merrill J. Fernando, the world's most experienced tea-maker, Dilmah has championed quality, authenticity and variety in tea. Dilmah, as the first producer-owned tea brand, pioneered the concept of Single Origin Tea in 1985 when the company bypassed industry trends to reiterate its commitment to provide its customers authentic tea. Standing firm on its values of delivering taste with goodness and purpose, Dilmah offers a unique taste of unblended garden-fresh Ceylon tea – a hallmark packed at source.
The Dilmah School of Tea seeks to inspire passion in tea through knowledge of the artisanal aspects of tea amongst hospitality professionals, tea aficionados and consumers. The emphasis is on the importance of Real Tea and the versatility of this natural herb in Tea Gastronomy, food pairing and Tea Mixology.
Sustainably grown, Dilmah's core value of providing ethical tea is underlined by the efforts reflected in the MJF Charitable Foundation, Dilmah Conservation, and consciously retaining all packaging profit in Sri Lanka. Dilmah firmly believes that Business is a Matter of Human Service.
About Darshi Keerthisena:
Darshi has a BA (Hons) in fashion and textile design from Central England University Birmingham and followed a postgraduate course in Teaching and Learning Art and Design at the London College of Fashion. She began her career in design with a 5-year stint at Brandix and was later a consultant head of design at MAS Linea Aqua for 7 years. She was a visiting lecturer for fashion and textile design for the University of Moratuwa and the Academy of Design for over 10 years. She has exhibited at Buckingham Palace as part of the Commonwealth Fashion Exchange. Darshi received an entrepreneurship award in 2019 from Women In Management in association with the World Bank International Finance Corporation. She was also the winner of the British Council Young Fashion Entrepreneur award in 2008. From 2020 to 2021 she was a member of the Monetary Policy Consultative Committee of the Central Bank of Sri Lanka reappearing the small to medium business sector.
This article was originally published in
MENAFN
,
Observer Dubai
, and
Pan Time Arabia
.
Disclaimer Notice
These images are copyright protected and can only be used for Dilmah articles with due credit given.