Press release and images on Sri Lanka's tea industry urged to speak with 'one voice' from Dilmah
Menu
Dilmah Food Service
Integrity & Ethics
Dilmah Tea Inspired
Leisure and Hospitality
Knowledge & Training
Online Shop
Sri Lanka's tea industry urged to speak with 'one voice'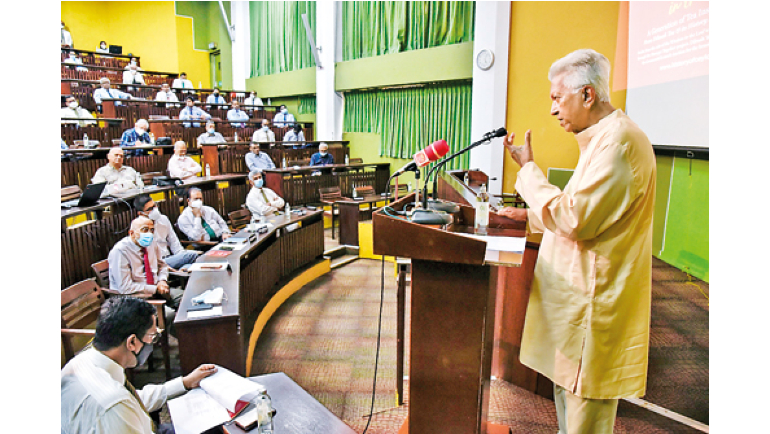 Veterans of Sri Lanka's tea industry on Wednesday urged various sections of the industry to come together on a joint platform of work, action and policy-making as tea is facing one of its strongest challenges while it marks 150 years of Ceylon Tea.
Making the first call, Anslem Perera, founder and Managing Director of Mlesna Tea – who has been associated with the industry for more than 50 years –. told a representative audience of the industry that times have changed in the sector with the biggest challenges being its sustainability and the need to go back to an era when quality teas were produced.
"Nowadays the quality of tea has been compromised and this is also because we have too many factories, all trying to get a slice of the quantities which are not enough for 700 factories. We need to reduce the number of factories to 500 from 700 to ensure the tea quality improves and is sustained," he said, at the launch of "Wisdom in the leaf", a book on the history of tea by the MJF-Dilmah group held at the Ceylon Chamber of Commerce auditorium where the weekly tea auctions take place.
Mr. Perera, whose company was formed 38 years ago and along with Dilmah is a pioneer in producing branded Ceylon Tea instead of being sold in bulk, said that the character of tea and lifestyles have changed dramatically in the plantations. For example, earlier planters stayed in the estates during the weekend with their families in Colombo or elsewhere joining the planters during the weekend. "Today, planters go to Colombo (and elsewhere) to be with their families during the weekend and none is on the estates," he said.
Pointing out another fact, he said travelling to the tea estates one feels the strong aroma of tea which is not there anymore. During the Uva and Dimbulla tea seasons, one could feel the strong aroma of tea when visiting the tasting rooms in Colombo; but not anymore because quality has been thrown out of the window in favour of producing quantities compromising quality. "There are some factories depending on the dedication of the factory manager that still produce quality teas," he added.
Mr. Perera, a former Chairman of the Colombo Tea Traders Association, issued a call for the industry to bind together to meet the challenges of the next 150 years of tea. "We operate in isolation – producers, traders, exporters and brokers and we only look for benefits per sector whereas if we work together we remain strong and can make a combined effort to bring back this industry to its earlier glory," he said.
Other messages from him included:
We need to put the lion logo with pride.
We need to be passionate.
We need to create a situation where the next generation would love to get engaged in tea.
We need to get back the glamour for this trade.
In a similar plea, Rohan Fernando, Director of Business Development and Plantations at Aitken Spence Group, said that unions, workers and all sections of the trade need to unite to take this industry forward.
"On a day like this we need to dedicate ourselves to unifying the industry. There are people who want this industry to fail. There is so much infighting," Mr. Fernando, a former planter, said, adding: "We must rise above our petty jealousies."
Industry veteran Merrill J. Fernando, who is now 90 years and spent 70 years in tea, recalled his humble beginnings and the advice of mother to do good and share wealth with the have-nots. Founder of Dilmah and the MJF Charitable Foundation, Mr. Fernando is Sri Lanka's biggest philanthropist with a large slice of the profits (US million spent so far and another Rs.100 million this year for plantation charity) going towards the work of the foundation.
The book is a spin-off of Dilmah's History of Ceylon Tea in collaboration with 20 veteran planters and four eminent scientists. The History of Ceylon tea is a website and historical perspective of Ceylon Tea which has celebrated 150 years in existence.
Auction of book nets Rs. 6.9 m for Dilmah charity work
Soon after the book was launched, the auditorium was transformed into an auction centre with various brokers auctioning a copy of the book which drew a tremendous response from buyers.
While the first copy was auctioned by broker Asia Siyaka and sold at Rs. 150,000 to Forbes and Walkers, others by other brokers drew even higher bids with one copy going for Rs.500,000 and sold to Dilmah for inhouse use. A total of Rs.2.3 million was received from the sale of 16 copies while Dilmah had pledged to double that amount (Rs.4.6 million), which at the end of the day totalled Rs. 6.9 million.
While a total of 1500 copies has been printed with the cost price of each book being Rs.4,500, all the proceeds from the sale will go to Dilmah's charity work in the plantations and elsewhere.
This article was taken from
The Sunday Times
Disclaimer Notice
These images are copyright protected and can only be used for Dilmah articles with due credit given.