Press release and images on Preserving our fragile environment from Dilmah
Menu
Dilmah Food Service
Integrity & Ethics
Dilmah Tea Inspired
Leisure and Hospitality
Knowledge & Training
Online Shop
Preserving our fragile environment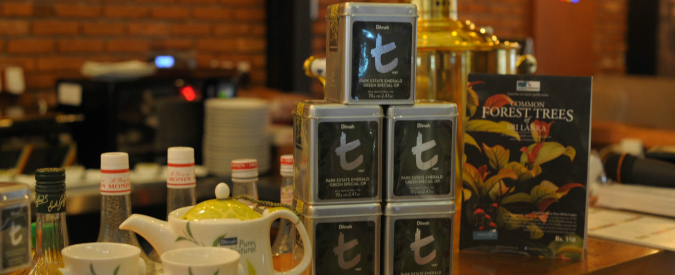 In an effort to promote harmonious coexistence between man and nature and preserve our fragile environment Dilmah Conservation launched its latest publication, 'Common Forest Trees of Sri Lanka', authored by Dr. Sudheera M.W Ranwala, Dr. A.H. Magdon Jayasuriya and I.A.D Nadeesha Dilrukshi. The launch at Dilmah t-Lounge Chatham Street on August 31 also celebrated their newest tea in the Dilmah t-Series range, the Park Estate Emerald Green Special OP.Dilmah Conservation believes that this publication will successfully convey to society, primarily to the younger generation, the importance of conserving our forests and trees. In the words of co-author Dr. A.H. Magdon Jayasuriya this is a national need.
According to him, all global environmental issues are a result of lack of knowledge on environment at every level and one method of counteracting this problem is through environmental education.
Please click here to view Full Article in The Sunday Times
Disclaimer Notice
These images are copyright protected and can only be used for Dilmah articles with due credit given.