Press release and images on Off the beaten track Mankada - pottery making in Udawalawe from Dilmah
Menu
Dilmah Food Service
Integrity & Ethics
Dilmah Tea Inspired
Leisure and Hospitality
Knowledge & Training
Online Shop
Off the beaten track Mankada - pottery making in Udawalawe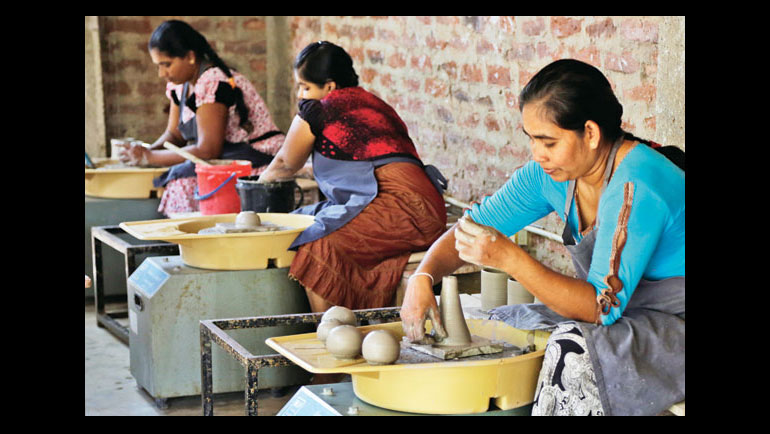 Article By Panchamee Hewavissenti Published in Ceylon Today
Pottery is one of the most ancient forms of art in Sri Lanka dating back several millennia. Archaeological excavations provide sufficient evidence of the dexterity in the craft, of ancient potters. During the time of kings in ancient Sri Lanka, there had been an assigned caste or clan to make pottery, known as Kumbalkaruvo.
This traditional art has become a livelihood for many a low income earner in rural areas today, despite their caste and clan. Poverty, lack of exposure and opportunities are some factors that make people turn to pottery for their sole livelihood.
Nevertheless, the local pottery industry has survived due to the high demand from foreign as well as local tourists for locally made figurines, mascots and utensils. Therefore, this trade is linked substantially with the tourism industry.
Pottery tourism
Although pottery tourism is one of the most unexploited and unexplored facets of the industry, Sri Lanka has the potential to be a pottery tourism destination due to the number of potters around the country and their excellent skills. Therefore, pottery tourism can be promoted as a part of cultural tourism in the country. If adequate attention is paid to it, and facilities provided to those who are engaged in pottery, this industry as well as the tourism industry can be developed to a great extent.
For this reason, it is vital to introduce a sustainable and strategic approach to enhance this industry which is closely linked to cultural tourism. Although there are no designated pottery destinations, there is one in the Udawalawe area that is stands out.
Mankada
Mankada is one such place where elegant and winsome figurines and utensils are produced and sold to tourists. Besides purchasing pottery, tourists can also take a brief tour around the workshop to see how various things are being made as well as have a go at the potter's wheel if they wish.
Ceylon Today visited Mankada which is located in close proximity to the Udawalawe National Park and Elephant Transit Home which are the two main tourist destinations in the area.
Poverty and lack of opportunities
The area is visibly poverty ridden and unemployment levels are high. A majority of people are involved in inconsequential jobs.
Some villagers engage in cultivation, tapping toddy and labour work. Others make ends meet through small jobs connected to the tourism industry. Although tourism flourishes in the area, it is not a boon to the local community which leads a hand-to-mouth existence.
As a means of alleviating prevailing poverty in the area, which is a popular tourist destination, MJF Charitable Foundation for Empowerment through Sri Lankan Traditional Arts and Crafts, introduced a pottery making programme for the impoverished local community to expose them to the lucrative tourism industry.
Ajith Perera, the master potter of the Mankada pottery workshop has selected and trained, to international standards, over seventy five members of low income families in the Udawalawe.
"Once they perfect the technique, they can commence work as a potter at the Mankada pottery workshop. Many beautiful artefacts which attract tourists, such as terra-cotta figurines, pendants, tea pots, mugs, tiles, plates and tea bag holders are made by members of low income families in this area," said Perera.
A majority of women who are employed at the workshop were formerly labourers or unemployed. Being illiterate, it was difficult for them to find employment or a regular income. The workshop stepped in to train them and later on, recruited them to work on a permanent basis.
Mankada pottery workshop was built by the dedicated labour of the villagers themselves with the expectation of uplifting themselves.
Livelihood
The workers at Mankada possess a wonderful passion and dedication to the work they do. It is an ideal place of work for the less educated, including school dropouts, from rural areas of Udawalawe who are reluctant to leave the village for better employment opportunities elsewhere.
Priyanka Pushpalatha who is 42 years of age has been working at Mankada since 2013. She said that she underwent excellent training in pottery. "My husband is a sugarcane farmer and I have three children. After I commenced my livelihood as a craftswoman at Mankada, I could earn a decent income which would be otherwise impossible. I am delighted that I could build a house for my family and educate my children with this additional income by working as a potter," she said. Pushpalatha further added that she has also started a spice business and has opened a savings account after she began working at Mankada.
K.P. Pushpamali who is a young girl in her early twenties said that there are no other employments to be found in the village except for a garment factory. She said that like many of the villagers, her parents too are conservative and do not allowgirls to leave the village for employment.
"Many girls remain unemployed due to the attitude of their parents. Moreover, living away from home means a lot of expense.
When I completed my Advanced Level examination, I had no opportunities. But the need to get a job was highly felt," she noted, while adding that it is a blessing for her to work at the Mankada pottery workshop so that unnecessary expenses are cut down and she can go home after work.
By being employed at the workshop, workers are assured of a regular income. They have necessary equipment to continue the trade and are being provided with guidance to manage the business in a sustainable manner.
Heritage and cultural reflection
Mankada pottery has achieved international fame apart from being a regular tourist destination. Many of their creations are inspired by animals such as elephants that roam freely about in the Udawalawe National Park. Our heritage and culture are reflected in their creation.
It has become a pottery hot-spot in the area and is the latest addition for tourists, apart from the Elephant Transit Home and the National Park. Mankada has become a huge attraction for the quality and beauty of their pottery. It is reported that the celebrity chef Jamie Oliver promoted Mankada craft items as part of his 'Jaime Collection' of handpicked items for a relaxed style of dining.
Disclaimer Notice
These images are copyright protected and can only be used for Dilmah articles with due credit given.