Press release and images on New orchid species discovered in Walankada Forest Reserve from Dilmah
Menu
Dilmah Food Service
Integrity & Ethics
Dilmah Tea Inspired
Leisure and Hospitality
Knowledge & Training
Online Shop
New orchid species discovered in Walankada Forest Reserve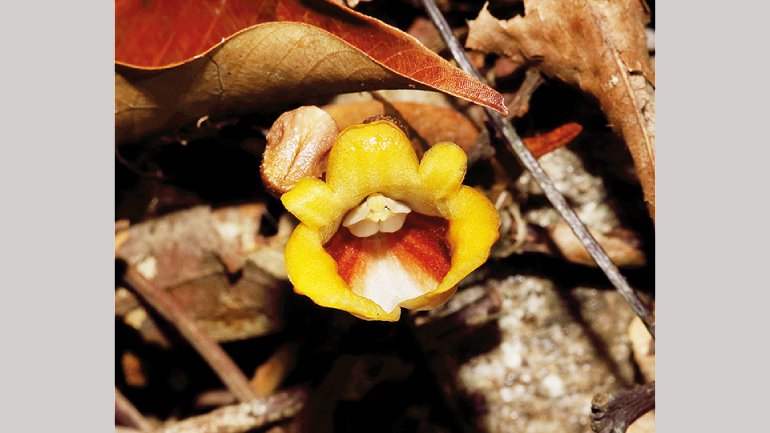 A new orchid species has been discovered by researchers in the Walankanda Forest Reserve and the discovery published recently in a peer-reviewed scientific journal, Dilmah Tea announced on Friday. The announcement said that the orchid was found in Dilmah's Endana Nature Corridor, a landmark project aimed at linking two fragmented forest reserves running through an abandoned tea land that is in the vicinity of biodiversity-rich single rainforest of Sri Lanka, the Sinharaja Forest Complex in Ratnapura District.
The discovery was described by Dilmah as its "most celebrated research finding." The name of the orchid refers to the yellow sapphire known locally as Pushparaga with te yellow flower having a red tint like the yellow sapphire, Dilmah said.
"The species are not known to be threatened but due to the small population size can be classified as threatened as per IUCN guidelines," the news release said..
"Since its inception much research related to biodiversity has been carried out in the research site of the Endana Nature Corridor establishing it as an area rich in biodiversity that is worth preserving. However, its most celebrated research finding up to date is the discovery of a new species of orchid found in part of the Endana Nature Corridor project site: Walankanda Forest Reserve."
The discovery was made during one of the project's mandated research work in 2021 by a team that included Dilmah Conservation Centre Coordinator, Amila Perera, along with other research team members including Bathiya Gopallawa, Indrakeela Madola, Deepthi Yakandawala, Pankaj Kumar, Harsha Jayawickrama, and Mark Chase.
The Endana Nature Corridor along running project to establish a 3 Km-long forested pathway was initiated by Dilmah Tea Founder Merrill J. Fernando who wanted to rewild a portion of one of Dilmah's Tea Estates. The lead scientists are Profs. Nimal and Savithri Gunathilake and Dr. Nalaka Geekiyanage. The tea garden lying between two fragmented forest reserves made establishing a nature corridor a strategic choice. The corridor is spread across 60 acres taken from the Endana Tea Estate, 2.1 acres taken from active tea plantations and a few more acres of abandoned tea lands in the area.
"Dilmah Conservation is the environmental sustainability arm of Dilmah Tea and has four centres in different locations of Sri Lanka including the centre in Endana, Ratnapura District. The work of Dilmah Conservation focuses on environmental advocacy, protecting biodiversity, climate resilience, conserving species, community empowerment, environmental education," the release said.
Disclaimer Notice
These images are copyright protected and can only be used for Dilmah articles with due credit given.