Press release and images on National Business & Environmental Forum on threats, responses, opportunity in changing climate from Dilmah
Menu
Dilmah Food Service
Integrity & Ethics
Dilmah Tea Inspired
Leisure and Hospitality
Knowledge & Training
Online Shop
National Business & Environmental Forum on threats, responses, opportunity in changing climate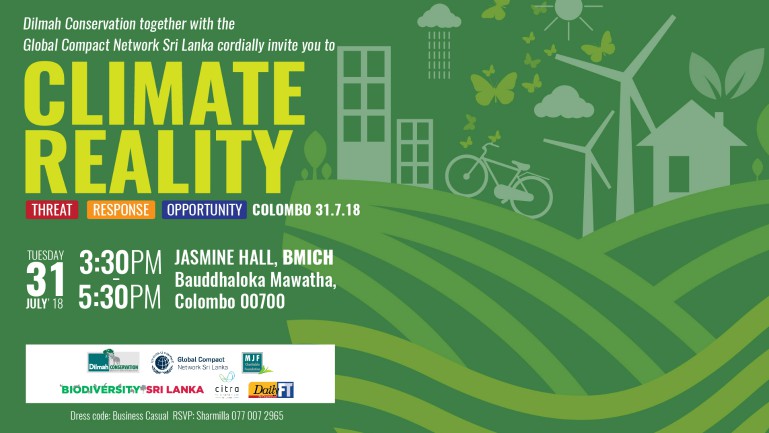 As Sri Lanka experiences increasingly damaging climate events and the prospect of vastly greater social and economic consequences from a changing climate, Dilmah Conservation, in collaboration with the UN Global Compact Network Sri Lanka (GCNSL) and Biodiversity Sri Lanka will initiate a national dialogue on the threats, responses and opportunities a changing climate presents.
The event will be held on 31 July from 3.30 p.m. to 5.30 p.m. at the Jasmine Hall, BMICH, Bauddhaloka Mawatha, Colombo 7.
Expert Sri Lankan and international speakers will emphasise the alarming climate predictions that confront our nation and how best businesses and individuals can adapt whilst also benefiting from opportunities in climate smart innovation in agriculture and other sectors.
GCNSL Chair Dilhan C. Fernando, explaining the purpose of the initiative, said: "The inescapable truth is that climate change is here and its effects are already impacting our lives, our businesses and every aspect of our world. This year is one of the hottest on record globally and more frequent floods, storms and other climatic events will change everything. As businesses we have a responsibility to understand this phenomenon and our responses and adaptation can help mitigate the cataclysmic consequences of ignoring the reality."
The inaugural forum will feature eminent speakers explaining the climate reality that Sri Lanka is witnessing, presenting forecasts for the next three decades and options for building resilience to adapt to the new reality.
In the keynote address, World Resources Institute, India Adaptation Strategy Head for the Climate Resilience Practice and WRI India, Dr. A. Nambi Appadurai will share his experience in climate risk management and adaptation in Asia and Africa and his work on participatory approaches to support climate risk mainstreaming. Dr Appadurai works with communities and government officials on climate risk planning and up-scaling best practices and he is currently exploring ways to integrate adaptation into development processes at the national and community levels.
One of Sri Lanka's most respected naturalists and authors, Dr. Rohan Pethiyagoda will speak on the nature of the changing climate and adaptation options for Sri Lanka, including reference to his pioneering work on the restoration of montane forests, for which he earned the Rolex Award for Enterprise. Dr. Pethiyagoda is a former Deputy Chair of the IUCN Species Survival Commission and a Research Fellow of the Australian Museum. His work is critical to understanding the process of restoration which is now as critical in building climate resilience as adaptation.
Wasantha Dissanayake, Climate Resilience expert and Additional Secretary for Environment Policy and Planning at Sri Lanka's Ministry of Mahaweli Development and Environment, will present climate predictions and share an overview of the nature of the threat Sri Lanka faces.
Fernando added: "The purpose of this event is not to cause alarm but to explain the causes, consequences, responses and opportunities in climate change. There have always been options for adaptation. We have collectively ignored them whilst the cost of building resilience is substantially less than suffering the consequences. It is late but not too late. This initiative is intended to build a national dialogue on what we should expect and preparing us for that reality, whilst also understanding that there is opportunity in this adversity through the adoption of climate smart agriculture and designing and promoting climate innovation. Dilmah Conservation will use its network and resources to facilitate this ongoing discussion with the benefit of the global best practice and expertise with the involvement and support of UNGC Network Sri Lanka and Biodiversity Sri Lanka."
The inaugural climate reality event is organised with the involvement of the Ministry of Mahaweli Development and Environment, the World Bank, UNGC Network Sri Lanka, Biodiversity Sri Lanka, CITRA Lab and the MJF Charitable Foundation.
Following the keynote address, a dialogue amongst students and experts will be facilitated by Biodiversity Sri Lanka and Sri Lanka's first social innovation lab – CITRA Lab – to define the next steps and recommendations for business, individuals and government.
The UN Sustainable Development Goal 13 on Climate Action centres around the opportunities available for the public and private sector to accelerate adaptation options while protecting the most vulnerable from the consequences of climate change.
The compounded effect of intense droughts, floods and heat waves is increasing food insecurity and pushing already vulnerable populations further into poverty. Rural to urban migration has also intensified as farmers seek new sources of income and as a result, cities are also required to adapt to the influx of rural populations and to the influence of future rises in temperature due to global warming.
Click Here to View Original Article in DailyFT
Disclaimer Notice
These images are copyright protected and can only be used for Dilmah articles with due credit given.