Press release and images on Ministry of Mahaweli Development and Environment-Biodiversity Sri Lanka MoU for collaboration from Dilmah
Menu
Dilmah Food Service
Integrity & Ethics
Dilmah Tea Inspired
Leisure and Hospitality
Knowledge & Training
Online Shop
Ministry of Mahaweli Development and Environment-Biodiversity Sri Lanka MoU for collaboration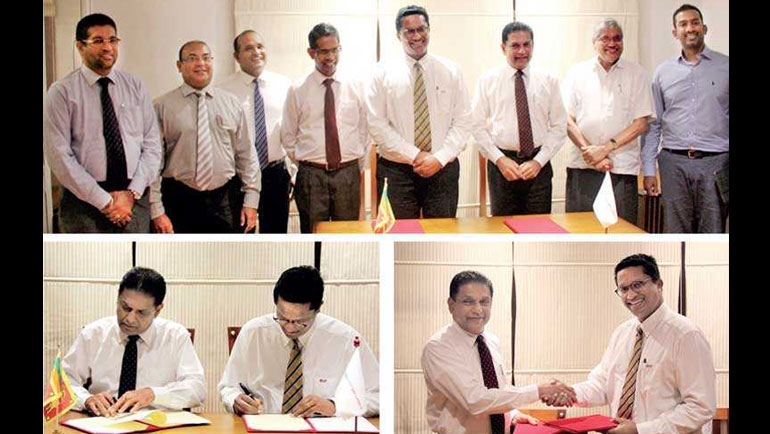 The Ministry of Mahaweli Development and Environment and Biodiversity Sri Lanka signed a joint Memorandum of Understanding recently to use their combined comparative advantages for biodiversity conservation and sustainable development in Sri Lanka. Both organisations will endeavour to add value to each other and ensure that together they are able to contribute substantively to influences in the policy arena, both public and corporate in using best practices and standards in biodiversity conservation.
The governing body of the Convention on Biological Diversity has invited the parties to the convention to encourage the establishment of national and regional business and biodiversity initiatives by facilitating forums of dialogue among parties and other governments, business, and other stakeholders, with a particular focus on the global level. Biodiversity Sri Lanka as a nationally recognised, independent and autonomous platform for private sector engagement will play this role for Sri Lanka and will cater to achieve the relevant obligations as set out by the convention.
Ministry of Mahaweli Development and Environment Secretary Anura Dissanayake signing on behalf of the Ministry stated that the shared strategic and operational priorities together with the comparative strengths and advantages of the two organisations will help to mainstream biodiversity into the core business of private sector companies and private enterprises. It will also enable the sector to engage more proactively in implementing the actions identified in biodiversity-related national policies and strategies of the Government of Sri Lanka. He further stated that as an island nation, Sri Lanka has recorded the conservation of critical ecosystems such as mangroves as a high priority. The Ministry of Mahaweli Development and Environment is the national focal point for the implementation of the obligations set out by the Convention on Biological Diversity signed by the Government of Sri Lanka in 1992 and ratified in March 1994.
Facilitating information and knowledge flow between both Parties and exploring avenues to utilise such information and knowledge for constructive activities, working jointly to build capacity of all relevant stakeholders on biodiversity and conservation, sharing knowledge and best practices and encouraging synergies at local, national, regional and international levels are other important elements contained in this MOU.
"A partnership for biodiversity conservation, and climate action needs collaboration amongst business, government, academia and people and we are very confident that this partnership will bear fruitful results," stated Dilhan C. Fernando, Chairman of the Board of Directors of Biodiversity Sri Lanka adding that encouraging and facilitating Public-Private Partnerships in biodiversity conservation will form an important and integral part of this co-operation.
Biodiversity Sri Lanka, a not-for-profit company limited by guarantee is a completely private sector owned and led, member driven platform committed to the conservation of the nation's biodiversity. Membership is open to Sri Lanka-based businesses ranging from national to multinational companies and SMEs. Conservation-related requirements of businesses are channelled to the intellectual mainstream and academia and best practices are disseminated widely, recognising outstanding corporate contributions to biodiversity conservation.
Please click here to View the Full Original Article.
Disclaimer Notice
These images are copyright protected and can only be used for Dilmah articles with due credit given.