Press release and images on Malik Fernando, story in a tea cup from Dilmah
Menu
Dilmah Food Service
Integrity & Ethics
Dilmah Tea Inspired
Leisure and Hospitality
Knowledge & Training
Online Shop
Malik Fernando, story in a tea cup
The second-generation owner of Dilmah on telling stories through tea, the lure of a family business, and promoting Sri Lanka as a luxury destination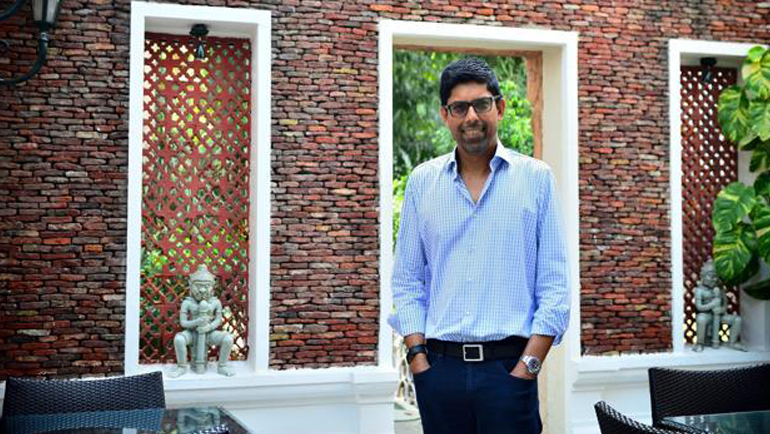 Malik J. Fernando calls himself an accidental hotelier. The elder of the two children of Merrill Fernando, the man who founded Dilmah Tea in 1988, Malik grew up and studied overseas. "But I was always supposed to come back to our family business. So I never considered anything else," he says.
When he graduated from Babson College, Boston, in 1989, he declined an offer from McKinsey and told his placement officer that he would be going back home to sell tea. "She was baffled. It was a job people would kill for. But I came back and sold tea for over 20 years. I was overseeing the plantation side of the business and visiting estates...till one fine day, an idea struck and we ended up opening our first resort," says Malik, who looks younger than his 52 years, but for a stubble that is more salt than pepper.
We are meeting at The Imperial hotel in New Delhi on a crisp spring morning over cups of Darjeeling tea. Malik is dressed casually in blue jeans and a buttoned-down check shirt, with sleeves rolled up and the top button undone, offering a glimpse of a thin gold chain. He is miffed, ever so slightly, that the server doesn't know what Darjeeling estate the hotel has in stock.
"This is my third visit to India in connection with Resplendent Ceylon," says Malik, the managing director of the hospitality arm of Dilmah, which began with the opening of Ceylon Tea Trails, a boutique luxury resort, in 2005. The third resort, Wild Coast Tented Lodge, was launched in November and completes what Malik calls the circuit of the Resplendent Sri Lanka journey: tea (Tea Trails), sea (Cape Weligama) and safari (Wild Coast Tented Lodge).
Indians, especially high net-worth travellers, have always considered the island nation a crowded, mass market and cheap holiday destination, believes Malik. "When it comes to luxury holiday destinations in Asia, they look at the Maldives. Sri Lanka, till a few years ago, was positioned as a destination for Rs20,000-30,000, flights included, one-week accommodation kind of product," he says. And that is what Malik is trying to change.
"Now people can come and spend that amount in half a day at one of our resorts," he says. "Tea Trails costs between 0-1,005 (Rs49,000-65,000) per night, including meals, drinks and inland transportation. Wild Coast is also about that much, and, at Cape Weligama, we offer bread and breakfast, starting from 0. It is all about the experience. Sri Lanka has been sold for a long time on price, we are selling it on the basis of experience.
"When I spoke to people here (in India) about Tea Trails and Cape Weligama a couple of years ago, they were sceptical. They did not consider Sri Lanka as a luxury destination," recalls Malik. But that perception is changing, and about 10% of all their clients today are from India.
Sri Lanka is much more easily accessible from India than Europe or the Maldives. There are multiple flights and the flight duration is shorter. Visa rules are relaxed. "And from arrival in Sri Lanka, you hop on a sea plane or take a quick road trip to our properties. You can decide on a Thursday and fly down on Friday," says Malik. "So go to Europe on your long summer holidays but Sri Lanka is right next door, come here on short breaks."
The target, says Malik, is to have 15-20% of their clientele from India by the end of this year or early next year.
Malik, tall and lean, says: "I'd work out probably three times a week. Play tennis with my buddies twice a week." When we met, he had walked only 2,400 steps, he said, looking at his FitBit, with a "tch" indicating dissatisfaction.
"My brother and I grew up in times of turmoil," recalls Malik, referring to the civil war in his country from 1983-2009. "We were packed and shipped to northern England when I was about nine years old to attend a Catholic Jesuit boarding school there. We were there for almost a decade and then I went to study entrepreneurship at Babson."
And while many overseas students stayed back in the US for better prospects, he returned home. To do what he was "always supposed to do".
The British brought the first tea plant to Ceylon from China in 1824, according to a CNN report. And by 2013, official statistics indicate, it had become a .5 billion industry, contributing to over 2% of the country's GDP.
After Ceylon gained independence from the British in 1948, six Ceylonese men were selected as the first indigenous tea tasters in 1950. One of them, Merrill Fernando, nurtured his love for Ceylon tea through turmoil and land reforms, creating Dilmah (a combination of the names of his two sons (Malik and Dilhan) when he was 58. Today, Dilmah, a 0 millon company in terms of revenue, is available in about 100 countries.
"My father is 88 and still actively involved in business. Even now he is in Dubai with Dilhan at a food exhibition," says Malik.
When ceasefire was declared in December 2001, after four failed attempts at peace talks, there wasn't much tourism outreach. Merrill sensed an opportunity. Each box of Dilmah tea carried a letter that spoke about the tea and his family.
"It was like a family letter. So lots of people connected with us, asking how to visit and where to go," says Malik. "We started getting a lot of guests who wanted to visit our tea estates and they seemed to love it." A business started taking shape.
"We bought four colonial-era tea-planter residences that were vacant because of the war, restored them and started Tea Trails," says Malik.
Currently, they have 94 rooms—27 at Tea Trails, 39 at Cape Weligama and 28 at Wild Coast. Resplendent, with three resorts and 450 employees, is an about million vertical in terms of revenue.
"We are planning to open one property in the Sigiriya cultural triangle in 2020, and in Trincomalee the year after. We will do something in Colombo last," says Malik.
Till about 2008, he says, the hospitality business was struggling and the family was just pumping in cash. Then the civil war ended and tourism took off. And although there were professionals running the property, Malik learnt about the business on the go.
Malik says he learns from his own experiences. "Like I saw a little notepad by the bed here. I will definitely tweak it a bit and use it in a slightly different way in one of our properties," he says. Hospitality 101 is still on.
Occupancy, he says, is the highest at Tea Trails, their first resort, at about 78% through the year. At Cape Weligama, the beachfront resort overlooking the Indian Ocean, it is about 65%. These two properties have broken even. "Wild Coast, I assume will break even three years from now," he says, refilling our cups with the hot aromatic tea and leaning back in his chair.
But do luxury and tea go together? Tea itself can be luxurious, says Malik.
"In our countries in South Asia, tea is that humble drink that you consume on the roadside during a short break from work. But when you look at tea from the Western perspective, it is luxurious," he says. "It is luxurious, because time is luxury. We are having Darjeeling tea. You can talk about the plantations, how it is grown, its health benefits. But can you have a similar conversation around coffee? No. At Tea Trails, we create that Western high-tea experience.
Malik says the many challenges in family-run businesses start surfacing as one generation hands over the reins to another. "The third generation is old enough to interact with their grandfather and understand his vision but it is generally the fourth and fifth generations where the family-run businesses falter. So that is a huge challenge," he says. "Also, in a family-run business, you have so much pressure from so many people who could influence decision making, it doesn't help young leaders."
One possible leader in the third generation is his younger daughter, who is 20—she is studying management science at University College London. "I never had the time for an MBA, which I regret now," says Malik. His second daughter, 21, is studying medicine at the University of Bristol. Wife Kimarli, a lawyer-turned banker who stopped working to raise their daughters, serves on the boards of multiple banks.
Malik admits to never switching off completely. "I like to be on top of things and end up micromanaging," he admits, showing the phone apps through which he keeps a watch. Weekday lunches are work lunches at Dilmah's office with his father and brother. The latter oversees the brand's innovation. Malik lives in the heart of town; his father and brother live in one compound outside Colombo. But they talk shop all the time. "In the morning, I am at the Resplendent office and lunch onwards, at Dilmah's," says Malik. "I work till about 7pm and then Kimarli and I would probably go out socially, though we avoid it during weeknights. Weekends, we'll head down to one of the resorts."
When out with friends, he likes his single malts, "especially the peaty ones, such as Talisker, Lagavulin, Laphroaig", and smokes the odd cigar. But where does he prefer staying when he travels for work?
"I like to stay in independent hotels wherever I go. I don't like chain hotels much," he says. "I have an affinity for Relais & Châteaux-type remote and rustic hotels. Give me remote, rustic, Relais & Châteaux in the mountains and I am happy. Character, attitude and nature...I hate bling."
Please click here to View the Original Article.
Disclaimer Notice
These images are copyright protected and can only be used for Dilmah articles with due credit given.