Press release and images on Making The Most Of Lockdown: Sri Lanka's Hospitality Workers Are Prepping For The Future from Dilmah
Menu
Dilmah Food Service
Integrity & Ethics
Dilmah Tea Inspired
Leisure and Hospitality
Knowledge & Training
Online Shop
Making The Most Of Lockdown: Sri Lanka's Hospitality Workers Are Prepping For The Future
With its sunny beaches and signature cuisine, Sri Lanka is amongst the world's top travel destinations.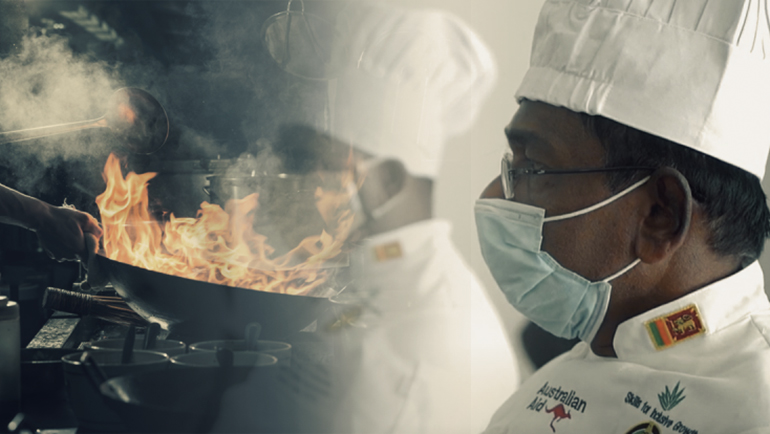 With its sunny beaches and signature cuisine, Sri Lanka is amongst the world's top travel destinations. Many Sri Lankans depend on tourism for their livelihood and income, but the hospitality sector has faced its challenges during the past few years.
In the year following the devastating Easter Sunday attacks, tourist arrivals in Sri Lanka fell by 22%. Nonetheless, we made a steady recovery, and by December 2019, Sri Lanka's revenue from tourism had reached a whopping USD 4 billion.
Just as the hospitality industry was getting back on its feet, the COVID-19 pandemic struck Sri Lanka. By March 2020, the number of international tourist arrivals in Sri Lanka declined by 70.8%, in comparison to a year ago.
Hotels, restaurants, and other such establishments closed their doors to the public.
The economic crisis that followed led to hundreds of chefs and other hospitality staff being sent home, made redundant, or furloughed. With no jobs or steady income, many looked ahead in fear at an uncertain future.
Making The Most Of Lockdown
Sri Lanka's lockdown, which was enforced in March 2020, began to ease on May 11, and all curfew restrictions were lifted by June 28. But during these months, people were indoors, isolated, and grappling with the economic crisis the country was plunged into.
However, rather than dwell on the uncertainty this brought forth, Sri Lanka's hospitality sector regrouped and utilised this opportunity to gear up for the moment when Sri Lanka would open its doors to tourists once again.
Skills for Inclusive Growth and the MJF Charitable Foundation founded by Dilmah joined hands with the Chefs Guild of Sri Lanka to provide a five-day training programme for 80 hoteliers and chefs in Eastern Sri Lanka who were affected by the economic crisis.
Held from June 13 to 17 in Kalkudah, the training brought together chefs, hoteliers, and other hospitality workers from Ampara, Batticaloa, Polonnaruwa, and Trincomalee.
This five-day kitchen refresher consisted of a crash course in health and safety training, basic fire safety training, and specialised professional cookery. Participants who successfully completed the course received a certificate from the Chefs Guild of Sri Lanka and walked away with a new set of skills and knowledge in the field many dedicated their lives to.
Why Retrain Now?
As COVID-19 struck, many young chefs and restaurateurs in the country were left without steady jobs and salaries.
Skills for Inclusive Growth, the MJF Charitable Foundation by Dilmah, and the Chefs Guild of Sri Lanka recognised the importance of utilising this period to concentrate on training programs, which work to upskill chefs and pass down the knowledge and world-class expertise of experienced chefs to newcomers in the field.
Chairman of the Chefs Guild of Sri Lanka, Gerard Mendis emphasised the importance of upskilling chefs and producing consistent world-class Sri Lankan cuisine. "Even during COVID-19, we saw that people could do with any other shortcomings but at the end of the day, we couldn't do without food."
Gerard Mendis, Chairman of the Chefs Guild of Sri Lanka
One of the major areas of work done by the MJF Charitable Foundation involves aiding the provision of jobs for the youth that go beyond mere day wages. Reskilling chefs was thus identified as a need, particularly in vulnerable communities in the East, where sustainable development is imperative.
Located in Kalkudah, the MJF centre was indeed the ideal place for this training to take place.
A Root-Level Training
The programme aimed to give participants a masterclass training in different foods, targeting local and unique ingredients for both local and foreign palates. The programme further aimed to assist recovery by stimulating interest amongst chef and kitchen workers to renew their skills and interests, reignite their passion for cooking, and remain ready for when visitors start to return to the country.
From hoteliers to homestay owners, guesthouse owners, their staff, hoteliers, and people with a passion for cooking, the enthusiasm the organisers received was incredible and exceeded expectations.
"Nearly 50% of participants were women," noted Skills for Inclusive Growth District Manager Marina Umesh, "This proved to be a great opportunity for women who don't normally come forward to gain such training. They recognised that this is important and they'll have a better future by improving their skills to earn and improve their income."
Marina Umesh, Skills for Inclusive Growth District Manager
Supporting sustainable job creation and business growth, Skills for Inclusive Growth enables hospitality workers who could potentially be positively impacted by the expanding tourism industry in the East. By pioneering a joint effort with other leading hospitality entities, they collectively recognised the importance of culinary and vocational training for young people aspiring to be professional chefs, especially during this time of need.
A guesthouse owner from Polonnaruwa, Kusum Jayalath was struggling to develop her business further. Having attended the training with her two-year-old son whom she couldn't leave behind, she believes she is leaving the programme with a wealth of knowledge she didn't have previously.
"I learnt many things through this programme. Along with how to prepare meals without preservatives while protecting nutrition and taste, I understood how to develop my business better."
Participants Leonard Upatissa and Kusum Jayalath
A participant from Habarana, Leonard Upatissa spoke of the value of programmes such as this, "Truthfully, a training such as this provides a foundation for our life."
Sri Lanka plans to open its doors to visitors later this year. Such initiatives are critical to empower workers within the hospitality industry, enabling us to reopen stronger than ever before.
Click Here to view original article.
Disclaimer Notice
These images are copyright protected and can only be used for Dilmah articles with due credit given.