Press release and images on Little girls can be giants from Dilmah
Menu
Dilmah Food Service
Integrity & Ethics
Dilmah Tea Inspired
Leisure and Hospitality
Knowledge & Training
Online Shop
Little girls can be giants
There was fun and lessons imparted when the public premiere of 'The Little Girl Giant Puppet' took place last week at the Independence Square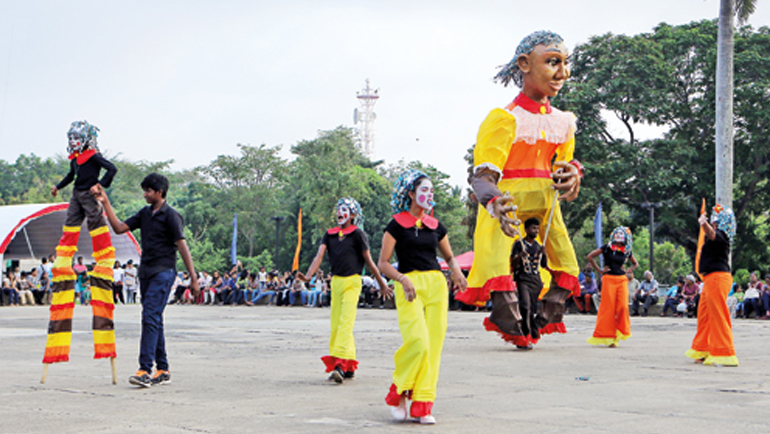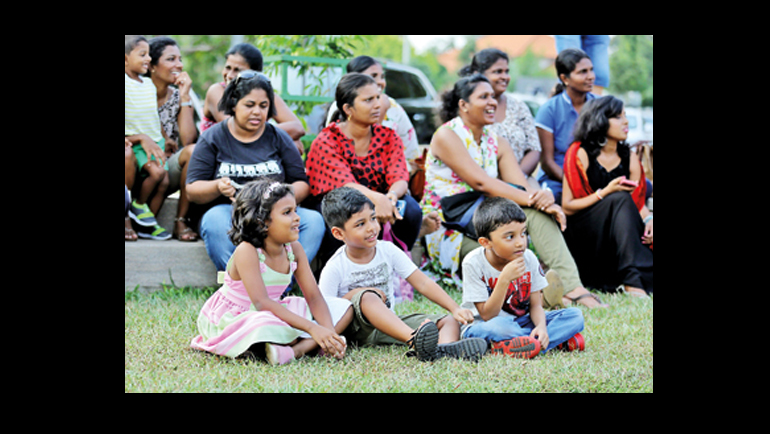 Wearing a colourful dress of yellow and orange with white lace around the neck line, she looked at the passersby with her large expressive eyes. Many who saw her, stopped in their tracks to take a picture of this pretty girl. Children were excited by the mere sight of her and a few intimidated, for she is all of 14 feet tall.
The public premiere of 'The Little Girl Giant Puppet' took place on Saturday, March 24 at the Independence Square. An initiative of the Power of Play (Pvt.) Ltd. founded by Sulochana Dissanayake in collaboration with the Merrill J. Fernando Charitable Foundation, the event was organized by the Department of Cultural Affairs to coincide with World Puppet Day celebrations. The giant girl puppet was employed as a perfect medium to draw attention in a non-aggressive way to the myriad issues surrounding women and girl children that need urgent attention.
"Little girls can be giants and should be raised to be so and women are expected to have giant patience, commitment and resilience to be like a super human. But especially young girls grow up in restricted situations as they are deprived of equal rights or opportunities," Sulochana said, explaining the inspiration behind the female giant puppet.
The performers at the public premiere were Nandika Liyanage, who handled the giant puppet, Sandaruwan Silva, Dilrukshi Coradon, Thasith Rajapaksha, Trillishiya Kularatne, Anjali Anuththara, Asela Madushanka , Sadew Asendu Kumara, Sashiranga Dilshan, Kalpa Dananjaya and Sulochana herself.
Both kids and adults had fun at the premiere dancing with the puppet to Sinhala cover hits, children running after the pretty giant girl to shake her hand.
It all began in 2009, when Sulochana witnessed giant puppets for the first time at the National Arts Festival (NAF), one of the largest performing arts festivals in the world at Grahamstown, South Africa. "You feel that you have just come out of a movie set or a fantastical land," Sulochana recalled how she had been fascinated by the mere sight of 20 giant puppets walking along the streets. She was also attracted to the fact that the human inside the puppet was very visible, not in hiding. "It was this giant puppet moving around as if in a fantastic set and the cool juxtaposition where you could see the human as well," she says. The giant puppets had been created by "Les Grandes Personnes", a company based in the south of France, which travelled to Africa and Latin America conducting workshops on giant puppetry and other forms of performing arts.
Sulochana experimented on her own creating giant puppets. One an elephant which Sulochana had seen in Bali, inspired from the traditional Balinese Baron, was to raise awareness that our elephants should not be used for decorative purposes and puppets could be an alternative. 'Sangeeta Signo', the musical man, was fashioned for the Colombo Music Festival in 2012 and the latest was the giant Santa Claus.
Yet these giant puppet structures were very basic, had technical difficulties as the puppet was too heavy, uncomfortable to the performer and they were not as expressive as the puppets Sulochana had seen in Grahamstown.
In 2014, seeing a similar giant puppet on YouTube where the structure seemed light and extremely expressive, Sulochana contacted the creator, Felix Widen Norgren, Director, Compania Pirata, a Swedish artist specialized in giant puppetry and trained by "Les Grandes Personnes". Felix arrived in Sri Lanka financing the visit himself to teach the technicalities of giant puppetry making. The MJFC Foundation, Moratuwa Centre hosted a three-week intensive workshop on giant puppet construction and performance with participants from various MJFCF departments learning to fabricate a giant puppet out of recycled materials and design techniques to achieve the lightest weight for maximum flexibility in performance.
60% of the structure of 'The Little Girl Giant Puppet' is made with recycled materials like wood, papier mache, cloth and recycled Dilmah tea labels.
The Little Giant Girl will now travel to selected primary schools in Colombo, Kalutara, Panadura and Puttalam with the assistance of Sevalanka Foundation and the Department of Cultural Affairs Sri Lanka and is also available for corporate events.
Please
Click here
to View the Original Article in The Sunday Times.
Disclaimer Notice
These images are copyright protected and can only be used for Dilmah articles with due credit given.