Press release and images on Lankan Tea, a Pandemic Time Solace from Dilmah
Menu
Dilmah Food Service
Integrity & Ethics
Dilmah Tea Inspired
Leisure and Hospitality
Knowledge & Training
Online Shop
Lankan Tea, a Pandemic Time Solace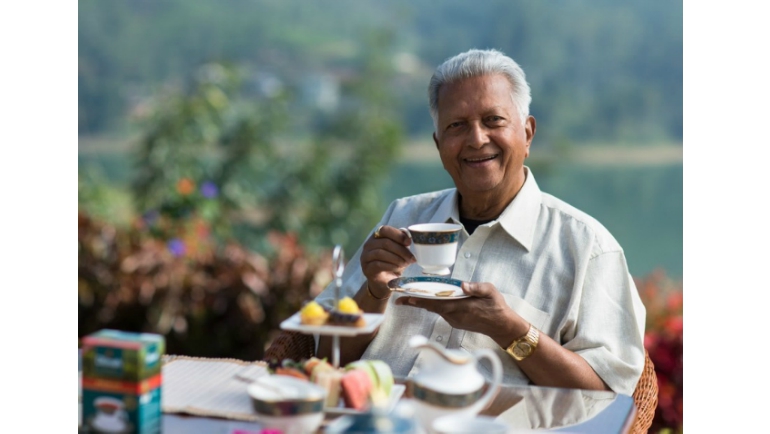 We feature below an interview with Merrill Fernando, founder of one of the largest tea companies of Sri Lanka, Dilmah Tea, which also produces and markets pure Ceylon tea.
South Asian Monitor (SAM): You are the founder of Dilmah Tea, one of the largest global tea exporting companies originated in Sri Lanka. You are also ninety years old and still functioning as per a busy schedule. Could you highlight for an international audience the lifestyle practices/diet etc., you think which have helped you to retain your mental and physical energy to this age?
Merrill Fernando (MF): From a very young age, I worked very hard, sometimes 20 hours a day, when I was building Dilmah, a Single Origin Tea Brand. Everyone tried to ridicule me for trying to compete with giants. My single-handed resistance to all that, taught me dedication and total commitment, which drive me to this date. This keeps me mentally active, just as I was 50 years ago.
I decided to launch my own brand of tea primarily, to help our workers and retain in my country all the profits which accrue, which will not be the case if the entrepreneur is foreign. Further, I wanted to bring integrity back to tea by supplying fresh, unmixed, pure Ceylon Tea grown exclusively, in the highlands of Ceylon (Sri Lanka) where crisp, cool, fresh air contribute to the production of the world's finest quality tea.
SAM: Could you trace your story of how you got to where you are today?
MF: During my school holidays, I visited key estates of my friends. I enjoyed estate life and became familiar with growing and manufacturing tea. I loved the smell of tea around the factory. I admired the workers – especially the tea pickers – who worked so diligently while looking after their children quite religiously.
While plantation management was open to locals, tea tasting and trading were taboo. British companies which dominated the tea trade believed that locals could not taste tea because they consumed very spicy food. Accordingly, we were kept out of the only lucrative segment of the tea industry, despite numerous requests by the Government. Fortunately, the Tea Controller started recruiting school leavers for training in tea tasting under his official tea taster at a British company. While most of the recruits came from high society families in Colombo, I also found a place.
After six months I went to London to understand branding and marketing of tea. Mincing Lane was the world's tea centre then. What I saw there saddened and astonished me. Our good, high quality Ceylon Tea was mixed with tea from cheaper origins and marketed as Ceylon Tea. At that point, at the young age of 24 years, I vowed that one day I would develop my own brand of tea. That brand would bring integrity back to tea.
I launched Dilmah in 1988, naming it after my two sons Dilhan and Malik. With Dilmah I ensured that I took personal responsibility for the quality; this was not a faceless brand. I wanted it to be a brand with a face; my photograph appears on every Dilmah tea pack and I am thereby committed to maintaining its quality.
I started with 18 employees. We now have 1,400 workers in the Colombo factory alone and around 16,000 plantation workers. Our estates extend from Ratnapura to Nawalapitiya and elsewhere. We provide assistance in education to the children of all our staff. Childcare centres have been set up for the benefit of the children of plantation workers.
SAM: As a seasoned businessman with around seven decades of experience of global economic ups and downs, how do you see this Covid19 stage of life that we are collectively in?
MF: Undoubtedly, Covid19 is the most destructive force, I have seen in my business life. Life has taught me that, in every misfortune there is an unseen opportunity which, if discovered, leads on to fortune. There are more and more budding entrepreneurs surfacing all the time now. There are many casualties already and much more in the pipeline which cannot be prevented. Those in trouble, are likely to have taken far more from their business than they should. Consequently, they did not build reserves. They are likely to become victims. The weak are likely to fall while, the strong become stronger.
SAM: How best do you think we can surmount the current worldwide economic downturn?
MF: Global health has to be protected. We have to place more reliance on natural food, avoiding fast foods. Every fruit, vegetable and meat consumed today, contains chemicals. Rely on farm produce and your local grocer, if you cannot grow your own requirements in your backyard. Rural entrepreneurs should be supported by banks to enhance their businesses. Products made and marketed by family companies should be promoted. They have a conscience and a face; big companies have neither, as they are owned by huge funds, which demand higher profits after year. Profit is their only motive.
SAM: How is Sri Lanka's tea industry in general affected by the current pandemic dented global economy?
MF: In fact, tea consumption increases at times like the present. Some consumers may move to cheaper brands, which may affect our exports, but we have faced enough difficult economic situations which have tested us in the past. Of course, we need to be alert and keep moving forward.
SAM: Have you been forced to deprive people of their jobs in this current pandemic backdrop as many other businesses are doing?
MF: No. Definitely not and we will not do this. We are a veteran company and we have guarded ourselves against shocks like this.
SAM: How do you think Sri Lanka as a country that has fully prevented the community spread of the Covid19 pandemic, can contribute to the world at this juncture?
MF: While traditional forms of medicine like Ayurveda, Siddha and Unani, which originate in India and Arabia are known to people, the more indigenous, Hela Veda or Deshiya Chikitsa with its roots in Sri Lanka's centuries-old history is the least explored and known of these practices. We have given the world Sri Lanka's unique herb infused tea. We have also initiated many publications pertaining to this. The Handbook on Traditional Home Remedies, along with the accompanying Traditional Sri Lankan First Aid Box is a continuation of Dilmah Conservation's commitment to revive Sri Lanka's rich cultural and traditional heritage. This was initiated in 2012 as a part of Dilmah Conservation's Heritage Conservation program.
SAM: There is much focus in the world about climate change and a lot of deforestation has taken place for the cultivation of tea but Dilmah has actively promoted the forest garden concept, looking at cultivating tea not in the monoculture manner introduced by the British but in the forest garden concept part of Lankan indigenous farming?
MF: Yes, we promote the tea forest garden concept. I believe that every tea plantation and tea company should recognize that our product is truly an element of nature. Dilmah Tea has been committed to conserving Sri Lanka's amazing biodiversity since inception. Dilmah Conservation was set up as a separate arm in 2007 within the company structure and is dedicated to environmental conservation and sustainability. We have uprooted tea bushes in our tea gardens in Endana to make way for biodiversity corridors, planted over a million trees in Sri Lanka's East through the 'Greening Batticaloa' initiative reduce the impacts of climate change and deforestation and conserve and value all life forms that contribute to the diversity within our tea gardens from leopards to lichens and multiple other forestry related initiatives!
I do believe that as an industry it is our responsibility to conserve the lands we operate on and give back to it. It is the only way to ensure the sustainability of the tea industry in Sri Lanka.
This article was taken from the
South Asian Monitor
Disclaimer Notice
These images are copyright protected and can only be used for Dilmah articles with due credit given.