Press release and images on Kola Kenda (broth) and Ath Beheth Mangusawa of 'Hela Weda Athpotha' from Dilmah
Menu
Dilmah Food Service
Integrity & Ethics
Dilmah Tea Inspired
Leisure and Hospitality
Knowledge & Training
Online Shop
Kola Kenda (broth) and Ath Beheth Mangusawa of 'Hela Weda Athpotha'
Sri Lanka's herbs can be used daily for better health, especially the boosting of immunity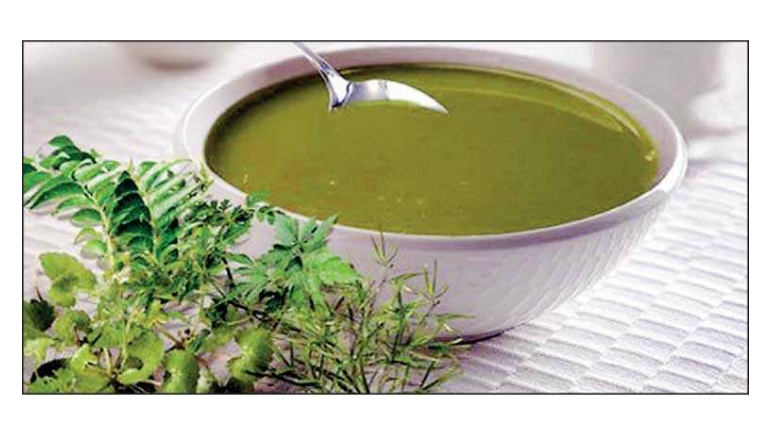 This is part of our series on using Sri Lanka's herbs for everyday use for better health, especially the boosting of immunity. We will be using diverse books and advice from indigenous doctors for this series. For the first weeks, until we complete much of the book, we will focus on the publication 'Hela Weda Athpotha' authored by Ayurveda Shasthri, Ayurveda Doctor Palitha Shri Gagana Arachchige and published by Dilmah Conservation. We are continuing from last week focusing on Kenda varieties and its uses while also featuring the Ath Beheth Mangusawa segment of the book that focuses on minor ailments that could be treated at home with generally found herbs prior to seeking medical advice. Below is the continuing series on kenda which we end this week and begin the Ath Beheth series of the book 'Hela Weda Athpotha':
Kenda (traditional Sri Lankan broth) is synonymous with the traditional diet of Sri Lanka and there are Kenda types that vary from those using our herbal leaves that are known as kola kenda and those using garlic or only rice (roasted kekulu haal) and referred to as 'dry kenda' (viyali kenda).
The rice that is advised in the book to be used is red nivudu variety which has to be kept soaked for a while and then pounded in a wangediya. Separately small red onions, garlic, ginger (amu inguru) should be finely chopped and boiled with the rice. This should be boiled very well.
The leaves need to be well washed and cleaned and pounded well for the juice to be separated. Once again the leaf extracts should be pounded along with the scraped coconut and the juice of this too added to the juice already extracted. This, along with the coconut milk should be added to the rice after it is well boiled.
It is best to switch off the cooker soon after adding the leaf extract so as to retain its nutrition. Why coconut is used in the broth is to ensure that the carotene levels of the leaves are not evaporated. The coconut absorbs and help retain this vital nutrition within the liquid. Diya lunu (salt) should be added to the kenda.
Last four weeks we featured several varieties of kenda including lunu kenda, pori kenda, badi haal kenda, polkiri kenda, kiri kenda, and diverse varieties of kola kenda where the health benefit of the different leaves were cited. This week we feature kenda (broth) made from the following:
Ruk agana kola (Alangium salvilfolium): Mainly removes snake venom from the body.
Gonika kola (Hoya avalifolia): Good for losing weight, reduces swelling and pain of the body, useful for mending joint/bone breakages, useful for heart health.
Mussanda (Mussanda frondosa): Cleanses the system by purifying the blood and can be used as a food.
Ath beheth manjusawa: Cures that could be prepared and administered for minor ailments prior to seeking medical treatment.
Navaratna kalkaya: To be obtained from an Ayurveda/traditional medicine pharmacy. This could be prepared and given for ailments such as indigestion/vomiting.
Take some lime juice and bees honey in equal proportions and dissolve the kalkaya the size of two to four madatiya seeds and drink morning and evening.
For vatha caused pains the above can be taken dissolved in water where babila and garlic has been boiled.
The quantities taken is as follows:
For adults the size of three to five madati seeds
For those above seven years the size of one madati seed
For those between two to seven the size of half madati seed
For those below two years the size of one pepper seed
This above mentioned Navaratna kalkaya should not be given to pregnant mothers.
Desandun kalkaya: This is suitable for young children. Recommended ailments includes cough, fever and phlegm-related ailments. The treatment is the use of coriander roasted well and boiled in water to be administered morning and evening.
For constipation-related ailments the Desandun kalkaya could be consumed with water boiled in Lunuwila.
For heat-related ailments the kalkaya could be administered for young children that it is meant for in the following manner;
With coriander boiled water
Diluted and mother's milk
Given diluted with water boiled in rathmal and wada mal
Manner of administration: For children below the age of one – the kalkaya should be given the size of koththamalli (coriander seeds one to two). For children between the age of one and five, the kalkaya should be given the size of one olinda seed. For children above the age of five the administering should be given the size of one madati seed.
The above should not be given to children who have low weight at birth. It should also not be given to children having symptoms such as acute vomiting.
We will continue this series from the book 'Hela Weda Athpotha' next week covering the traditional medicine-based home remedies for minor ailments.
This article was taken from
DailyFT
Disclaimer Notice
These images are copyright protected and can only be used for Dilmah articles with due credit given.