Press release and images on IUCN Red List Training on Amphibians from Dilmah
Menu
Dilmah Food Service
Integrity & Ethics
Dilmah Tea Inspired
Leisure and Hospitality
Knowledge & Training
Online Shop
IUCN Red List Training on Amphibians
During a media briefing, Prof. Anslem De Silva, Dr. Madhawa Meegaskumbura and Mendis Wickramasinghe presented some key findings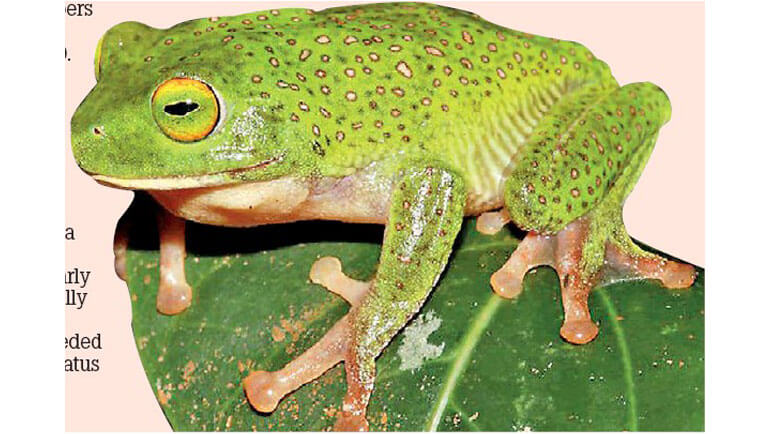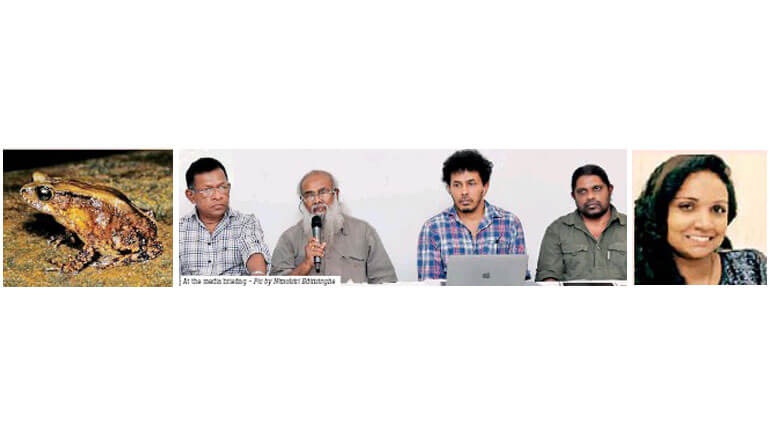 Conserving one frog at a time
During a media briefing, Prof. Anslem De Silva, Dr. Madhawa Meegaskumbura and Mendis Wickramasinghe presented some key findings Sri Lanka is home to 120 amphibian species where 105 of these species were identified as endemic, therefore not found in any other part of the world
Sri Lanka is home to 120 amphibian species where 105 of these species were identified as endemic, therefore not found in any other part of the world. This level of endemism ranks Sri Lanka amongst the world's most diverse yet critical Global Amphibian Hotspots. The founder of Dilmah, Merrill J. Fernando signed a memorandum of agreement in August 2019 with the Durrell Wildlife Conservation Trust and Global Wildlife Conservation which looks towards updating the global conservation status of Sri Lankan amphibians by building national capacity through an extinction-risk assessment for every species for the IUCN Red List, which would unfold in several stages.
The IUCN Red List extinction assessment and documentation is led by the IUCN Species Survival Commission (SSC), Amphibian Specialist Group and Global Wildlife Conservation (GWC). The preliminary phase of this programme was to provide IUCN Red List training to interested participants which concluded recently.
During a media briefing, three researchers who have been studying on reptiles and amphibians in the country namely, Prof. Anslem De Silva, biologist and herpetologist, Dr. Madhawa Meegaskumbura, evolutionary biologist focusing on understanding species extinction and conserving animals in biodiversity hotspots and herpetologist Mendis Wickramasinghe presented some key findings. In his opening remarks Prof. De Silva said that amphibians are important species as they teach us about global warming, either manmade or natural, acid rain and changes in the ozone layer. "Many other minor lessons are taught as well. Amphibians spend their initial stages in water and later on land and water both.
Threats on land and water affect amphibians. There were 25 participants including youth who have been researching on Sri Lankan wildlife. 25 years ago only 32 species of amphibians were known but later we realised there were more. When popular taxonomist Rohan Pethiyagoda started research in 1994, the numbers increased to 53 by 1996. By 2020 the numbers have increased to 120. Out of them those with a backbone (vertebrates) are endemic to Sri Lanka."
It was revealed that the South West Quarter includes three biodiversity hotspots including Central hills, Dumbara mountain range and Sabaragamuwa mountain range which are environmentally sensitive, particularly the area above 1500 metres. "Initially there were 20 endangered species while Mr. Wickramasinghe succeeded in identifying Pseudophilautus stellatus and Adenomus kandianus back in their habitats.
This was considered a giant leap in this effort. The data was included in the IUCN red list and the global amphibian database." Adding his comments on the recent research, Dr. Meegaskumbura said that 118 species were taken into consideration while 18 of them were endangered. "Out of the 100 species 72 have been identified as endangered. In 2007, 107 species were identified and 21 were endangered. Out of 81 of them who were living, 61% were threatened to be extinct. We also checked how their distribution around the country, threats, population levels etc.
During the assessment we realised that their distribution is high but the data had to be updated. The same places I visited 25 years ago don't exist today. But we need more time to go to those places and see if these animals still live there."
In the meantime, Wickramasinghe pointed out that the research helped them to identify species that need to be conserved and which areas need to be visited. Some of the reasons for these species to be endangered include rain water acidification, deforestation etc. When natural habitats get cleared many species get extinct. Agricultural pesticides also pose a threat."
This article was published by The Daily Mirror
Disclaimer Notice
These images are copyright protected and can only be used for Dilmah articles with due credit given.