Press release and images on Into the 'Beast' they went, to shine a light on its 'treasures' from Dilmah
Menu
Dilmah Food Service
Integrity & Ethics
Dilmah Tea Inspired
Leisure and Hospitality
Knowledge & Training
Online Shop
Into the 'Beast' they went, to shine a light on its 'treasures'
As Sri Lanka marks World Wildlife Day, 10 cavers reveal the exotic beauty and fauna of 14 dark caves where few have ventured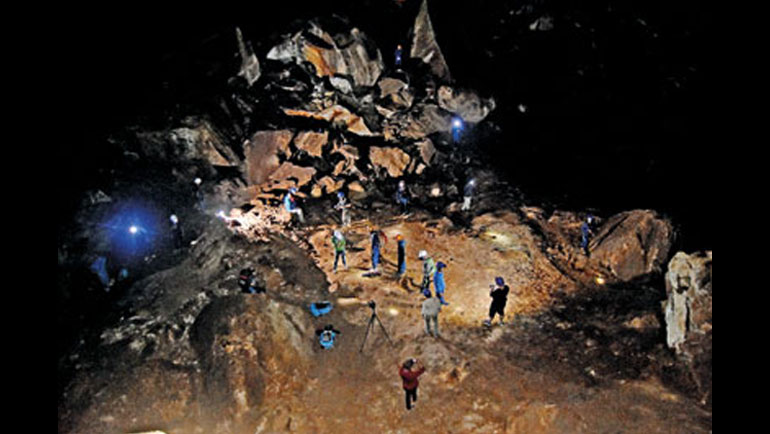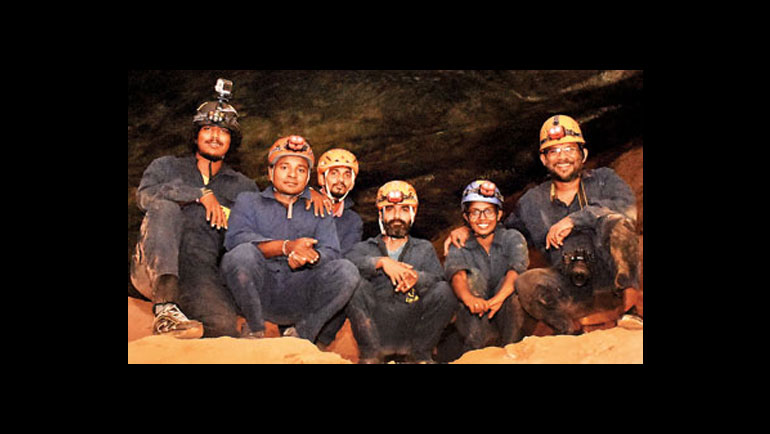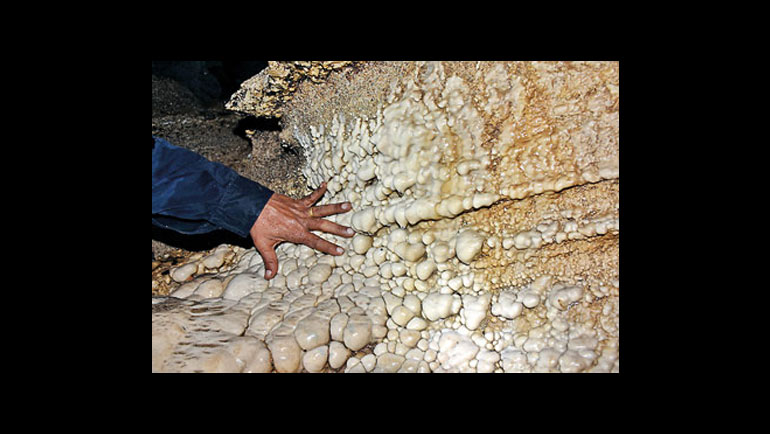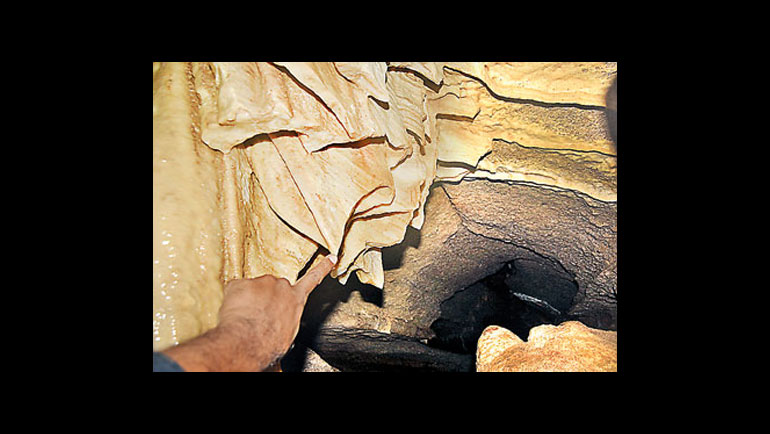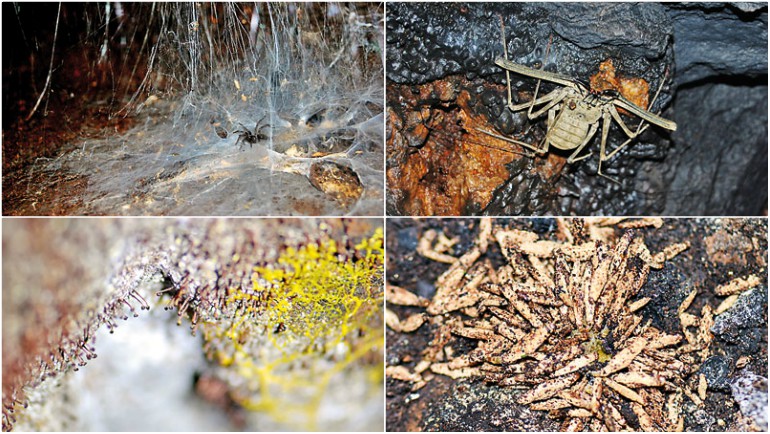 Perpetual darkness and absolute stillness!
Into these big voids under the earth, never-ever speared by sunlight, has a small group ventured through very narrow openings, to bring to the more faint-hearted Sri Lankans like us, the wonders of 'dark caves'.
"We are entering the Beast," says one as the Sunday Times views a short video and it is not just for the thrill of a daredevil adventure or to experience the adrenaline-rush that a 10-member team from the Lanka Institute of Cave Sciences (LICAS) lowered themselves into these caverns.
It is to shine a powerful light on a treasure-trove of subterranean biodiversity that has been thriving most probably for millennia that these 'cavers' headed by Biologist Dr. W.S. Weliange underwent arduous stumbling-along walks or sometimes belly-crawls in moist environments, which left them soaking wet.
Hardly able to breathe they were, for lack of oxygen down there, exacerbated by the strong stench of bat guano (dung), with insects filling up all exposed cavities such as their ears and nostrils.
They were the 4th Biospeleology Expedition from September 2017 to August 2018 into 18 caves of which 14 were dark caves believed to have been formed millions of years ago, to collect photographic documentation on the faunal (animal) biodiversity within.
As the world including Sri Lanka, celebrates World Wildlife Day today (March 3), even though the theme is 'Life below Water: for people and planet' for 2019, it is Biodiversity Sri Lanka (BSL) which gently nudges the Sunday Times in the direction of this exotic study carried out by LICAS, supported by BSL's initiating partner, Dilmah Conservation and coordinated by BSL.
BSL is a national platform of members, owned and driven by the private sector, established in 2015 as a not-for-profit organisation under the Company's Ordinance. Currently, BSL has over 80 corporate entities as its members and they represent a wide range of industry sectors including agribusiness and plantations, banking and finance, engineering and construction, information and communications technology and manufacturing and service sectors.
The enthralling and oft scary details of the LICAS team's biospeleology sojourns to study living organisms in the very bowels of the earth are revealed by Dr. Weliange. The other LICAS members were Archaeologist Prageeth Algiriya; Geologists Dr. Pathmakumara Jayasinghe & Prof. Osborn Armstrong; Cave Mapping – Interior Designers Saman Senanayake & Mahesh Champika; Cave Mapping – Architect A.S. Dandeniya; and Photographers Ayoma Weliange, Nayomi Sayanara & Sahan Jayasuriya.
Dr. Weliange stresses that dark caves are threatened by improper landscape management and disturbance due to unregulated cave tourism. As almost no dark caves in Sri Lanka have been surveyed and none are legally protected for their biodiversity yet, there is an urgent need to identify and safeguard key sites for cave biodiversity nationally.
Strong echoes come from the driving force behind Dilmah Conservation, Dilhan Fernando when he says that as we confront the consequences of our actions in destroying 50% of fauna over the past half century, "we have a shared and critical obligation to protect the earth's remaining biodiversity".
"The biodiversity in Sri Lanka is unique and intricately connects human cultural, culinary, social, economic and health dimensions. We must all – as individuals, businesses and government - integrate conservation and sustainable interaction with nature to protect biodiversity for our own survival," says Mr. Fernando.
He stresses that "our efforts in understanding the biodiversity in caves in Sri Lanka 'departs' from the popular and more charismatic areas as our business is established on a unique philosophy which demands a sincere commitment to positive environmental interventions".
The more we understand the richness of the biodiversity that surrounds us, the more we can protect that diversity and benefit from it in the form of food, medicine and quality of life and the better we can conserve it for future generations, reiterates Mr. Fernando.
And it is Charles Darwin of the Theory of Evolution fame who dubbed cave animals as "wrecks of ancient life" while others have described cave ecosystems as "natural ecological and evolutionary laboratories" because of their relative simplicity and isolation.
The 'Beast', the LICAS team's pet name for the Ravana dark cave, named by villagers as the 'Nil-diya Pokuna' in Karandagolla, Ella, has "lots of blue water". Containing an aquifer, this cave which is reported to be the largest in the country is surrounded by its very own myths and legends linked to King Ravana.
In contrast, the 'Beauty' or the 'Cave of Images' as the villagers call it is Roopagallena in Rathganga, Ratnapura and the team waxes eloquent about these images of speleothem formations (by the deposition of minerals from water) which include cave curtains, columns, stalagmites, stalactites, flow stones and more.
The Periyamandapai cave in Kerudavil, Jaffna, meanwhile, formed of limestone with deposits of shells and corals, has a passage with a low-slung roof. "We crossed it only by crawling and ducking," says Dr. Weliange.
These are just three of the dark caves the team surveyed for species richness, food chains and food webs. The other 'earthly voids – dark caves' were: In Ratnapura – Endirilena in Pelendakanda; Malena in Siripagama; Vavulguhawa in Pelpola; & Vavullena in Kosgala.In Kuruvita – Sthreepura cave. In Pallebedda – Vavulpane cave. In Ella – Ravana tunnel.In Welimada – Sthreepura tunnels in Loonuwatta. In Meemure – Nitre cave (nitre is the mineral form of potassium nitrate).In Attanagalle – Tunnel cave in Alavala In Jaffna – Vavulpuram cave in Keeramalei.
The 'surface caves' were: In Kuruvita – BatadombalenaIn Kitulgala – Belilena & Belilena tunnelMaradankadawala – Rock Shelter.
Explaining that Sri Lanka has a great range of cave types, with karst and karst-like features occurring in rocks, Dr. Weliange says that some are rock shelters on the ground surface like Batadombalena and others are dark caverns under the earth.
Dark caves are what they picked and ventured into, donning helmets and headlamps and carrying powerful batteries, compasses and cameras, where the darkness swallows the beam of the torch and getting lost is so very easy.
Caves are largely unchartered and unexplored territory. It is risky and dangerous, as "anything" can happen, he says. As they crawl or climb down small openings, foremost on their minds is the possibility of rock-falls which can occur anytime, closing shut their 'doorway' back to civilization. The terrain, with different angles and planes is not flat and difficult to negotiate.
There is no difference between night and day and these dark caves are the quietest places. "You don't see anything, you don't hear anything and your basic senses of sight and hearing seem to have been shut down," says Dr. Weliange.
As the headlamps illuminate the thick blackness, everything begins to glow and glimmer, a sight seared into their minds even as they chat to the Sunday Times in Colombo.
Taxed to their limits, it is an 'endurance test' few would undertake but the LICAS team has carried out with enthusiasm and is still raring to go for more.
"No days, no nights and adventure knows no boundaries," smiles Dr. Weliange.

What they found in the dark caves

We found nearly 150 taxonomic groups of fauna from all 18 caves including the dark ones," says Dr. W.S. Weliange, explaining that the top-most diverse group was 'decomposers' such as fungi and bacteria, with spiders coming in second and lepidopteran moths taking third place.

The others included bats, rats, porcupines, reptiles, birds, fish, frogs, centipedes, millipedes, snails, scorpions, bugs, beetles, crickets, cockroaches, crabs, shrimps, leeches, flatworms, earthworms, ticks and mites.

Quoting Boris Sket who had made explorations into Sri Lanka caves, Dr. Weliange says he proposed four categories of 'cave animals'.

They are:

Troglobionts – Animals which have adapted to cave life and usually spend their full life-cycle in caves and cannot survive for a long period of time outside a cave.
Eutroglophiles – Animals which have permanent subterranean populations like millipedes, spiders, cave crickets, moths and beetles which have adapted to the dark.
Subtroglophiles – Animals which are inclined to continuously inhabit a subterranean habitat and remain associated with the underground environment for some biological function, like bats.
Trogloxenes – Animals which normally live outside caves, but can occasionally be found in subterranean habitats, where they do not reproduce and are often considered as 'strays' such as porcupines, rats, monitors and bears.

Among the other finds of the LICAS team were seven types of Hymenoptera mud houses (homes of the mud wasp or kumbala), traces of animals like feathers, bird-droppings, nests, bat guano, exuviate (animal skins which had been shed), larval and pupal cases and eggs.

Flora (plants) was absent inside the dark stretches of the cave, but had been found at the entrance to some caves and included algae, bryophytes and ferns, it is learnt.

The birds that they found included the Collocalia fuciphaga (the edible-nest swiftlet) and Hirundo hyperythra (the Sri Lanka swallow).

Dr. Weliange says that his team which includes woman photographer Nayomi Sayanara captured images of nearly 30 microbial mats with filaments and spores and also 29 spider species.

Bringing to light some fascinating facts about spiders, he says that they are the most diverse group of animals found in Sri Lankan caves. Of the 44,540 species known from the world within the order Araneae (true spiders), about 1,000 species show typical cave-adapted features, while many more can be found at cave entrances.

"Spiders of the twilight zone are among the first predators living within caves, intercepting organisms coming from the surface. These top predators of underground environments can reach high abundance. All spiders are carnivorous. Cave spiders prey on almost anything as big as they are including slugs, worms, flying insects and even small vertebrates," he adds.


Please click here to View the Full Original Article.
Disclaimer Notice
These images are copyright protected and can only be used for Dilmah articles with due credit given.