Press release and images on In The Exhilarating Mood With Marathon Runner Lydia O'Donnell from Dilmah
Menu
Dilmah Food Service
Integrity & Ethics
Dilmah Tea Inspired
Leisure and Hospitality
Knowledge & Training
Online Shop
In The Exhilarating Mood With Marathon Runner Lydia O'Donnell
Nike training coach Lydia O'Donnell talks taking it to the limit, brought to you by Dilmah Tea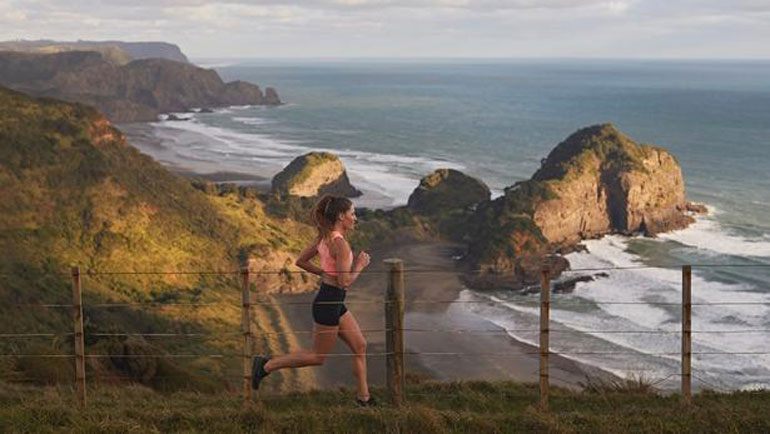 Life for marathon runner and Nike Training Coach Lydia O'Donnell is anything but mundane.
The Kiwi athlete has clocked up more kilometres in her 28 years than most would in a lifetime. But for Lydia, running isn't a hobby – it's a lifestyle.
This lifestyle has seen Lydia fly across the globe to represent New Zealand at various long distance running events. Last week, she placed an impressive 20th at this year's New York marathon, and has the sore muscles to prove it. Lydia trained relentlessly for 16 weeks in preparation for the race, with every run progressively getting harder, faster and longer as the marathon drew closer.
"Any preparation for a marathon should be a long one, but this was exceptionally long, beginning in June to focus on the event," she says.
"I was clocking 160km per week from about six weeks out. My longest run in training even got up to 42km, which is a marathon in itself," Lydia explains. From there, her training tapered off to allow her body to recover and freshen up her legs ahead of race day on November 4. Her training approach clearly paid off – clocking 42km in a mere 2 hours and 40 minutes.
This was a remarkable time for a seasoned runner, and even more so for someone running the New York marathon for the first time. But like many elite athletes, Lydia says she wasn't quite satisfied with her marathon performance to start with.
"With the last 5km of the race being a huge battle, and only just making it to that finish line, I was initially disappointed I didn't run the time that I had set as my goal. But realising how tough the course was, and finding out my placing, I was really proud of how I did. I was aiming top 30, so to get 20th was very cool," she says. What followed was a flurry of post-run celebrations, including slices of traditional New York-style pizza and a theatre show.
Back home in New Zealand, Lydia, who counts her favourite pre-run fuel as honey and banana on toast and a coffee, says she still finds running equally as thrilling as she did when she first started out. "It is something that is so engrained in my lifestyle – that when I'm not running I really struggle. There are definitely days where I enjoy it more than others, just like anything. I have days where I love it and can't wait to get out the door, and other days where I really have to force it," she says.
Adding weight to the argument for the 'runner's high', Lydia adds it's the sense of purpose she feels while running is what keeps her coming back for more. "The feeling of putting one foot in front of the other… the mindful act of moving, and the endorphins that are released when you sweat are like no other. It is that reason why I believe everyone should run."
This mantra motivated Lydia to establish One Step, a not-for-profit mental health organisation to raise awareness of depression and anxiety, and encourages people to run to boost their mental health. Lydia drew inspiration from One Wave, a similar organisation based around getting people to surf for their mental health.
"Running and surfing are similar in that they are both meditational movements and ways to disconnect the noise from everyday life," she explains. "Mental health is something close to my heart, as I have people in my life who suffer severely from depression and anxiety. I am a huge believer that running is medicine for the mind, and there is so much to say for the benefits that moving your body can have on your outlook on life," Lydia says.
With established bases in Auckland, Christchurch, Taupo, Mount Maunganui and Melbourne, Lydia hopes to spread this positive message in different cities around the world. Couple this with her other day-to-day activities, and it is clear Lydia's lifestyle is a juggling act. Between running her own online coaching business and coaching other athletes, Lydia's day starts at 5.30am for her first coaching appointment of the day. Next, she completes her own training, and heads home to work on her business. Much of her day is spent writing plans to help others achieve their running goals, before rushing out the door to her evening coaching sessions.
It's jam-packed, but Lydia wouldn't have it any other way. "Although my days are busy, I have the flexibility to be selfish and do what's right for me as an athlete, to make sure I am in the right place mentally and physically to be progressing my own running," she says. And when she's not running? A firm believer in the self-care movement, Lydia relaxes at home after coaching others and training herself. "I take time to recover properly to prepare myself for the next day of training. I enjoy reading, drinking Dilmah tea and taking naps," she says.
Looking forward to 2019, it is apparent Lydia is a sucker for punishment. She completed the grueling Speed Project earlier this year – an ultra-relay from Los Angeles to Las Vegas, spanning 550km through the desert. It took Lydia and her Australian-based team 39 hours to finish the course, averaging roughly 4 minute kilometres consistently throughout.
"The lack of sleep, plus the huge miles… killed me. There were times in the race that all I wanted to do was lie down, but you can't stop. It really tested my mental strength, and that's what I loved about it," she says.
And next March, she's doing it all over again, this time with an all-female crew. Eventually, Lydia says she'd like to run the length of New Zealand. While there are no formal events set up yet to make this happen, Lydia adds that of all the courses she's traversed, her favourite place to run is right here in New Zealand.
Lydia shares regular updates from her training with her 19,000 Instagram followers, and hopes to inspire anyone and everyone to run through her platform. "I try to educate people on the best way to progress as an athlete (we are all athletes) and I share my journey as a way of motivation for others to follow their own."
"I am an elite runner because I am competitive, but my biggest competition is myself."
This is part of a special Viva and Dilmah editorial series celebrating the Dilmah Moods of Spring.
Please click here to View the Original Article.
Disclaimer Notice
These images are copyright protected and can only be used for Dilmah articles with due credit given.