Press release and images on How to make the perfect cup of tea from Dilmah
Menu
Dilmah Food Service
Integrity & Ethics
Dilmah Tea Inspired
Leisure and Hospitality
Knowledge & Training
Online Shop
How to make the perfect cup of tea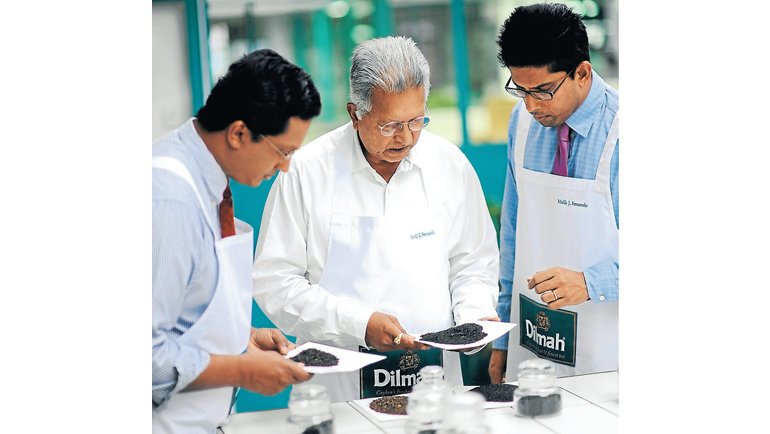 An Article Published by The Age and The Sydney Morning Herald
Dilhan Fernando has 15 cups of tea a day. This may be surprising if you didn't know he was the chief executive of tea company Dilmah.
Fernando starts his day with a black tea from the Nuwara Eliya region, in central Sri Lanka, where the high elevation and cool climate produces a brew that's light and floral in nature.Like his father Merrill, who founded Dilmah in 1988, and his brother Malik, Fernando likes his tea without milk or sugar unless he's visiting Australia, in which case he might add a touch of Australian honey. ''We are purists; we like our tea straight,'' Fernando says.
Over lunch, it's a stronger, more full bodied brew, an English Breakfast made from leaves grown in the Dimbula Valley. Tea from this region was a favourite of the English and Scottish planters who pioneered the tea industry in Ceylon (now Sri Lanka).
In the afternoon, he enjoys a Ceylon green tea, before ending the day as he started – with the Nuwara Eliya. Fernando's passion for tea isn't only about taste. It's also about health. Packed with antioxidants compounds that neutralise free radicals in the human body that damage cell membranes and other structures – tea reportedly helps aid digestion, manage blood flow, reduce stress and protect against neurological and cardiovascular diseases and illnesses.
''The reported health properties of tea date back centuries,'' Fernando says. ''Historically tea began as a medicine and was used to ease the mind and heal the body.'' The benefits depend on how you make your cuppa. The goal of the brewing process is to extract the tea's natural flavour and maximum antioxidants. For black tea, Fernando recommends pouring boiling water over the leaves and brewing for three minutes. Beyond five minutes, it starts to get bitter.
For green tea, a water temperature between 70 to 80 degrees and brewing time of 11?2 to two minutes is ideal.
''Make sure you always stir,'' Fernando says. ''You want the tea leaves and the water to always properly diffuse.'
All types of tea –whether black, green, white or oolong – come from the Camellia sinensis plant. The environments in which the tea leaves are grown, processed and packaged affect the flavour, texture, aroma and health properties of the end product.
''Each tea has a distinctive fingerprint of nature,'' Fernando says. ''Characteristics such as terrain, elevation, weather, wind conditions, moisture and soil all influence the quality of tea.'' Dilmah teas are made from hand-picked leaves. This maximises their flavour, antioxidant levels and health properties.
''Ideally you're looking for young, light coloured leaves,'' he says. ''Machines that are automated can't differentiate between the colour and maturity of leaves; only the human eye can discern this. Automated machines also pick up impurities like stems and twigs.''
Tea leaves should be kept fresh during the processing and packaging stage. Any moisture absorbed can cause bacteria to grow. ''The principle of blending tea, where tea leaves of different origins are combined, doesn't do anything for the customer and can lower the health benefits of tea,'' Fernando says.
''This is because during the mixing process there is a higher likelihood for odours and moisture to be absorbed. ''Blended tea was created mainly because of financial reasons and profit motives. One hundred per cent Ceylon tea, or single-origin tea, is the cleanest and highest quality.''
Disclaimer Notice
These images are copyright protected and can only be used for Dilmah articles with due credit given.