Press release and images on How a Team of Corporates Came to be Protectors of Our Biodiversity from Dilmah
Menu
Dilmah Food Service
Integrity & Ethics
Dilmah Tea Inspired
Leisure and Hospitality
Knowledge & Training
Online Shop
How a Team of Corporates Came to be Protectors of Our Biodiversity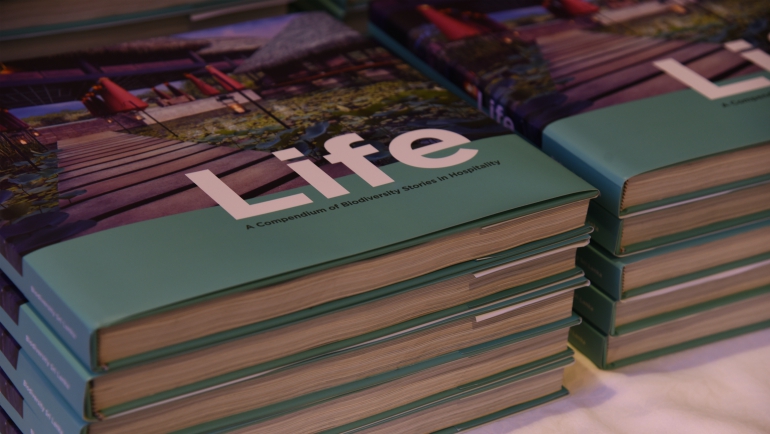 The author could not have found a better title for the 'Compendium of Biodiversity Stories in Hospitality' launched recently. 'Life' – brings to light the heartening and shared role of a team of reputed hospitality industry professionals in conserving biodiversity through the practice of responsible tourism.
The book is a brilliant piece of work by Niresh Eliatamby, a versatile professional in corporate communications and management consulting in close association with the hospitality industry. Eliatamby is also the author of Biodiversity Sri Lanka's first publication 'Worth Protecting – A Compendium of Biodiversity Stories from the Plantation Sector'.
Srilal Miththapala, an expert in sustainable tourism, has made a valuable contribution on 'the development of wildlife tourism'. This compendium comes with picturesque photography that perfectly fits into the stories. The credit for the design layout goes to Kasun Beranagama of Wild Studios.
The Chair of Biodiversity Sri Lanka, Dilhan C.Fernando, in his foreword quotes poet-philosopher Henry Thoreau from his book Walden, 'If you have built castles in the air, your work need not be lost; that is where they should be. Now put the foundations under them'. Life – A compendium of biodiversity stories in hospitality, Fernando says 'is about those foundations'.
'Life' is dedicated to Prema Cooray, Director/CEO of Biodiversity Sri Lanka in appreciation of his pioneering role in sustainable tourism in Sri Lanka in the last several decades that is not only reflected in the work of Biodiversity Sri Lanka but also in ecofriendly tourism assets such as Heritance Kandalama and Rainforest Ecolodge as well as his several public and private sector initiatives.
Tourism, widely praised in the '60s and '70s as an engine of growth for economic development, as well as an effective tool for fostering relations between nations, was considered a 'white industry' with no attempts to measure its effects on environment and socio-culture.
By the early '90s, researchers were grappling to find ways and means to hit the triple bottom line at all levels of development with the identification of the three pillars of sustainable tourism being the environment, society and economy. 'Life' is a disclosure of a bottom-up approach addressing researcher Jafari's knowledge-based platform in tourism and hospitality development through scientific assessment of impacts and capacities.
While the liability for pursuing such planning is generally expected to fall on the state sector through laws and regulations, this compendium has attempted to change this perception with the private sector taking an unsung lead since the '90s, moving well beyond profit motives.
The award-winning Heritance Kandalama depicted in this compendium, is testimony for researchers to validate the revolutionary role of the Sri Lankan hospitality industry in setting standards and a benchmark for the entire region.
Dilmah Conservation has come forward to make this publication a reality, reinforcing their philosophy – 'Business is a matter of human service', stressing the importance of a conscious effort to uphold sustainability, biodiversity, heritage and social responsibility.
Cinnamon Project Leopard is presented in the compendium not only for the group's commitment to research and protection of the leopard population but also for highlighting the entire group's best practices in responsible tourism. The assistance of IUCN underpins the recognition given for the commitment of these partners in the compendium to support sustainable natural resource management initiatives in Sri Lanka.
Properties such as Jetwing Vil Uyana which caters to specialist eco-travellers, Rainforest Ecolodge that bagged the PATA Gold Award recently for being the year's best eco-touristic hospitality provider and Ceylon Tea Trails which continuously strives to encourage the tourism economy with initiatives that drive meaningful outcomes for the environment and the communities, are all presented in the compendium.
The compendium relates the true meaning of the conservation of biodiversity in real life beyond books and literature where the business missions of a team of corporates have directly addressed the concerns emanating from the words of scholar Prof. David Macdonald 'Without biodiversity, there is no future for humanity."
'Life'also covers through various topics the work of Anantara Peace Haven – ayurvedic treatments with access to historical, natural and cultural highlights, Aliya Resort and Spa's research centre for ancient paddy cultivation and elephant movements, Jetwing Kaduruketha- traditional farming community, Heritance Tea Factory- making the visitor wonder what it feels like to be a tea taster, Saraii Village-yoga retreats, Jetwing St. Andrews of Little England, and Jetwing Yala at the edge of Sri Lanka's most popular national park.
The contribution of three companies – Tokyo Cement, SriLankan Airlines and Walkers'Tours towards overall reduction of the carbon footprint have been highlighted.
Biodiversity Sri Lanka, is a private sector driven national platform which continues to engage the corporate sector in biodiversity and environmental conservation in Sri Lanka.With this launch, I would foresee them spreading their wings to capture extended work in this area.
This is a forerunner to setting up of an inclusive direction in the promotion of best practices through active learning and understanding mechanisms through a dialogue between state, civil society partners and the private sector, particularly in this COVID-19 period where Sri Lanka seeks to reach out to high-end tourists, the majority of whom are ecofriendly, responsible travelers who would recognize and acknowledge the measures taken to protect Sri Lanka's fragile environment.
'Life', in my view, is the first of its kind that gives direction from the corporate sector to the authorities, should the state wish to pursue a meaningful tourism sustainable policy in future development work. It should also be made available to Sri Lankan missions abroad to establish Sri Lanka's identity in conserving biodiversity for the information of researchers, conservationists, investors, incentive houses and airlines.
'Life' thus communicates a strong message to the world, that private sector initiatives have invalidated the term'oxymoron' that is taught in academic studies in balancing sustainability with development.
This article was taken from
The Sunday Times
Disclaimer Notice
These images are copyright protected and can only be used for Dilmah articles with due credit given.