Press release and images on Hospice Whanganui Boutique Hosts Morning Tea To Thank Dilmah Tea and Supporters from Dilmah
Menu
Dilmah Food Service
Integrity & Ethics
Dilmah Tea Inspired
Leisure and Hospitality
Knowledge & Training
Online Shop
Hospice Whanganui Boutique Hosts Morning Tea To Thank Dilmah Tea and Supporters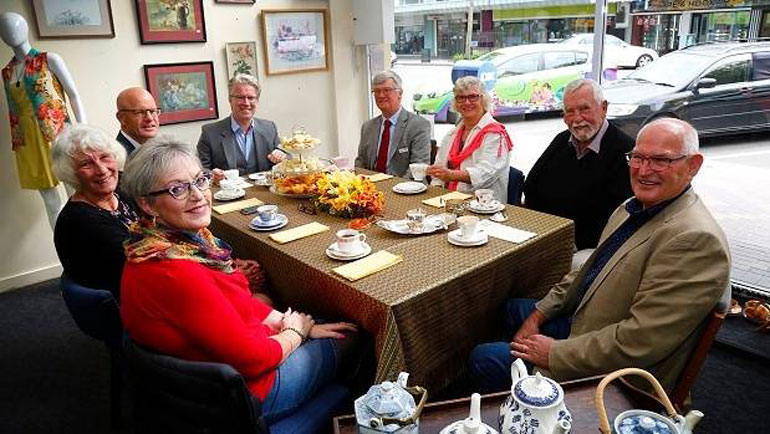 Hospice Whanganui supporters have raised a teacup to toast the long-standing relationship between hospices around New Zealand and tea company Dilmah.
The group of supporters became live mannequins in the front window of the Hospice Boutique in Victoria Ave on Monday, October 29, sharing their involvement with Hospice Whanganui over a cuppa and available to answer questions from the public.
Guests included Whanganui mayor Hamish McDouall, Hospice Whanganui Foundation chairman John Unsworth, Hospice Whanganui trustee Douglas Wilson, Hospice Whanganui chief executive Karen Anderson, Whanganui Chamber of Commerce and Industry president Raewyn Overton-Stuart, Farming Friends of Hospice Whanganui chairman Brian Doughty, cattle grazing scheme founder and former chair of the Farming Friends Eric Weir and grazier and supporter Sue Edwards.
Hospice Boutique manager Jo Hodder said the morning tea was also an opportunity to thank the supporters for the work they did for Hospice Whanganui.
Dilmah supplies tea to all hospices in New Zealand and has donated more than nine million teabags since 1997.
Please click here to View the Full Original Article.
Disclaimer Notice
These images are copyright protected and can only be used for Dilmah articles with due credit given.