Press release and images on Hemas, Dilmah, Daraz hand over vital medicines to MoH through UNDP's private sector facility from Dilmah
Menu
Dilmah Food Service
Integrity & Ethics
Dilmah Tea Inspired
Leisure and Hospitality
Knowledge & Training
Online Shop
Hemas, Dilmah, Daraz hand over vital medicines to MoH through UNDP's private sector facility
Always a great day when like-minded corporates can come together for a better future for Sri Lanka. Thank you UNDP for bringing us together for a great cause, for opening an avenue for us to serve humanity with kindness.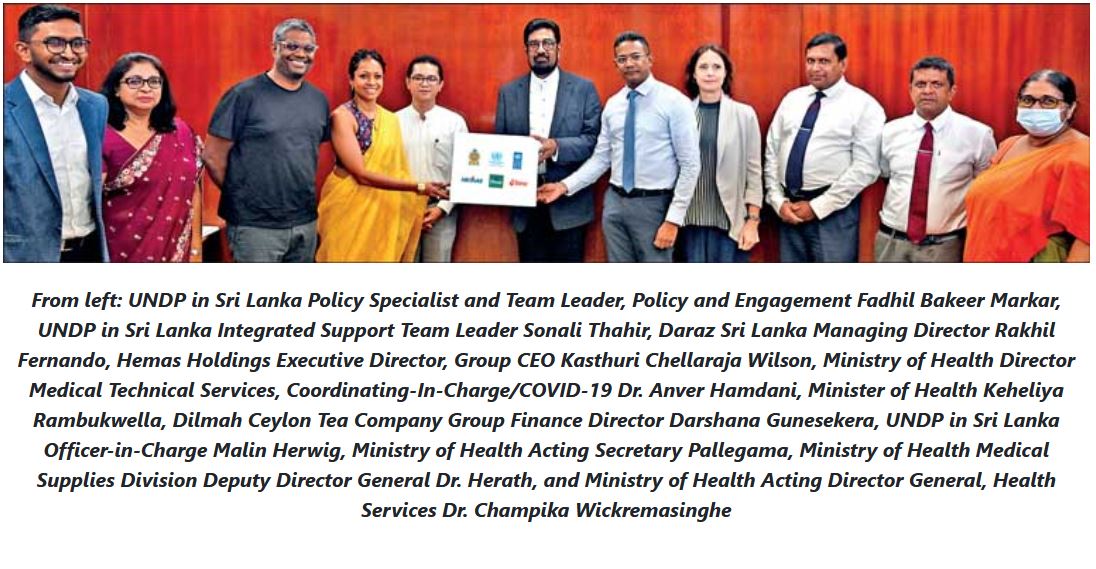 To address the immediate needs of the ongoing socio-economic crisis, building on established partnerships and the keen interests of various actors, the United Nations Development Programme (UNDP) in Sri Lanka leveraged its experience to develop a facility, comprising of two mechanisms; firstly, by channelling private sector funds towards procuring essential and non-essential medical supplies and address food security; and secondly, by channelling individual donations through the 'Rebuild Sri Lanka' crowdfunding mechanism set up by UNDP.

In response, three private sector actors including Hemas Holdings PLC, Dilmah Ceylon Tea Company, and Daraz Sri Lanka came forward to pledge their financial support to procure and deliver vital and essential medicines and medical supplies for the country. The medicines and medical supplies were handed over to the Ministry of Health recently, in the presence of Minister of Health Keheliya Rambukwella, by Hemas Holdings PLC Executive Director, Group CEO Kasthuri Chellaraja Wilson, Daraz Sri Lanka Managing Director Rakhil Fernando, Dilmah Ceylon Tea Company Group Finance Director Darshana Gunesekera, and UNDP in Sri Lanka Deputy Resident Representative Malin Herwig, with the participation of wider representatives from partner organisations.

Highlighting the role of the private sector in this initiative, Kasthuri Chellaraja Wilson stated, "As Sri Lanka navigates the current economic crisis, it is important for private sector entities to come forward to support our communities who are facing many hardships. I applaud UNDP's initiative to bring together corporates to ensure that essential and near essential medicine is made available to our vulnerable communities. As a leader in pharmaceutical manufacturing and distribution, we feel privileged to be a part of this initiative and are committed to playing a leading role in enabling access to medicine to those in need."

Speaking on the timeliness of the procurement of medical items, Ministry of Health Director Medical Technical Services, Coordinating In Charge/COVID-19 Dr. Anver Hamdani commented, "In the current Sri Lankan context, the medical sector has been gravely affected due to the shortages of medicine and other vital items in order to serve the people in need. The Ministry of Health is grateful for the support provided in the procurement of life-saving essential and non-essential medical items for the people of Sri Lanka and look forward to the continued collaboration in this effort."

Commenting on Daraz Sri Lanka's commitment to the procurement of medical supplies, Rakhil Fernando noted, "We are grateful for the initiative mobilised by UNDP Sri Lanka that enhances private sector collaboration and draws on the power of tech platforms to draw in much-needed financial, medical and food relief for Sri Lanka. Uplifting communities and transforming lives through the power of technology is Daraz's mission and we will continue to expend our resources, technology and reach to help gather greater momentum for these relief efforts together with other partners locally and regionally."

Adding to this, Darshana Gunesekera stated, "It's been a rough few years for our beautiful island with the Easter attacks, COVID-19 and now an economic crisis. This was a much-needed initiative brought forward by the UNDP and we're honoured to have been able to be a part of this. Giving access to better healthcare for our communities has always been within our Founder's ethos of business with purpose. Children all around Sri Lanka as well as adults have been suffering due to medicine supply shortages caused by the ongoing crisis and as key private sector institutions, it is imperative that we come together in a collaborative effort for a better tomorrow for our island."

The UNDP-led facility has partnered with key private sector actors including Hemas Holdings PLC, Dilmah Ceylon Tea Company, Brandix Apparel Ltd., Daraz Sri Lanka, Citi Foundation and Amana Bank to complement and strengthen the ongoing health and food sector efforts. Sarvodaya, the United Nations Global Compact Network Sri Lanka and oDoc Sri Lanka have also come on board as Strategic Partners of the facility: www.undp.org/srilanka/donate.

Commenting on the role of UNDP in bringing together stakeholders and facilitating such processes in times of need, UNDP in Sri Lanka Officer-in-Charge Malin Herwig stated, "At this critical time, UNDP has utilised its global procurement network to quickly get the needed medicines to Sri Lanka, working closely with WHO Sri Lanka, along with all relevant counterparts to respond to the current context of the health sector. The medicines that were handed over is one such effort, contributing towards the needs of the people of Sri Lanka."
Disclaimer Notice
These images are copyright protected and can only be used for Dilmah articles with due credit given.