Press release and images on Friday talks to Dilmah's founder Merrill Fernando from Dilmah
Menu
Dilmah Food Service
Integrity & Ethics
Dilmah Tea Inspired
Leisure and Hospitality
Knowledge & Training
Online Shop
Friday talks to Dilmah's founder Merrill Fernando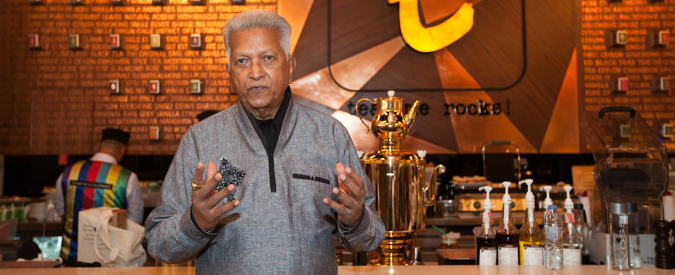 For Merrill J Fernando, founder of tea company Dilmah, age is just a number. This 86-year-old is still growing, innovating and fighting pessimism, he tells Mrinal Shekar. Merrill J Fernando is tall - towering in fact. I had expected the 86-year-old to be stooping, frail even, but when I walked into Dilmah's recently launched tea lounge in Ibn Battuta Mall and saw Merrill unfold his 1.8m (5ft 11in( frame out of the sofa, coming to stand absolutely upright in front of me, I suddenly felt short, and all the more small for my assumption.
The handshake was firm, the gait sharp and there was no visible slouch - a stalwart who looks the part. He even has a full head of hair, I note as Merrill takes his seat after ensuring I was comfortable.
'It's Ceylon Supreme, a black tea from Craighead Estate. One of my favourites,' he says as he catches me staring at the steaming cup in front of him. Is that the secret to his youthful appearance, I ask, before assumption raises its ugly head again. 'That and the fact that my mother raised me well. She taught me to care for the community and share with the poor.
I firmly believe there is a certain joy in giving and that pure joy, I think, is the secret to my health,' explains Merrill. But you cannot ignore the fact that this philanthropist helms a tea company that has an annual turnover of 0 million (Dh2.9 billion(, which proves that he is a successful businessman too.
As founder and chairman of Dilmah, the sixth-largest branded tea company in the world, Merrill's success has been six decades in the making. And none of it has been easy. 'There were several occasions when I wanted to quit,' says Merrill as we talk about work, life and everything in between. 'But that is one thing I am not - a quitter,' he emphasises. In the corporate orchestra of the tea industry that plays to the tunes of multinationals, Merrill was that jarring note, the one who never fitted in.
'I have always been the odd one,' he says. When Merrill started out in the tea industry back in the day, he was one of the first Sri Lankans selected to train as a tea taster at UK's Darley Butler & Co, a field that was traditionally a European stronghold. 'Until then, Sri Lankans were employed as tea pickers only and were kept away from marketing and packaging of tea - aspects of the business that had the potential to make profit. But after much protest the British colonialists agreed to open the doors to Sri Lankans in these fields and that is how I, and five others, got selected,' he recalls.
Please click here to read the Full Article in Friday Magazine
Disclaimer Notice
These images are copyright protected and can only be used for Dilmah articles with due credit given.