Press release and images on Entering the world of Sri Lankan kenda (broth) from Dilmah
Menu
Dilmah Food Service
Integrity & Ethics
Dilmah Tea Inspired
Leisure and Hospitality
Knowledge & Training
Online Shop
Entering the world of Sri Lankan kenda (broth)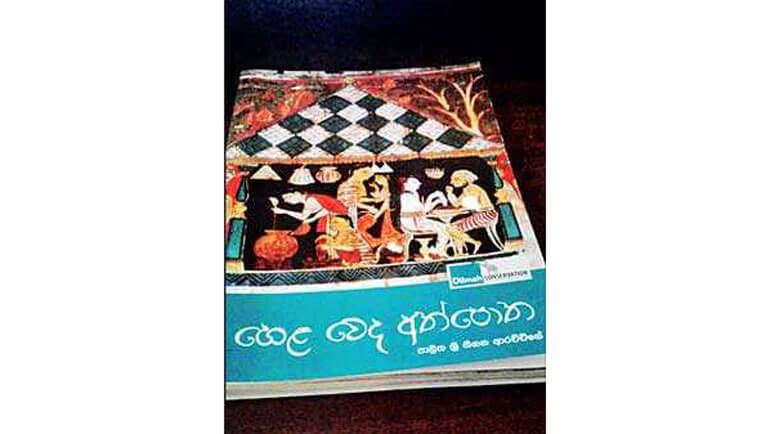 This is part of our series on using Sri Lanka's herbs for everyday use for better health, especially the boosting of immunity. We will be using diverse books and advice from indigenous doctors for this series. For the first weeks, until we complete much of the book, we will focus on the publication Hela Weda Athputha authored by Ayurveda Shasthri, Ayurveda Doctor Palitha Shri Gagana Arachchige and published by Dilmah Conservation. We are continuing from last week focusing on Kenda varieties and its uses
Kenda (traditional Sri Lankan broth) is synonymous with the traditional diet of Sri Lanka and there are Kenda types that vary from those using our herbal leaves that are known as Kola Kenda and those using garlic or only rice (roasted kekulu haal) and referred to as 'dry kendha' (viyali kendha).
The rice that is advised in the book to be used is red Nivudu variety which has to be kept soaked for a while and then pounded in a wangediya. Separately small red onions, garlic, ginger (amu inguru) should be finely chopped and boiled with the rice. This should be boiled very well. The leaves need to be well washed and cleaned and pounded well for the juice to be separated. Once again the leaf extracts should be pounded along with the scraped coconut and the juice of this too added to the juice already extracted. This, along with the coconut milk should be added to the rice after it is well boiled. It is best to switch off the cooker soon after adding the leaf extract so as to retain its nutrition.
Why coconut is used in the broth is to ensure that the Carotene levels of the leaves are not evaporated. The coconut absorbs and help retain this vital nutrition within the liquid. Diya lunu (salt) should be added to the Kenda.
Last week we featured Lunu Kenda, Pori Kenda, Badi Haal Kenda, Polkiri Kenda, Kiri Kenda, and diverse varieties of Kola Kenda where the health benefit of the different leaves were cited.
This week we feature Kenda made from the following; Wetake dalu, Yakinarang leaves, Anoda leaves, Bo pothu, Erabandu leaves, Diya Beraliya, Heen Bovitiya leaves, Heen Undupiyaliya, Divul leaves, Gotukola, Wel Thitbatu leaves, Ela batu leaves and Hathawariya leaves.
Wetake dalu: Pandanus kaida (Among its uses are getting rid of Pith condition, phlegm, heart ailments, premature greying of hair, lever associated disorders/ailments, skin diseases, brain related ailments, eye ailments and kidney diseases).
Yaki Narang leaves: Atlantia zeyianica (Among its uses are as treatment for lung, lever and phlegm issues of small children, neurological ailments, asthma, as a poison remover when stung by bees).
Anoda leaves: Annona muricata (As treatment for Ulcers).
The bark of Bo trees: Ficus Religiosa (Cleans blood, cools the body, makes the skin clear, cures boils and other outbreaks of skin, treats womb related ailments of women, for joint issues -used in kadum bindum wedakama, used as treatment for asthma).
Erabadu leaves – Erythrina variegate: Causes loose motion/cleansing of the system. Used as worm treatment for small children, increases fertility, increase appetite, inducer of sleep, increases breast milk, used for ear ache and tooth ache and as a poison remover of bee sting and used as a disinfectant for wounds.
Diya Beraliya – Commelina spp: Cools the body, cures constipation, given for those who get less sleep, treats urine related ailments, brain related ailments, yellow fever and women's womb related ailments.
Heen Bovitiya leaves – Osbockia octandra: Used as cure for Yellow fever, to increase immunity, to treat indigestion, as treatment of diabetes, for snake bites and worm treatments.
Heen Udupiyaliya – Desmodium trifloram: Treats pitha conditions, used as cure for yellow fever and to increase strength.
Divul leaves – Limonia acidissima: Increases appetite, used as treatment when animal poisons get into body such as dog/cat/crocodile bite, snake bite and stinging of bees. Divul leaves can remove these poison from the body. Removes infections associated with the mouth. Used for removing poisons from the eye. Used for hair related ailments and for womb related ailments.
Gotukola – Cantella asiatica: Increases memory. Treats brain and neurology related ailments. Good for heart health. Treats phlegm related ailments. Cures eye related ailments. Promotes longevity.
Welthibbattu leaves – Solanium trilabatum: Increases appetite. Purifies blood. Treats phlegm conditions. Cures stones in the bladder. Treats sexual related ailments of both men and women. Treats cough.
Elabatu leaves – Solanum melongana: Can be used as treatment for cough, asthma and pain in the chest. Treats ulcers. Treats for lung related disease. Can be used as treatment for fevers caused by phlegm.
Hathawariya leaves – Aspragus racemosus: Cools the body. Increases breast milk. Enhances good eyesight. Treats diverse eye ailments. Promotes fertility. Treats urine problems.
This article was published by The Daily FT
Disclaimer Notice
These images are copyright protected and can only be used for Dilmah articles with due credit given.