Press release and images on Drawn by the lure of lichens from Dilmah
Menu
Dilmah Food Service
Integrity & Ethics
Dilmah Tea Inspired
Leisure and Hospitality
Knowledge & Training
Online Shop
Drawn by the lure of lichens
Dr. Gothamie Weerakoon who put Sri Lanka on the world map as a hotspot for this important and ancient organism, was back in the country to identify its biodiversity and medicinal value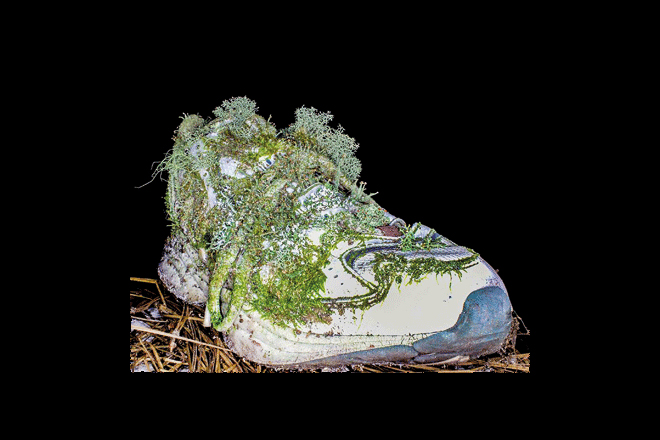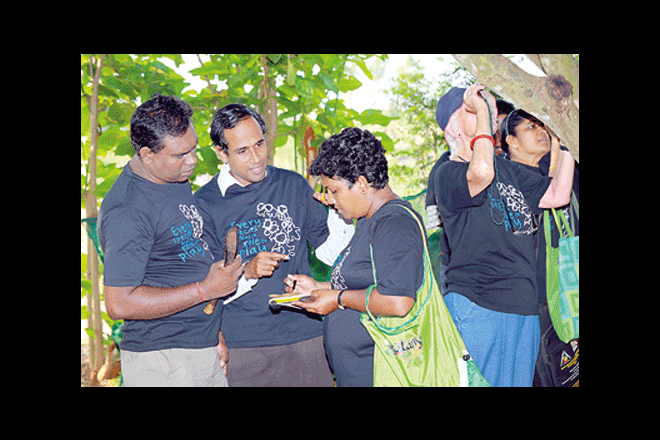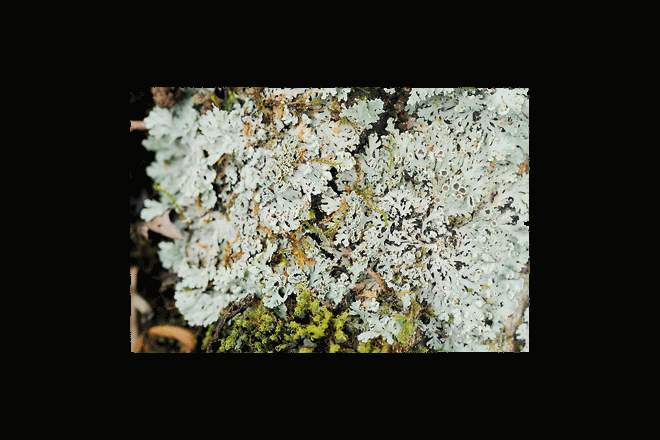 How does a sneaker abandoned in the wilderness get a priority view on a scientific presentation amidst a distinguished gathering?
Still thrilled whenever she discovers new lichens, she talks with passion how 'lichen-survivors' are older than the dinosaurs, evolving over 200 to 300 million years.
This is where the shoe comes into play to show how lichens will latch onto any surface and use any tactic such as camouflage to live a long time.
Dr. Gothamie Weerakoon who put Sri Lanka on the world map as a hotspot for lichens, both stunning and simple, a few years ago, was back home for a couple of months, from her job overseas to follow the lure of lichens.
Peering at the ground, rocks, tree barks, branches, twigs and even leaves, Dr. Weerakoon was here to identify the lichen biodiversity in the country, while also looking into the secondary chemicals produced by these important organisms which could come in useful long-term for their medicinal value.
"Under the Global Lichen Red Listing Project of IUCN (the International Union for Conservation of Nature), 50 have been nominated for red-listing in 2017 and 87 in 2018, but none of them is from Sri Lanka," laments Dr. Weerakoon.
This, despite, Sri Lanka having the highest number of new species and records per unit area and an estimated "massive number" of lichens, easily more than 5,000.
The lichen checklist for Sri Lanka clearly points to more than 5% of the land area having them, with over 1,200 species, over 100 new species and over 800 new records so far which she presents as evidence to prove her point. There have been 140 new records in the Indian subcontinent of which more than 20 are new records for Asia.
"There is a link-up in 2017-18 between the National Institute of Fundamental Studies (NIFS) based in Kandy and the United Kingdom's Natural History Museum, London, to prepare a full 'checklist' of lichens in Sri Lanka, while lichen chemistry is being studied at the University of Kelaniya since the end of 2015," says Dr. Weerakoon who is engaging in the process as a Visiting Scientist.
The main objectives of the Sri Lankan research are: To document lichens in undisturbed forest types and disturbed habitats; to determine differences in lichen assemblages and their associations with microclimatic and phorophyte variables; to identify potential indicator species for vegetation types and disturbance levels; to identify renewable sources of bioactive natural products from endolichenic fungi; and assess lichens for IUCN's Red Listing
This work is being carried out with the "invaluable support" of Prof. Siril Wijesundara, NIFS's Collaborating Research Professor; Prof. Veranja Karunaratne of the University of Peradeniya; Prof. Priyani Paranagama, Kelaniya University's Collaborating Research Professor; and Dr. Udeni Jayalal of the University of Sabaragamuwa.
It was also accompanied by Research Assistants Chamara Udayanga and Dulan Ranga Vidanapathirana and photographer Dushantha Wasala that Dr. Weerakoon was "actively" in the field, clambering up slopes in the mountainous regions of Knuckles, Nawalapitiya, Hatton, Pelmadulla, Ratnapura and Kitulgala and Sinharaja, as well as trekking in the Dry Zone of Jaffna, Habarana, Dambulla, Chilaw, Kalpitiya, Ussangoda, Hambantota and Uda Walawe.
Dr. Weerakoon did not come alone but with another international expert, Dr. Pat Wolseley, Scientific Advisor to the Natural History Museum, London, while they were joined on their sojourns by National Geographic Young Explorer Matthew Cicanese.
Even after Dr. Wolseley and Matthew left, Dr. Weerakoon's expeditions did not end. "We focused on isolated mountain peaks, reaching high elevations. Due to the heavy rains and floods we had to abandon visits to some of the areas," she says, referring to how they had to battle the elements.
Reiterating that lichens are "natural bio-indicators", she says that they come in handy when gauging climate change and air pollution and when checking habitat quality and regeneration. Lichens are clear markers of forest degradation.
Dr. Weerakoon and her team studied the different conditions under which lichens thrive and found that the pH of a tree bark would play an important role in the lichen distribution, as they preferred slightly acidic barks.
Checking out species richness, they had determined that it increased "substantially" in closed-canopy conditions. Undisturbed habitats are "highly" important for lichen diversity and conservation. They are sensitive to atmospheric pollution, climate change and habitat modification, while large-scale destruction of natural habitats over the past century has been a major danger and threat to lichens.
Pointing out that what they have found so far in Sri Lanka is "just a drop in the lichen ocean", Dr. Weerakoon launches into the distribution and bio-geographical relationships of this country's lichens.The majority of lichens found here are 'Gondwanic species', with some distribution patterns being very ancient, reflecting past land connections and the fact that lichens evolved very slowly. They have their closest relatives in the Himalayas, South India, Africa and Southeast Asia, while a few species have relatives in the Alpine and Polar regions, Europe and North America.
Taking up the family of Graphidaceae, the second largest lichen family in the world, she points out that 2,500 species are accepted in this family. A predictive model based on existing data was used to extrapolate the diversity of Graphidaceae at a global scale and the 'highest species richness' with 496 is recorded in Sri Lanka.
When asked why there is such diversity, her answer is that complex earth movements have resulted in remarkably unique lichen biota with high levels of local endemism. "We have described 70 new species of Graphidaceae," she says, adding that an updated key for the genus Graphis will be produced this year.
When considering lichen families, they are "ultra-diverse" and in the case of genera they are "hyper-diverse", with lichen diversity being highest in the tropics as more and more new species are discovered, according to her.
Explaining that lichens are symbiotic organisms, mainly composed of a fungal partner (mycobiont) and one or more photosynthetic partners (photobiont) most often either a green algae or cyanobacterium, Dr. Weerakoon adds that they are minute stable ecological communities which can live on their own, while a high percentage of lichen-forming fungi carry out sexual reproduction.
The diamond in the crown: Heterodermia queensberryi
The diamond in the crown of the many new lichens that Dr. Gothamie Weerakoon has discovered a few years ago she speaks of with much admiration.
It is the 'very rare' Heterodermia queensberryi endemic to Sri Lanka.
Of the family of Physciaceae, Dr. Weerakoon had spotted it on the branches of trees in the shaded, humid region of the Queensberry tea estate in Nawalapitiya.
Just once, she had observed it on a rock out in the open growing among mosses.
Found only in natural habitats above 1000m, Heterodermia queensberryi which mostly grows together with mosses and bryophytes can also be seen at Horton Plains and Kalupahana in the Knuckles mountain region.
Studying its medicinal properties
Lichens have a "huge" potential use in the pharmaceutical industry including as vaccines and in the treatment of cancer, it is learnt.This is what Prof. Priyani Paranagama and Dr. Gothamie Weerakoon are intent on finding out through chemical analysis of Sri Lanka's lichens.
The chemistry or morphology of this sterile species is studied through DNA. Lichens are spread when they get fragmented and are carried hither and thither by the wind and the birds. Studies are needed to protect the lichen body (thallus) from ultraviolet rays, herbivores and extreme ecological conditions, it is understood.
Please click here to view the Source Article in the Sunday Times
Disclaimer Notice
These images are copyright protected and can only be used for Dilmah articles with due credit given.