Press release and images on Dilmah to reengineer 18th century high tea concept at GulfHost in Dubai from Dilmah
Menu
Dilmah Food Service
Integrity & Ethics
Dilmah Tea Inspired
Leisure and Hospitality
Knowledge & Training
Online Shop
Dilmah to reengineer 18th century high tea concept at GulfHost in Dubai
21st Century High Tea challenge comes to Dubai after travelling to 14 countries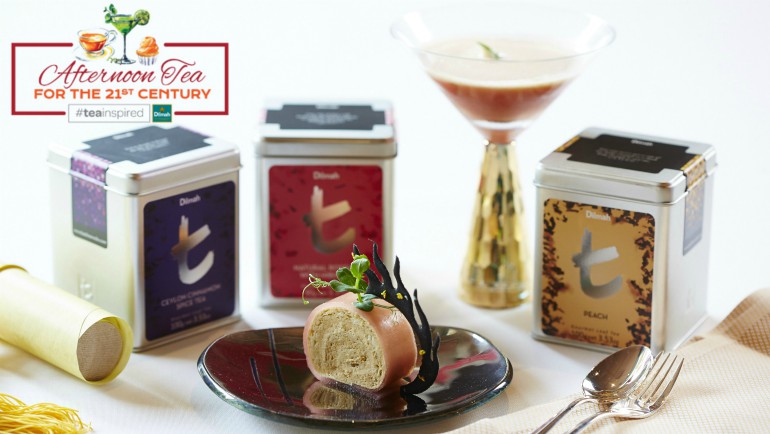 Dubai; Dilmah, one of the world's most admired tea brands, would be conducting its 21st Century High Tea challenge (AFT21) in Dubai during the upcoming GulfHost show next month. Dilmah 'Real High Tea' is a contemporary approach to redefining the 21st Century High Tea and to enhance the importance of tea as an ingredient and as a pairing within gastronomy. The challenge that is slated for 30th of October and the 1st of November expects to attract close to 25 teams from the hospitality sector. Held in partnership with the World Association of Chefs Societies (WACS). As per
reports
UAE consumes 19,000kgs of tea daily.
Whilst announcing this challenge Dilhan C. Fernando, Director, Dilmah Tea stated
that,
"UAE is a country that is home to millions of tea enthusiasts and we wanted to connect with them through this initiative. We want to bring the joy of drinking tea back into their teacups. Dilmah pioneered this concept of a real high tea in 2007 to challenge chefs and tea aficionados to understand tea, its variety and the limitless possibilities in tea gastronomy and tea mixology. The simple objective is to put the central theme, central component 'tea' back in high tea with authenticity and quality,"
The tradition of afternoon High Tea is said to have begun in the 18th Century, aided by Anna Maria Stanhope, Duchess of Bedford who invited friends to tea with cakes and pastries. The modern interpretation of afternoon tea is compromised by an
over emphasis
on food, forgetting the central element- tea.
"It all started with a desire to offer tea to a new generation. Tea with style, substance and natural goodness. We chose to transform the world's tea ceremony – afternoon tea. The most popular global tea drinking occasion, so clearly defined by 18th Century tradition, more than two centuries later. The Dilmah Real High Tea Challenge stirred up the world of tea. Tea is
luxury
. Tea is
indulgence
. Tea is without parallel. It was clear that there is no better way to express the diversity, subtle influence of nature on taste, flavour, fragrance,
character
of tea than through gastronomy," added Fernando.
The beauty of tea and its attraction amongst tea-lovers lies in its varying results on the senses in taste, aroma and smell based on each tea's individual terroir. Weather conditions play an integral role in the formation and compound structure of different teas and their flavours which are then transferred onto tea drinkers. Hence tea comes in a multitude of options enabling consumers to differentiate and utilise it across a range of culinary platforms.
"Now this journey of tea has brought so many revelations, chefs rarely get new ingredients. We had any ingredient we liked, anytime. Then tea came along and it has given new excitement into our culinary repertoire, "commented Peter Kuruvita, Celebrity Chef and Dilmah brand ambassador.
"The Dilmah Real High Tea Challenge in Dubai will share the word on the natural goodness, serenity and luxurious indulgence in tea, as it did in challenges from Paris to Perth, Auckland to Amsterdam. Our tea inspired challengers from across the globe are all exceptional – pioneers in reimagining the experience of the world's most popular beverage after water. Together we are creating history as we bring tea into the 21st century, and its sublime, natural goodness and pleasure with a new generation," added Fernando.
Dilmah has also had a long and fruitful relationship with Dubai. More than 9.6 million Dilmah tea bags have been served every year on Emirates flights. Associated with each other for more than 2 decades now, both brands have experienced immense growth from when they started out. With the help of Emirates, Dilmah has been served to passengers to more than 150 destinations.
"We aim to inspire today's modern generation in UAE and the greater Middle East region with this AFT21 challenge. Tea known as Camellia sinensis in the botanical
world,
has a history of over 5000 years steeped in culture and tradition. Dilmah successfully resurrected the versatile traits of this herb through the introduction and implementation of tea gastronomy and mixology, where the presence of tea in a setting exudes other characteristics than that of being a mere beverage. The health benefits of tea were hailed more profoundly since its use not only as a
drink,
but
also
an ingredient in food. Its popularity in the 21st century is so much so, that tea can be safely concluded to be the most consumed beverage after water," concluded Fernando.
ABOUT DILMAH:
Sri Lankan family tea company Dilmah, founded by Merrill J. Fernando, today the world's most experienced teamaker, has championed quality, authenticity and variety in tea. Dilmah pioneered the concept of Single Origin Tea in 1988 when the family company went against industry trends to declare its commitment to authenticity. Garden fresh, unblended tea is a hallmark of Dilmah and offers a unique taste of unblended Ceylon tea packed at source - where it is grown. Dilmah takes the lead in bringing innovation to a global tea category that has suffered
decline
as a result of commoditization. Signature events such as the Chefs & the Teamaker and Real High Tea are innovations that seek to educate and inspire hospitality professionals to offer their guests a completely new tea experience. The events foster greater respect for this healthy, natural and versatile beverage. The Dilmah School of Tea seeks to inspire passion in tea through knowledge of the artisanal aspects of tea amongst hospitality professionals, tea aficionados and consumers. The emphasis is on the importance of Real Tea and the versatility of this natural herb in Tea Gastronomy, food pairing and Tea Mixology. www.schooloftea.org Dilmah is Ethical Tea, in that all packaging profits are retained in Sri Lanka and fund the MJF Charitable Foundation and Dilmah Conservation. We believe that Business is a Matter of Human Service. www.mjffoundation.org.
For further information, please contact:
Prem A. Ramachandran
Managing Director
White Water Public Relations
GSM: 0097150-4537253
Box 18936, Dubai, UAE
Email:
prem@whitewaterpr.com


Please click here to view the original article in Thomson Reuters Zawya
Disclaimer Notice
These images are copyright protected and can only be used for Dilmah articles with due credit given.