Press release and images on Dilmah targets premium segment in India Market from Dilmah
Menu
Dilmah Food Service
Integrity & Ethics
Dilmah Tea Inspired
Leisure and Hospitality
Knowledge & Training
Online Shop
Dilmah targets premium segment in India Market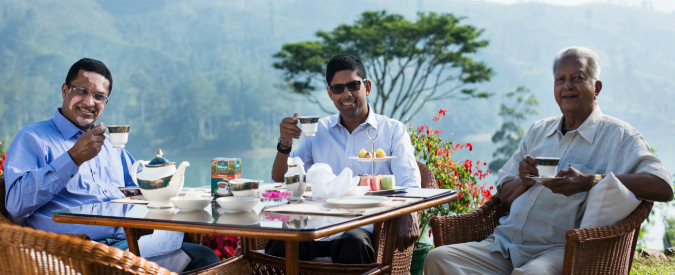 With under US$ 1 million turnover from the India market, Dilmah Tea is targeting the premium segment in the country. Dilmah Tea has over 100 tea lounges in different cities across the world and plans to bring back the traditional tea culture through the concept. Merrill J Fernando, founder and CEO, Dilmah Tea, launched the brand in 1988, handpicking and packing the tea to be exported overseas. Talking to Food & Hospitality World, he shared, "I was once asked that why am I entering the highly competitive India market. I also believed that India would be our best customer and so it has been. We wish to transform the way how tea is looked as a commodity and make sure that it is enjoyed for its experience. Most manufacturers have changed the concept of tea in making a quick cup by sacrificing the quality. We provide pure Ceylon tea directly from the farmers of our country." Dilhan C Fernando, director, MJF Holdings, mentioned, "As Indians are becoming more adventurous with their palate, they are demanding variety in experiences. Tea is a very exotic and special product that changes with the time. The terrain also affects the quality of the product and we make sure that the end product is of premium quality." Talking about the hospitality sector, he stated, "Hospitality is one of the segments where Dilmah is the strongest. But we have had certain roadblocks in dealing with the Indian clients. The major challenge is the regular change in rules and regulations of norms which make exporting difficult and also the variety to be provided. But we are already dealing with some of the Oberoi and ITC properties, and look forward to more connections."
Dilmah will be focused on the premium segment or some boutique properties. The aim is to make people aware about the health benefits of Ceylon tea and create a better experience. "Each tea should have a story to engage the customer. The idea is to develop a niche among the tea drinkers and not depending on sales," added Fernando.
Read Original Article in Food & Hospitality World
Disclaimer Notice
These images are copyright protected and can only be used for Dilmah articles with due credit given.