Press release and images on Dilmah School of Tea, Pure, Natural, Sophisticated.' from Dilmah
Menu
Dilmah Food Service
Integrity & Ethics
Dilmah Tea Inspired
Leisure and Hospitality
Knowledge & Training
Online Shop
Dilmah School of Tea, Pure, Natural, Sophisticated.'
An article by carinasta this published in The Everything Adelaide Website.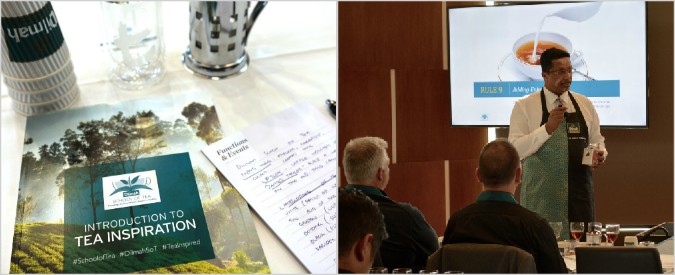 Dilmah is a worldwide brand known to create innovative types of tea. Though have you ever wondered where your cups of tea originate or how new flavours of tea continue to be created? Last week, Everything Adelaide attended an intimate and exclusive class of the Dilmah School of Tea at Adelaide Oval to gain an insight into how tea is made.
To our surprise, the event host was none other than Dilhan Fernando, son of Dilmah founder Merrill J. Fernando. The class seemed more like a conference as it took place at 8:30am and didn't conclude until three hours later at 11:30. Nonetheless, we has the ultimate rundown of tea starting with its history, how Dilmah make tea and how you should make and store you tea at home.
Fernando was incredibly passionate about the business and seemed immensely proud of everything Dilmah does (as he should be!), which made him the best coach for an interesting lesson on tea making.
We learnt how different factors produce different types of tea, implying that there are still many creations waiting to be discovered! Fernando strongly emphasised the naturalness of tea and how it originates from the Earth.
 'It all starts with the leaf', he said.
He elaborated how different teas are created from different types of soil, temperature, light, even how high the plants may be on a mountain or how close they are to water. Each contributing factor strongly impacts the flavour of the tea and produces a great range form white to black tea.
We than had a taste of four different teas for ourselves and were literally asked to 'slurp away without any judgment' in order to bring out the true flavour, which was certainly interesting!
Soon after guests were even given the opportunity to brew their own tea to highlight the importance of balancing the amount of tea leaves with the amount of water.
Nearing the end of the class, guests were given the ultimate test to mix tea with food. Using the same slurping technique, we were asked to eat selected foods and see how the tea complimented the dishes. A miniature Schezuan spiced chicken was paired with the Earl Grey tea, a chocolate fudge cake was combined with the Moroccan Mint tea and apple pie with Pure Chamomile tea. All the combinations worked exceptionally well together and highlighted that tea is great for any dining dish.
We highly recommend the Dilmah School of Tea to anyone that loves a good cuppa or is interested at learning more about tea.
Special thanks to Red Agency for the invite!
Please click here to view the Article in The Everything Adelaide 

Disclaimer Notice
These images are copyright protected and can only be used for Dilmah articles with due credit given.