Press release and images on DILMAH'S SCHOOL OF TEA from Dilmah
Menu
Dilmah Food Service
Integrity & Ethics
Dilmah Tea Inspired
Leisure and Hospitality
Knowledge & Training
Online Shop
DILMAH'S SCHOOL OF TEA
An article published byThe Adelaidian Website.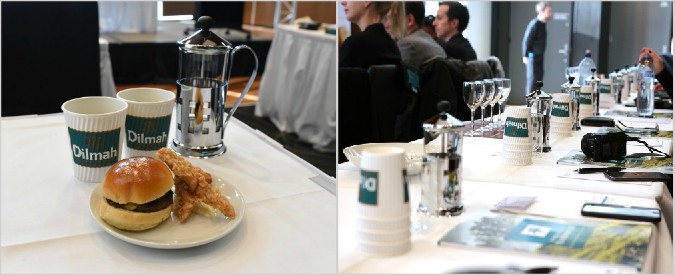 Thursday morning saw Dilmah's School of Tea take place at the Adelaide Oval, and The Adelaidian was invited to take part in the tea-tastic session.
Hosted by the knowledgeable Dilhan Fernando, son of Dilmah's Founder Merrill J. Fernando, the session took place over 3 hours with an informative presentation, tea-making and food pairings.
We learnt about the history of tea, where it all started with Chinese Emperor and Herbalist Sheng Nung and the tea-growing region of Ceylon, right through to the way tea is produced and marketed in today's society.
It was incredibly interesting to make the connection between the wine industry and the tea industry, learning about the way in which different teas can be used to pull flavours from any one dish, just as wine can do! Dilhan even made mention of a particular dish that had once been paired with 35 different teas, extracting a different flavour each time… who knew tea could be so versatile!?
During the tea tasting, we were shown the difference between Ran Watte, UdaWatte, MedaWatte and YataWatte tea, occupying noticeably different intensities in strength and colour. The lower the elevation of the region in which the tea plants are grown, the stronger in colour and flavour; the higher, the lighter.
We then paired sliders with beef patty, caramelised onion, pickle and a rich jam paste alongside the Brilliant Breakfast Tea by Dilmah, taking note of the way the tea was able to extract the richness of the jam paste and caramelised onion. Other pairings included Schezuan spiced chicken with the Earl Grey tea, chocolate fudge cake with the Moroccan Mint tea and apple pie with Pure Chamomile tea.
Coming out of the session, it's safe to say we've acquired some valuable knowledge about the tea industry. If you'd like to find out more about Dilmah's School of Tea, click here. 
Disclaimer Notice
These images are copyright protected and can only be used for Dilmah articles with due credit given.