Press release and images on Dilmah founder welcomes tea eAuction from Dilmah
Menu
Dilmah Food Service
Integrity & Ethics
Dilmah Tea Inspired
Leisure and Hospitality
Knowledge & Training
Online Shop
Dilmah founder welcomes tea eAuction
Says move was unbelievable and great step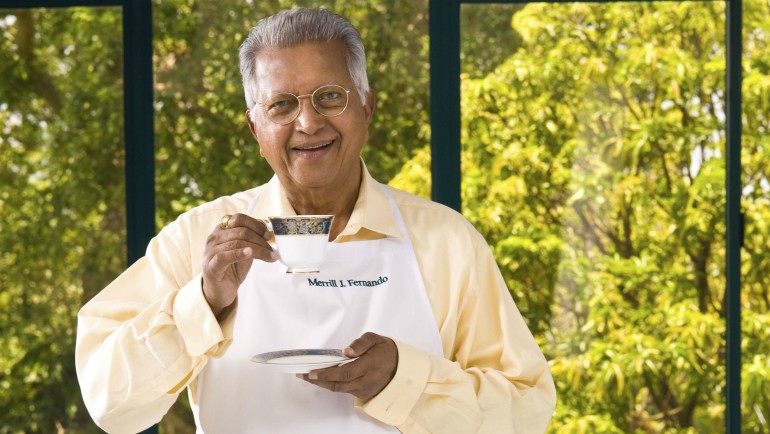 Sri Lanka's iconic brand Dilmah's founder Merrill J Fernando has welcomed the conduct of the tea auctions electronically as "unbelievable" and "a great step."
In a live video aired to the industry, Fernando recalled that the tea industry was 151 years old and sadly it remains very traditional and conservative in respect of administration.
"To know that the present CTTA and its members have collectively made tea auctions online is unbelievable," said Fernando who is a tea industry veteran.
"It is a great step which will lead, I'm sure, to automate the whole tea system. That will bring enormous benefits to the industry," Fernando emphasised.
Taking tea auctions online has been debated within the industry for many decades and multiple initiatives taken to make it a reality. However, the industry until last week failed to reach an agreement in unison shedding their differences of opinion.
Thanks to partial shutdown, social distancing and curfew as part containing the spread of the new coronavirus (COVID-19) in the country the tea industry was forced to take the online route. The Colombo Tea Auctions, the world's largest for single origin tea, wasn't conducted for two weeks due to the COVID-19 crisis threatening the businesses of producers, buyers and brokers.
After multiple round of discussions between the Colombo Tea Traders Association (CTTA), the Colombo Tea Brokers Association (CTBA) and the electronic platform and software provider CICRA Solutions, online tea auction became a reality on 4 April.
Over 300 buyers registered to the online platform along with eight brokers. Between Saturday and Tuesday (Yesterday) over 3 million kilos of tea worth Rs. 3 billion had been auctioned electronically, thereby ensuring tea industry's contribution to the economy despite the CVODI-19 crisis. Teas auctioned included Ex-Estate, High Growns along with Tippy and leafy.
CTTA in a statement on Sunday said samples of the teas on offer were visually assessed by the tea buyers and duly purchased by registering their bids from remote locations, as a consequence, circumventing the need to expose themselves to any serious health hazards and complying with the social distancing protocol imposed by the Government.
"This is a historic event, as it is the first time in 126 years that the tea auction deviated from its conventional 'out-cry' system, requiring the physical presence of the buyers, to move into the electronic age, with each buyer engaging in the imperative assignment of purchasing tea for processing and export from a safe location, without having to travel to a central point and intermingling in a crowded environment to do so," the CTTA added.
Please Click Here to View Original Article
Disclaimer Notice
These images are copyright protected and can only be used for Dilmah articles with due credit given.