Press release and images on Dilmah Delivers Luxury Tea Experiences in Saudi Arabia "Hospitality on another level" from Dilmah
Menu
Dilmah Food Service
Integrity & Ethics
Dilmah Tea Inspired
Leisure and Hospitality
Knowledge & Training
Online Shop
Dilmah Delivers Luxury Tea Experiences in Saudi Arabia "Hospitality on another level"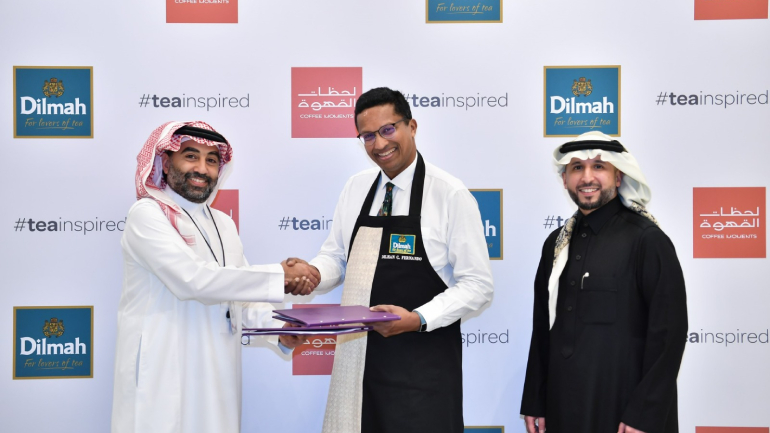 Dilmah Ceylon Tea recently held new luxurious tea experience events in Riyadh and Jeddah, with the aim of promoting a tea culture in the Saudi Arabian hospitality industry.
The events took place at the Mövenpick Hotel in Riyadh and the Hilton Hotel in Jeddah, in the presence of guests from the luxury tourism and hospitality industry alongside key decision makers, media figures, food bloggers and influencers.
The event was crafted by Tea Grower and Dilmah CEO Dilhan C. Fernando together with the Board Members of Coffee Moments Athbi Al Aqeel & Thamar Baeshen, to introduce the art and finesse of Single Origin, Pure Ceylon Tea and its numerous flavours & varieties through an innovative and exceptional experience of Food & Tea Pairing. The events were a demonstration of the calibre of luxury Dilmah brings to the hospitality sector, adding value to their guests' experiences.
Dilmah was founded with a vision of taking Single Origin, Pure Ceylon Tea to the world, Merrill J. Fernando, the Founder & 1st Generation of Dilmah, built his family business to serve humanity with kindness to people & nature. Whilst being ethical and sustainable is the very fibre of Dilmah's being, the company also provides a luxurious hospitality experience, offering the World's Finest Single Origin Pure Ceylon Tea in hotels and hospitality venues, catering to the increasing appreciation and interest in tea culture.
Tea often plays a vital role in elevating guest experience through all the touchpoints in the hospitality industry, from extending a warm welcome into a property by offering a beverage that is pure, natural, healthy and more importantly, refreshing, to in-room tea stations making guests feel at home and special.
Speaking at the event, 2nd Generation of Dilmah, CEO Dilhan C. Fernando said: "Since its inception, Dilmah has been striving to raise awareness and spread the culture of authentic and luxurious tea among communities, by providing a pure product that is ethically grown, picked, and packed at source by upholding the highest standards that ensure the preservation of environmental and societal sustainability which form the heart of everything the company does". He added, "The Saudi Arabian society's consumption of tea is high, especially our Pure Ceylon Tea packaged fresh in the tea gardens of Ceylon, so we are here to work together in providing an exceptional tea experience that raises the level of luxury in the hospitality industry by ensuring the provision of the Finest Ceylon Tea with its distinctive flavours."
Dilmah have pioneered a comprehensive commitment to minimizing its impact on the planet, fostering respect for the environment, and ensuring its protection by encouraging a harmonious coexistence of man and nature. The currently carbon neutral company aims to be carbon negative by 2030.
It's noteworthy that 15% of the company's pretax profits are used to implement the Founder's vision of making business a matter of human service through the MJF Charitable Foundation and Dilmah Conservation. These core values allow the company to meet and exceed consumers' expectations for sustainability.
Dilmah is an integrated family business that has its own gardens, printing and packaging equipment and a state-of-the-art packaging factory. Dilmah is one of the World's Leading Tea Brands with an unparalleled reputation for producing original, authentic, natural and ethical Ceylon Tea of the finest quality, with Integrity & Commitment.
Disclaimer Notice
These images are copyright protected and can only be used for Dilmah articles with due credit given.