Press release and images on Dilmah dazzles in third year at Art Deco Festival from Dilmah
Menu
Dilmah Food Service
Integrity & Ethics
Dilmah Tea Inspired
Leisure and Hospitality
Knowledge & Training
Online Shop
Dilmah dazzles in third year at Art Deco Festival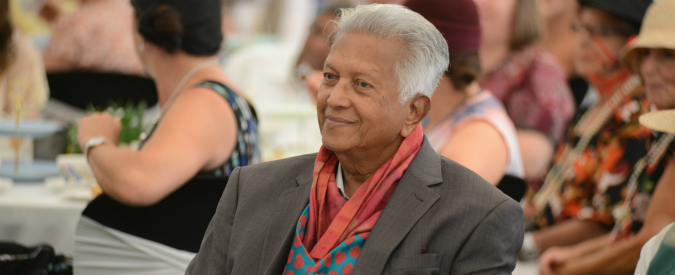 Under a picturesque marquee, people sipped on tea cocktails, and indulged in macaroons to celebrate the third year of Dilmah tea at the Tremains Art Deco Festival.
Since 2015 Dilmah founder Merrill J. Fernando has been returning to Napier for the festival, to engage with the public and share the ethical mission of his product.
The festival's international ambassador said while he had never heard of Art Deco before initially being invited, Mr Fernando said he now "enjoyed this event very much".
"They are getting more and more people here. I'm amazed at the way people treat me and talk to me, they treat me as a long-lost friend," the Sri Lankan native said.
In previous years, Mr Fernando has been joined in Napier by his son Dilhan and Malik - the renowned tea brand was named using the first syllables of their names.
This year Malik was not able to attend, however yesterday Dilhan said he was happy to have returned to Hawke's Bay's "unique celebration".
"People are here because they love the occasion," he said. "There's a sincerity in the people, it's a celebration of their city's history".
Mr Fernando said during the festival he saw things he could not witness anywhere else - from the Deco costuming, to the vintage cars on show.
"Dilmah tea is playing a role in this," he said. "Last year we had two marquees sold out and this year we had 250 guests at the [Dilmah High Tea Affair]".
Please click here to read the Full Article in Hawkes Bay Today
Disclaimer Notice
These images are copyright protected and can only be used for Dilmah articles with due credit given.