Press release and images on Dilmah contributes to clean beaches from Dilmah
Menu
Dilmah Food Service
Integrity & Ethics
Dilmah Tea Inspired
Leisure and Hospitality
Knowledge & Training
Online Shop
Dilmah contributes to clean beaches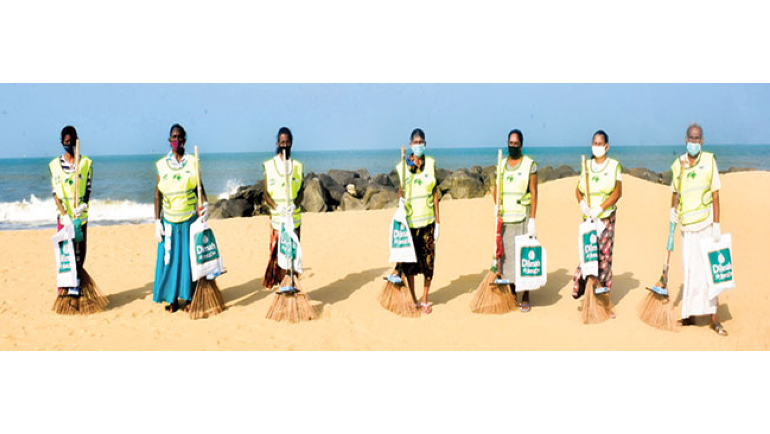 Dilmah Tea's Marine Conservation Program is among the leading private sector contributors towards marine conservation in the country. In 2018 Dilmah Tea with its partners signed their own pledge to avoid single-use plastic; to reduce, re-use and recycle plastic and to commit to keeping our ecosystems protected. In January 2019 they began a community participatory project called 'Beach Caretaker Program' to involve the community in coastal conservation while supporting many livelihoods.
"We began with 23.1 km in 2019 and extended our reach to 50 km of the coastline covering Colombo, Hambantota, Trincomalee, Matara, Mullativu, Jaffna, Galle, Mannar, Ampara, Batticaloa, Puttalam and Kilinochchi," a spokesman for Dilmah Conservation told the Sunday Island. The project involves 50 beach caretakers at present undertaking clean-up activity in beaches covered.
Most pollutants that find their way into the coast begin in households and a lot of it is due to improper management of waste at homes. "We collect a lot of plastic waste and a substantial amount of PET bottles. Glass is the second highest item collected. Other types of plastic we collect have also increased since last year due to disposable masks being thrown away. These are extremely hazardous to marine life," Dilmah Conservation sources point out.
All Dilmah's long-term conservation projects are linked to a community participatory model and the Beach Caretaker Project is no exception. "In the Beach Caretaker project, the employees are provided with a stable monthly income and they are also provided with safety gear and necessary training."
This article was originally published in
The Island
Disclaimer Notice
These images are copyright protected and can only be used for Dilmah articles with due credit given.