Press release and images on Dilmah Adjudged Best Corporate Citizen for the Third Consecutive Year from Dilmah
Menu
Dilmah Food Service
Integrity & Ethics
Dilmah Tea Inspired
Leisure and Hospitality
Knowledge & Training
Online Shop
Dilmah Adjudged Best Corporate Citizen for the Third Consecutive Year
Best Corporate Citizen Sustainability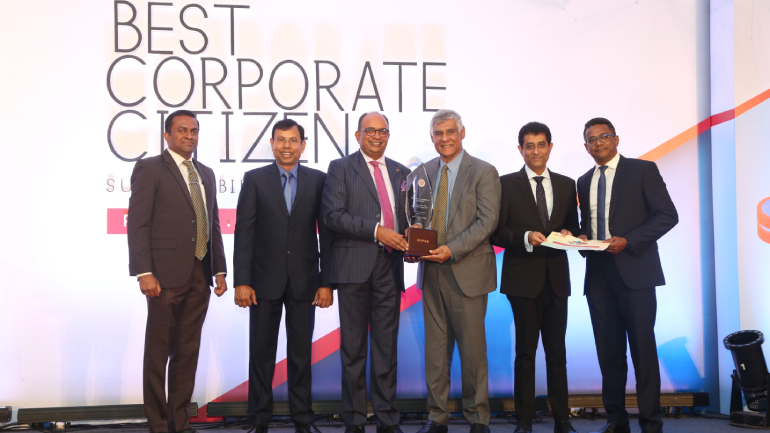 Dilmah was awarded 'Best Corporate Citizen Sustainability' in the category of Businesses with Less than Rs. 15 Billion Annual Turnover, for the third consecutive year at the Best Corporate Citizen Sustainability (BCCS) Awards organised by the Ceylon Chamber of Commerce; recognizing that Dilmah has successfully achieved a sustainable balance between social, environmental, and economic performance.
Evaluated by an independent & expert panel of judges, the awards are Sri Lanka's most prestigious, scrutinizing and recognizing ethical and sustainable businesses. Dilmah was honoured as one of ten 'Best Corporate Citizens' of Sri Lanka, won the Award in the Environment Beyond Business Category, and was lauded for continuous commitment to the environment surpassing the realms of business.
The annual BCCS Awards is the premier corporate citizenship award, highlights sustainability champions in the national corporate arena. The awards promote corporate citizen sustainability ownership and initiatives that deliver social and environmental benefits while pursuing profits. This recognition validates Dilmah's emphasis on delivering social and environmental impact by sharing earnings through the work of the MJF Charitable Foundation and Dilmah Conservation.
In 1988, Merrill J. Fernando founded Dilmah, a family business, to serve humanity with kindness to people and nature, while sharing his passion for taste and goodness in tea. Over the years Dilmah has delivered over Rs. 7 billion for humanitarian benefit through the work of its charitable arm MJF Foundation and environmental arm Dilmah Conservation.
Ensuring economic, social, and environmental sustainability exists at the heart of its operations and is integrated to every operational aspect of the business, Dilmah's purpose is further extended through the work of the Merrill J. Fernando Charitable Foundation (MJF Foundation) and Dilmah Conservation (DC) by driving life-impacting initiatives.
The MJF Foundation works directly with estate workers and underprivileged communities to uplift lives and empower them to pay-it-forward to their communities. Some of its core initiatives are the countrywide MJF centres, small-medium enterprises with over 2,000 small entrepreneurs, 'Empower' Culinary & Hospitality School, and 'disABILITY' teletherapy app.
The sustainable development of people goes hand-in-hand with the planet. Dilmah Tea is a carbon neutral product manufactured at a carbon neutral facility. Further, Dilmah has pledged to achieve zero-emissions for its manufacturing process by 2030 through science-based targets. Dilmah Conservation functions under 03 main categories: environmental sustainability, biodiversity conservation, and education and awareness. As such, Dilmah Conservation initiatives range from butterfly to elephant conservation, climate research, adaptation and mitigation, rewilding tea gardens, conserving mangrove forests, and promoting nature-based entrepreneurship through seaweed cultivation and empowering agro-entrepreneurs.
Winning the Best Corporate Citizen Sustainability Award 2022 is considered a top honour in the Sri Lankan corporate field. Each year, submissions are evaluated by an eminent panel of local experts, thought leaders, and academics. Dilmah considers receiving the Best Corporate Citizen Sustainability Award 2022 an important milestone in its journey as a truly sustainable brand with a purpose beyond profit.
Across the shores, Dilmah has been recognized for its attempt to take Ayurvedic wellness and goodness to the world with the help of tea. The Arana Range of Herbal Infusion Teas was voted the Product of the Year 2022 in Australia. Meanwhile, Dilmah on its 7th Consecutive Year was awarded Most Trusted Brand in New Zealand in 2022.
Deputy Chairman Dilmah Tea Himendra Ranaweera accepting the Award for Best Corporate Citizen, joined by Group Finance Director Darshana Gunasekera and Head of Human Resources Gayan Thilakarathne
Himendra Ranaweera, Deputy Chairman accepting the award for "Environment Beyond Business" Category joined by Dilhan Jayawardena, Chief Operating Officer & Shamodi Nanayakkara, Manager Sustainability and Conservation
Nishanthi Amaratunga, Head of International Retail accepting the award
Disclaimer Notice
These images are copyright protected and can only be used for Dilmah articles with due credit given.