Press release and images on Deep discounts aren't Dilmah's cup of tea from Dilmah
Menu
Dilmah Food Service
Integrity & Ethics
Dilmah Tea Inspired
Leisure and Hospitality
Knowledge & Training
Online Shop
Deep discounts aren't Dilmah's cup of tea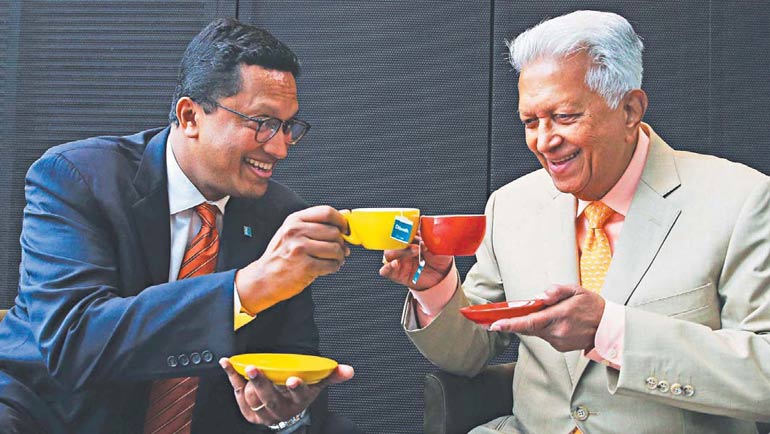 Dilmah Tea founder Merrill Fernando believes Australian supermarkets are among the most ruthless in the world when it comes to blitzing consumers with deep discounts and promotions, with the price slashing, for tea in particular, driving a downward spiral in quality.
The Sri Lankan businessman and tea mogul, in Australia with his son and Dilmah Tea chief executive Dilhan Fernando, said the only option for tea multinationals was to cut back on quality to protect their own margins in the face of such relentless price discounting.
However, Mr Fernando, who founded the Dilmah brand in 1988 at the age of 58 — he turns 90 next year — believes his tea business can thrive as it refuses to become a commodity and instead brands itself as a single origin, 100 per cent pure Ceylon tea that can command a premium in global markets.
It is this commitment to single origin tea — which Dilhan Fernando compares to Australia's reputation for producing some of the best single-vineyard wines — which has helped bolster the company's fortunes as well as innovate and bring in a new generation of younger drinkers who don't think of the beverage as an "old people's drink".
Dilmah sells about $US500m of tea a year, exporting to its biggest market, Russia (it was the only tea brand allowed in under Soviet leader Gorbachev's perestroika policy), as well as Australia, New Zealand and eastern Europe.
But it is in Australia that founder Merrill Fernando has discovered the toughest retail culture.
"It is a global problem but Australia is far worse than any other country, and I go to 100 countries,'' Merrill Fernando told The Australian.
"It's bad. Dairy farmers are going bankrupt in this country,and retail buyers are made ruthless by their owners, saying 'get this price decrease'. They are only concerned about profits".
This has created a climate where bulk commodity tea companies, mostly multinationals, debase the quality of their tea to remain profitable as the supermarkets slash shelf prices.
Dilmah will have none of that. At its 30,000 acres of tea plantations spread across the rich green slopes and mountains of Sri Lanka, its tea is hand-picked by 20,000 workers who have a much better eye for varying tea qualities and types than any machine. This dogged approach makes Ceylon tea much more expensive than ordinary tea, but the father and son pair believe it delivers what is most important for the consumer.
"We refuse to make Ceylon tea a commodity," Merrill Fernando said. "A tea bag is not instant coffee. Ceylon tea remains traditional, respecting the beauty of tea for the eye, for the palate and the taste."
Dilhan Fernando said most of the tea "you find on the shelf is multi-origin, blended tea but for us our founding principle my father set out 32 years ago was the purity of origin that is critical for tea because tea is formed very much by nature". "It is very much like the story of your wines: you have beautiful shiraz because of the influence of the weather and nature."
And now he sees younger people embracing the simplicity of a cup of tea.
"For a long period the commoditisation that happened in our industry meant it was all aligned to mass market but we are now seeing a new generation, generation Z, which are valuing provenance, valuing quality and the trend is premiumisation."
A lack of innovation helped fuel the idea of tea as an old person's drink.
"Genuine innovation, that's where the category has failed because today people don't even know how to brew a pot of tea,'' Dilhan Ferdinand said.
Disclaimer Notice
These images are copyright protected and can only be used for Dilmah articles with due credit given.